Jonathan Davies doubts David Moffett will return to WRU
Last updated on .From the section Rugby Union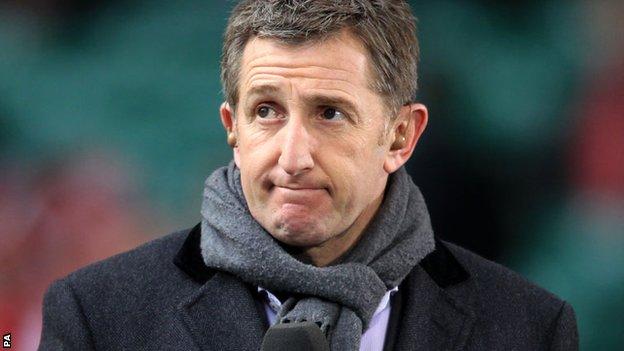 Former Wales fly-half Jonathan Davies has cast doubt on David Moffett's hopes to return to the Welsh Rugby Union.
As the union's dispute with the four rugby regions continued, Moffett said both sides were a "disgrace".
BBC commentator Davies says although Moffett played a key part in the setting up of regional rugby, he doubts whether either side will want him.
"I can't imagine him coming back now," said Davies.
Moffett was WRU boss before leaving that role in December, 2005 and was succeeded by current group chief executive Roger Lewis in October 2006.
During Moffett's tenure, Welsh rugby's elite tier was controversially reduced from nine to five teams for the launch of regional rugby in 2003.
A year later one of those teams, Celtic Warriors - a merger of Bridgend and Pontypridd rugby clubs - closed down amid more controversy.
That left Ospreys, Scarlets, Newport Gwent Dragons and Cardiff Blues as the nation's leading teams.
Having criticised Lewis's stewardship of the WRU, Moffett returned to Wales as chief executive of the regions' umbrella body Regional Rugby Wales in October 2008 amid the regions' row with the WRU over the release of players for Wales international training sessions.
That row ended with the union winning a High Court ruling, forcing the regions to release players for training ahead of the opening 2008 Autumn Test against South Africa.
Moffett left in May, 2009 and was succeeded by former Scarlets chief Stuart Gallacher.
Davies says although he doubts Moffett will be successful in his attempts to return to Welsh rugby, he respects the New Zealander's record.
"One thing he did do was make decisions and get things through, whether they were good or bad depending on where you're from," said Davies.
"Whether the regions want him back as a voice-piece I'm not really sure.
"I wouldn't have thought so.
"I'm sure that the WRU and Roger Lewis wouldn't have been advocating getting him back."
Moffett also wants the WRU's 320 member clubs involved in an Extraordinary General Meeting to help end the dispute between governing body and regions.
If that meeting ended with a vote of no confidence being passed in the current WRU, its elected members, including chairman David Pickering, would be forced out.
That would give new candidates the the chance to oversee employee Lewis's work.
But anyone seeking election can only do so via two main means in elections that take place every three years.
The next full WRU elections take place in August 2014.