Redruth coach Ashley Morcom fights on at cash-strapped club
Last updated on .From the section Rugby Union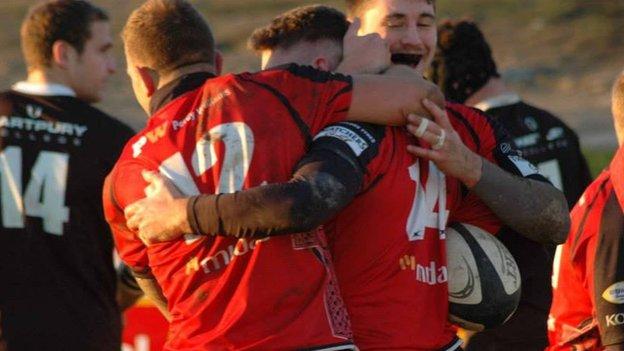 Redruth head coach Ashley Morcom says his side will keep working hard despite the latest off-field blow to hit the club in a tumultuous season.
"We had the committee and [ex-director of rugby] Adrian Edwards resigning, we lost the general manager and we lost our pay," he told BBC Radio Cornwall.
"It feels like something every month but it's key we keep the work ethic."
Redruth have been in financial trouble for some time, and the decision to stop paying players until the end of the season was the third time in three seasons that such action has been taken.
"We are a good side and I've said all along that we can potentially beat anybody in this league but it's just getting the mindset right," added Morcom.
"I've said all the way through that it's important we make it as fun as possible, even more so now because the guys aren't getting any reward. They spend a lot of time travelling and training and it's a shame they don't get that reward.
"From my point of view it is quite hard because people probably aren't going to be quite as committed to training because people have to work and make sure they make up the financial shortfall."
Redruth have an excellent home record this season but are still awaiting their first victory on the road.
"It's been a really difficult season - we've got players who can't travel away for various reasons," said Morcom.
"It's important we try to build some momentum but we've been struggling to do that because the side changes so frequently and we're struggling to win away from home. We're putting in good performances and getting really close but we are struggling to get a victory. We have to up our game and, most importantly, enjoy it.
"I firmly believe if you enjoy what you're doing you're going to be good at it, so that's a big part of it."