Celebrating Scotland's class of '84
By Colin Moffat
BBC Scotland
Last updated on .From the section Rugby Union89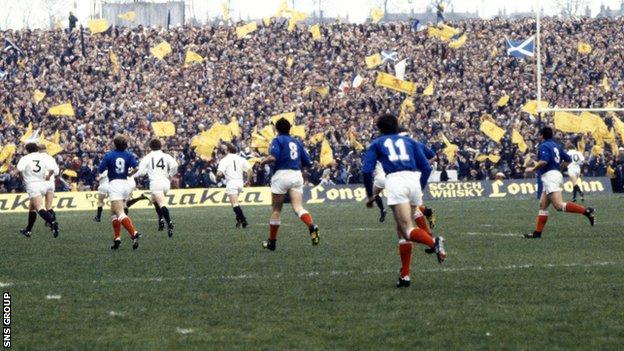 Jim Telfer is a giant of Scottish rugby and this year marks the 30th anniversary of one of his greatest achievements.
Following a 1983 battering in New Zealand in charge of the British and Irish Lions, Telfer was asked about his plans for the future and famously replied: "Is there life after death?"
But he was persuaded to stay on and his rugby resurrection was complete when he delivered Scotland's second Grand Slam, the first having come in 1925, and a first Triple Crown since 1938.
On the park, the team was led by redoubtable loose head prop Jim Aitken, while the brave foraging of David Leslie and Jim Calder provided a platform for wily half-back pairing John Rutherford and Roy Laidlaw to work their magic.
And then there was the unerring kicking of full-back Peter Dods, who amassed 50 tournament points and knocked over five penalties and one conversion in the championship decider.
As well as that nerve-shredding finale against France, there was the 100th meeting with England, a slice of good fortune in Cardiff and a night of merriment in Dublin.
Some of those involved recall the journey to success for the documentary Grand Slam '84, to be shown by BBC Two Scotland at 22:00 GMT on 29 January.
The coach on the players
Jim Telfer: "We developed a rucking game because it suited our purposes. We didn't have the biggest group of forwards in the world but we were dynamic."
The players on the coach
Jim Calder, back row: "There was much more of the Sir Alex Ferguson about him than people give him credit for. He was a bright guy as well as a hard man to play for."
John Beattie, back row replacement: "Jim Telfer was so far ahead of the rest of the world in terms of coaching that he was this strange combination of visionary and hard task master. He was undoubtedly technically the best coach in the world at the time, and he knew that his players had to be rougher and much fitter than everyone else. The fitness programme he put in place was way ahead of the rest of the Five Nations countries at the time."
The players on the captain
John Rutherford, stand-off: "He managed to say all the right things and that's a tough thing for a captain to do."
John Beattie: "Jim Aitken was a hugely under-rated prop. In some senses he had to battle against a thought process that pigeon holed him as merely a rough customer whereas he was a gym goer before it became fashionable. Every team needs a captain and Aitken was a Gala player when there were huge tensions between players from the Borders and he both played on that and overcame it too."
National Stadium, Cardiff, 24 January - Wales 9-15 Scotland (Scotland tries: Iain Paxton, Jim Aitken)
Iain Paxton, Scotland back row: "The first half just flew past without anything major happening, then I scored just coming up to the interval. It was my first try for Scotland, so it did feel good. The pass from David Leslie to put me through was like a baton pass, it was right on the line."
John Rutherford: "It was almost certainly a forward pass but we got away with that!"
John Rutherford: "Jim Aitken's try was from exactly his distance. I think it was one metre from the line from a line-out but it was a very important try. Probably the most important try he's ever scored.
Roy Laidlaw, scrum-half: "Jim Aitken was good at motivating the troops and after that try he pulled us together and told us in no uncertain terms that we had to keep focused and concentrate to make sure of winning the game."
Jim Calder: "Winning in Wales was a great feeling. I remember Wales captain Eddie Butler crying in the toilets when the evening meal was on the go and it was quite a nice feeling being Scottish in Wales and being witness to Eddie's state of mind at the time."
Jim Telfer: "A tremendous amount of confidence comes from an away victory. Away wins in Test rugby are like hen's teeth, you don't get them very often."
Murrayfield Stadium, Edinburgh, 4 February - Scotland 18-6 England (Scotland tries: David Johnston, Euan Kennedy)
John Beattie: "As a squad of players we felt very honoured to be involved in the 100th game against England, but we never needed any additional motivation for games against the auld enemy."
John Rutherford: "David Johnston was a professional footballer when he left school, he had a couple of seasons with Hearts. He kicked the ball through and he was on to it, dribbling forwards and he beat Clive Woodward to the touch down. It wasn't an easy try by any means but he made it look easy."
Sir Clive Woodward, England centre: "I've probably seen two great English kickers in my lifetime. One was Dusty Hare and other is Jonny Wilkinson. Dusty was a phenomenal goal-kicker and when he starts missing, does it affect your team? Absolutely.
Jim Telfer: "Because of Dusty's misses, we were well in control of the game."
Jim Telfer: "Euan Kennedy's try was as good an example of getting quick ball as I've seen from a Scottish pack. Finlay Calder and David Leslie just ripped the ball from them and drove and drove. Roy Laidlaw's pass was poor but John Rutherford took it off his toes and there was Kennedy at his elbow."
Sir Clive Woodward: "Teams get pigeon-holed sometimes and certainly with Scotland it was all about it raining all the time and how they like to rush and kick ahead. Some would argue, anyone's head!"
John Beattie: "We'd beaten England at Twickenham away the previous year so that was going to be routine being honest. It was the only game I played in and I remember the innate confidence exuded by great players like John Rutherford, David Leslie and Colin Deans."
Lansdowne Road, Dublin, 3 March - Ireland 9-32 Scotland (Scotland tries: Roy Laidlaw 2, penalty try, Keith Robertson)
Jim Telfer: "I had no benchmark for how to prepare a team for a Triple Crown match because it hadn't happened in my time."
John Rutherford: "I was speaking to Ireland captain Willie John McBride afterwards and he said they had talked about defending the blind side against Roy [Laidlaw] but it just didn't work. He scored two tries in the first half then got himself concussed and had to go off at half-time."
Roy Laidlaw: "It's just as well for the Irish; if I'd stayed on I might have scored four tries."
Jim Telfer: "Roy was such a dangerous runner and we kicked the points as well, so we were over 20 points up at half-time. It was just a dream come true."
John Rutherford: "To win a Triple Crown for Scotland was really special. There was a massive visiting support in Dublin. There were hundreds of them at our hotel to cheer us. They were in the foyer, they were on the stairs clapping the team and patting our backs. It was just fantastic for Scottish rugby."
Roy Laidlaw: "I missed out on the celebrations because I was in the hospital and I was probably feeling a lot better than the rest of the team in the morning because they'd spent the night in the pub."
Murrayfield Stadium, Edinburgh, 17 March - Scotland 21-12 France (Scotland try: Jim Calder)
Jim Telfer: "France had beaten all the teams we'd beaten convincingly. Peter Wheeler, the England captain, said they were unbeatable. We were definitely the underdogs and we knew we had a huge mountain to climb."
John Rutherford: "I remember Jim Telfer getting it across to the team that the first three games had been tough but this was going to be a different level altogether. The French team were outstanding - Didier Codorniou and Philippe Sella in the centre were world-class."
Jim Telfer: "Jerome Gallion scored a very good try and we were completely outplayed in the first half - but the second half was different. We realised we were lucky not to be further behind."
Jim Calder: "There was a collision, with David Leslie taking out Gallion and he needed to be replaced. The French confidence took a real dip and we got a real lift."
Jim Telfer: "It changed the game completely. [French captain] Jean Pierre Rives started mouthing off to the referee and in all games you should try to stay on the right side of the referee - he can be your friend."
Jim Calder: "Suddenly I had the ball in my hands and I was over the line. I thought I was offside but there was the referee signalling a try and I thought 'magic, we seem to have got away with it'."
Jim Telfer: "I can remember the scenes of undiluted joy, people jumping up and down and holding each other. It was like reaching the South Pole, if you like, it hadn't been done before by almost any living Scotsman. It was a moment in history they will never forget."