Exeter Chiefs coach Rob Baxter seeks answers to slump
Last updated on .From the section Rugby Union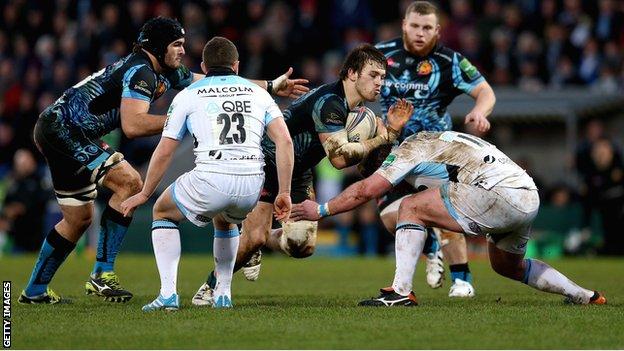 Exeter Chiefs head coach Rob Baxter has told his side they to start finding ways to turn narrow defeats into wins.
"We know we're there or thereabouts, but we're not happy being there or thereabouts," he told BBC Radio Devon.
"I'm not happy we haven't won, I'm happy with aspects of the game but we have things to work on."
Chiefs enjoyed a strong opening to the season and rose to fourth in the Premiership table, but results have nosedived since mid-November.
Five of their recent defeats have been by seven points or fewer, and Baxter believes they are close to turning things around.
"It's coming - we are a very competitive side and you've got to be pretty good to get within five points of a side in the Heineken Cup or do well away to Toulon like we did," said Baxter, who made 11 changes for the game against Glasgow.
"We're good and we want to be better and we'll work hard to get better."
Hooker Luke Cowan-Dickie, lock James Hanks Graham, flanker James Scaysbrook and centre Sireli Naqelevuki were among the players to be given starts after struggling for game-time in Chiefs colours this season.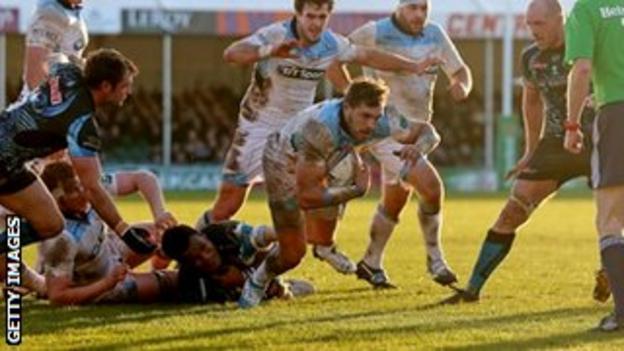 Baxter said the much-changed side had performed well in many aspects of the match, but had fallen short at key moments.
"If you go through the guys who were out there, they've gelled within a week when they've had limited training time so let's give them credit," he added.
"But ultimately there's a frustration - even with all that change from last week and players who were blowing in the latter stages - that we didn't force the win.
"We're going the process of learning how to move up to the next level. We didn't lose the game in the last 15 minutes, we lost it in the period when we were on top, in the lead and we did some silly things - some mentally soft things and that's where we are as a a team.
"We've got to decide to be tough, to decide that when we score that we say 'let's get back and score again'."
Meanwhile, Chiefs owner Tony Rowe said he was growing increasingly frustrated by the impasse over a future European competition and singled out the French Rugby Federation for particular criticism.
"The French clubs want this competition," he told BBC Radio 5 live. "If you talk to all the clubs they want the competition. It's their union that is dissuading them from taking part.
"On 27 October last year all the clubs - and I mean all the clubs - signed up to the new European competition. It was the French Federation who turned around and said they weren't going to let their clubs participate. It was the French that pulled out of it. There's 38 top clubs in Europe and they want this competition. It's the Unions that don't want it.
"But I'm very confident there will be some form of European competition. Let's not get this wrong, the clubs at Premier Rugby want a full European competition including the French. Irish, Welsh, Scots and Italians."