Professional players to undergo concussion training programme
Last updated on .From the section English Rugby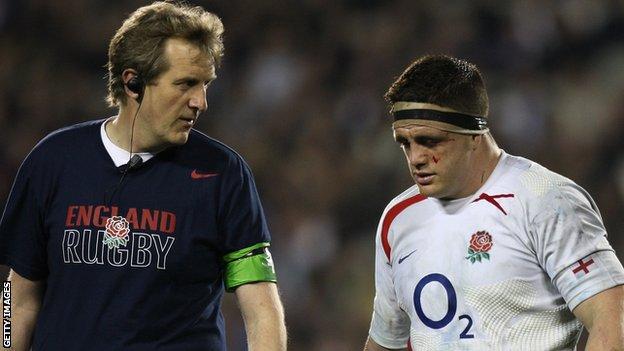 All professional rugby union players and coaches in England will have compulsory education on concussion before the start of next season.
It is a move designed to safeguard player welfare amid increasing concerns about the effects of concussion.
The plan has been announced by the Rugby Football Union.
"Concussion is acknowledged to be one of the most challenging sports injuries to diagnose and rehabilitate," said RFU chief medical officer Simon Kemp.
"But we continue to make significant progress in this area."
Under the new programme, all Premiership, Championship and Regional Academy players and coaches must complete an online training course.
The move has been approved by the Professional Game Board (PGB), the English umbrella organisation made up of senior figures from the RFU, Premier Rugby and the Rugby Players' Association.
Concerns about the effect of concussion on rugby players has intensified in recent years.
In January 2011, 14-year-old Ben Robinson died from "second impact syndrome", as a result of concussion suffered while playing in a school rugby match in Northern Ireland.
And new research in the United States has suggested American Football players are at an increased risk of dementia as a result of being concussed repeatedly during their careers.
But while the RFU's announcement will bring mandatory concussion training into English professional rugby, there remains no such ruling in the amateur game.
Peter Robinson, Ben's father, has called for a greater awareness of the dangers of such injuries at the sport's grassroots level.
He is also campaigning for compulsory lessons in schools to teach children about the dangers of concussion.
"At top level, international and professional, the information is there but it is not being disseminated down to grassroots in schools and to individuals," Robinson said in October.
The new protocols in English professional rugby will be in line with the International Rugby Board's (IRB) guidelines on concussion.
In addition, the PGB has also given its backing to several recommendations made by its Medical Advisory Group.
These include the mandatory viewing of footage of how an injury occurred before a decision can be taken over whether a player is fit to resume action.
This would be in addition to the IRB's current Pitchside Concussion Assessment - a five-minute test on players who suffer head injuries.
Another recommendation was for a review panel to investigate situations where a player has returned to the field but is later revealed to have been concussed.
Kemp added: "The education initiative is designed to broaden understanding beyond healthcare practitioners and facilitate the further cultural change needed across the game for good concussion management.
"We are very aware that the way concussion is managed at the professional level drives how it's managed at other levels of the game and it is important we continue to lead the way."
The move has been welcomed by the Alzheimer's Society. Director of research and development Dr Doug Brown said: "Evidence suggests that head injuries can increase a person's risk of dementia, so it's good to see both rugby players and their coaches are now being made aware of the potential seriousness of concussion."