Jeremy Guscott Q&A: Danny Care should be England's scrum-half
Last updated on .From the section Rugby Union434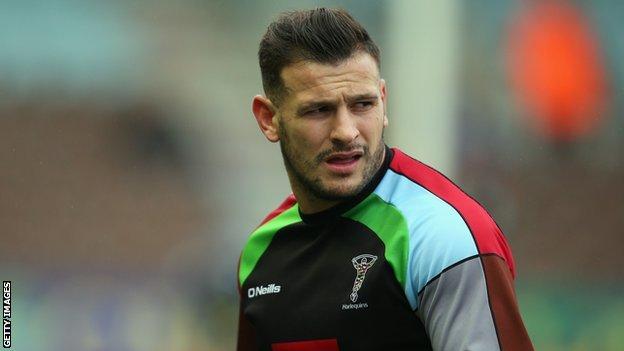 Among the topics Jerry discusses this week are:
- Who should play at scrum-half for England
- Whether rugby should adopt an American football-style challenge system
- Why Aviva Premiership sides struggle in the Heineken Cup
- Whether England should reconsider their policy of only selecting home-based players
- Whether the Welsh regions are at a disadvantage in the Heineken Cup
Jerry answers questions posted on the website at the start of every week - entries are now closed for this Q&A. This week's answers appear below.
Following Danny Care's injury at the weekend, Ben Youngs' lack of form since his return from the Lions, Kahn Fotuali'i being selected ahead of Lee Dickson at Northampton and Richard Wigglesworth's lack of first-team rugby, who would you pick as your England scrum-half? James_Hoggarth
Hi James; If Danny Care is fit I would go with him as his attacking game gives England more options. If Care doesn't make it I would go with Ben Youngs' experience, as I believe he can find better form.
Who do you tip for next week's Heineken Cup pool decider between Leicester and Ulster on Saturday? England101
Hi England101, I believe Tigers will win at Welford Road, as they did before at home in the Heineken Cup against Ulster. They have a team good enough to do the job although it is not a foregone result.
Ulster have the calibre to get the victory, but I just think Tigers need it more and, like all the top teams, they are a very difficult team to beat at home.
Why do you think the English sides find it so difficult to progress in the Heineken Cup? Denis.
I watched Saracens' 21-11 defeat to Toulouse and they looked a different outfit to the one tearing through the Premiership. Is there a lack of competition in the domestic league that leaves them out in the cold when it comes to a tough European game? jollyeric
Saracens' and Saints' domestic form isn't translating into the Heineken Cup. Do you believe there is some structural disadvantage within Heineken Cup qualification for the English clubs? mattrowe
I believe Sarries had a team good enough to beat Toulouse, and the reason they didn't was because they didn't play, or maybe were not allowed to play, their best rugby. They know themselves they have a good enough team to have won that game and the Sarries' coaches and players need to resolve that problem. Then you look at Saints - one week they get tonked at home by Leinster and then seven days later they take them on in Dublin and win!
Leinster will be one of the favourites to win the competition as the Irish players are better prepared than the English to play in Europe. The Irish internationals ease their way back into a season then hot up going into Europe whereas the best English players in the Aviva Premiership have to go right from the word "go".
That's the way it is.
The French sides have more money which allows them to have bigger squads with more quality, so they can manage and keep their better players fresh. The Premiership is competitive, but I wouldn't say it's overflowing with world-class players just yet.
With the petty wrangling between the regions and the Welsh Rugby Union (WRU) ongoing, do you think the rugby community is missing the bigger picture? If the French league continues to operate its current business model the club structure in Europe could die a rather abrupt death, and few nations will be able to compete before long. Should the International Rugby Board (IRB) be doing more to manage and/or restrict these kinds of operations? Jamie
Hi Jamie; Every national union has its own agenda - they always have and they always will.
The IRB are not involved in the day-to-day running of the game in each member country. They sanction rugby events which the various rugby unions organise and run. France are way ahead financially because of their crowds and television money, but the game will grow in different ways in different member countries.
The politics involved in the game have always been difficult to understand, and even if we all knew exactly what has been said and offered we'd all have slightly different opinions on how to handle or resolve some situations.
I don't believe the club game will die in Europe. I feel it is going through some professional growing pains, but they will work themselves out. Some unions have some really hard decisions to make over the next few years to keep their teams in the game, but we have to trust them to make the right decisions.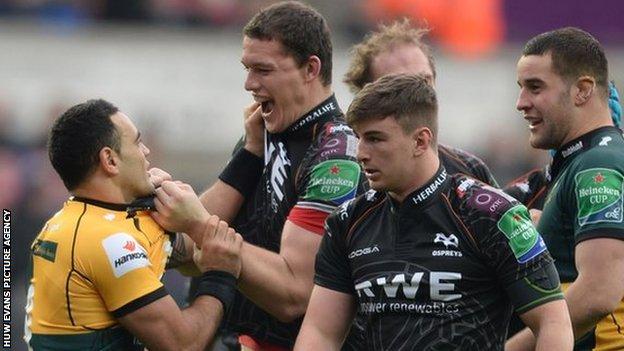 Do you think that the wages cap and funding in Wales puts the Welsh regions at a disadvantage when competing in the Heineken Cup, as they cannot fill their sides with current/recent internationals from the Southern Hemisphere or retain the best players in Wales? Indy2010
Hi Indy2010. Let's be honest here - since the professional game was introduced and even before the salary cap, the Welsh regions have struggled to make a big impact in the Heineken Cup.
When looking at the talent that has been available, particularly for the Ospreys and Blues, it is a surprise that no Welsh side since Cardiff in 1996 has reached the final. The Irish provinces have done well in the Heineken Cup, but the national team hasn't fired. The Welsh clubs haven't fired in the Heineken Cup, but the national team has done well in terms of the Six Nations.
The Welsh clubs have less money than teams in France, England, Ireland and Scotland so they have to rely on developing the young talent coming through, and that will always benefit the national team.
There was a point in the Ospreys v Northampton Heineken Cup match at the weekend where Justin Tipuric and Alun Wyn Jones asked the referee to go to the television match official (TMO) and the referee refused. Although there's a risk of slowing down the game, do you think that rugby could learn from American football and introduce a challenge system, in which the captain can request going to the TMO? Perhaps one challenge a game? Will13
Hi Will 13, there are already too many stoppages in the game and one more is too many, so no for me.
Hi Jeremy. I accept the original intent, but has the policy of only selecting home-based players for England had its day and is it time to reconsider selecting European-based players? Arran
Hi Arran; So far I don't believe it has had a really negative effect on the England team. The England players are getting selected younger and younger and so within the space of four or five years they can get 40/50 caps and play in two World Cups and maybe one or two Lions tours.
During that time they can earn a very good salary playing for an English club and they have no real incentive to move. When they get to 25, 26 or 27 they might then think more about their financial future and start considering the bigger salaries available in France.
While you're a first-choice pick for England it doesn't make any sense to move financially - you're the best for your club and country, you have the profile and all the benefits that brings off the field as well. Until first-pick players start leaving in numbers I don't see the point in changing the policy, though if it needs to be changed along the way I'm sure it will.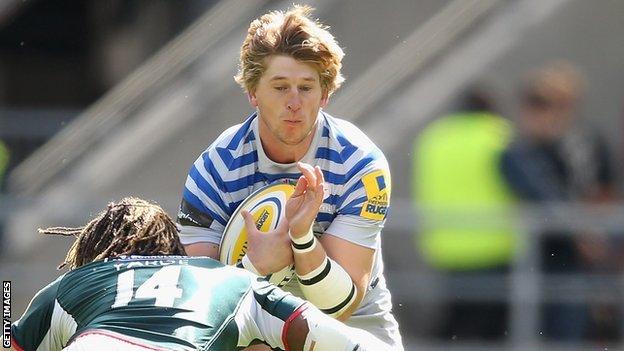 With Marland Yarde and Christian Wade injured and Chris Ashton yet to hit top form, why has the Premiership top try scorer David Strettle been overlooked by England yet again? CSJD
Hi CSJD. My guess, and that's all it is would be, is that Dave Strettle is 30 years old, and rightly or wrongly, the England coaches are looking to the future. I think he is more a finisher than a creator and finisher, and that Anthony Watson and Jonny May offer more creativity.
Are the new scrum laws an improvement as a way to restart the game, and would you suggest any other changes? Tiptext
Hi Tiptext. I'm still watching a lot of games where the hookers aren't hooking the ball, which is still being fed in crooked most of the time, with one or both props pushing at an angle rather than straight.
It still looks like most teams are happy to get the penalty at scrum time because they will get a shot at goal or gain yards kicking down the line. There's so much more to be gained by learning how to hook the ball and attacking from the scrum, and I'm convinced that the teams that do that will benefit more than the rest.
Some players and coaches are worried that they will get pushed off the ball if the hooker hooks because it will be seven against eight pushing. However, when done properly, by the time the scrum-half has put the ball in and it has been hooked back to the eight, the opposition shouldn't have time to push them off it.
Nobody gave Leicester a chance this year, but as things stand, they're the only English side definitely through, despite their horrific injury list. Could they be dark horses for the Heineken Cup if a few key players return? Nick
Hi Nick, I had Tigers to get through. As they had Treviso in their group, I thought they'd make it as winners or one of the two best runners-up. They could end up getting Sarries at home or possibly Toulon away in the next round, but they need to beat Ulster to get a home fixture. If Tigers get the home draw I'd expect them to make it to the semis, but that is as far as I see them going, even with all the injured players back.