James O'Connor: London Irish back targets Australia return
Last updated on .From the section Rugby Union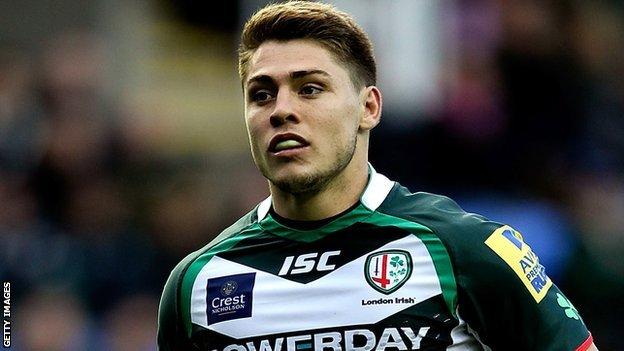 London Irish full-back James O'Connor says he will return to Australia to try and earn a 2015 World Cup place.
The 23-year-old had been allowed to move after the Australian Rugby Union terminated his contract following a string of off-field incidents.
"I've been very open about the fact I want to go back to Australia so I can play in the World Cup," O'Connor told BBC Radio Berkshire.
There had been reports that the full-back would jeopardise his 2015 World Cup prospects by making a move to Toulon for next year.
O'Connor may still sign a short-term deal with a French side or London Irish, but has confirmed he will look to return by January 2015 at the latest so he can play a full Super Rugby season before the World Cup in England and Wales.
"Playing for my country is what I always wanted to do and missing out on the spring tour and November internationals was pretty hard to watch," he added. "Catching up with my mates in the team and seeing them play is hard.
"I'm not a very good supporter, as much as I'm happy for them, I want to be wearing the gold jersey so I've got to be back for a whole Super Rugby season to play in 2015 and that is what I'm working on."
The 44-times capped back was told he would not be offered a contract with Australia for 2014 after a disciplinary investigation found he had "failed to uphold the behavioural and cultural standards expected within the team".
In October, he was escorted from Perth airport for drunken behaviour, but he says his move to London Irish has helped him refocus on his career,
"They [Irish] are a great bunch of lads, I haven't been involved in a team that is so tight," he said,
"It's fun to come to training, everyone has a smile on their face and everyone enjoys each other's company.
"I'm a guy and I like to have a good time. I have never hurt anyone or gone out of my way to be malicious. It was poor timing and a lack of judgement. I'm learning. You want to live in the moment, I'm a people person but there is a time and place.
"I've moved on from that and am a new person with new goals."
He added: "I'm in touch with everyone back home, players and coaches. It's on the move but it is a long way off and there are still a lot of hurdles to jump over.
"It's not a given, it's a goal and this was always going to be a short-term stint."