Truro City step up plans for stadium move
Last updated on .From the section Football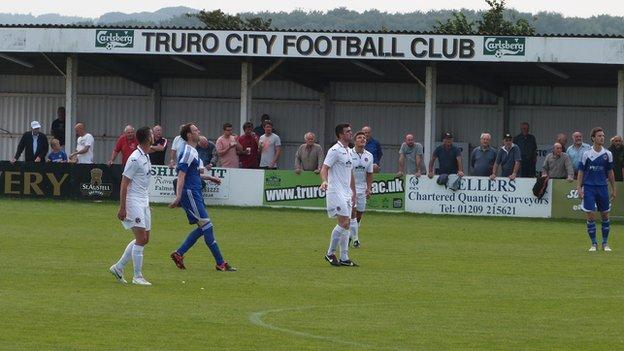 The prospect of Truro City leaving Treyew Road has come a step closer as developers continue with plans to build a large supermarket on the site.
Development company Helical Bar are working up proposals and are in talks with Cornwall Council, with a planning application expected in the spring.
Truro City owner Peter Masters said the news was a positive step for his club.
"There's a chance for Truro and Cornwall as a whole to capitalise on this," Masters told BBC Radio Cornwall.
"It's exciting times ahead. We've been talking to Helical Bar and we're all hopefully going forward with a development on Treyew Road which will then allow some of the monies to be diverted for a new stadium for Truro City.
"I do believe that Truro needs to do something to take things forward. The high street and the whole place is tired - we need some new development to take it on and importantly I have to look after the football club.
"I like to think they'd be making a contribution around the £4m mark."
The communication between Helical Bar and the council - which is currently a request for a screening opinion rather than a formal planning application - details the intention to demolish the existing stadium and construct a 4,600+ square metre supermarket, plus more than 300 car-parking spaces and a petrol station.
A spokesperson for the Morrisons supermarket chain told the BBC that they were potentially interested in the site.
"At this stage we are yet to make a decision but look forward to sharing our plans with the community, when things progress," the spokesperson added.
Masters said the club, which has suffered from serious financial difficulties in the recent past, planned to continue playing at Treyew Road for the rest of this season and the next, but there was an alternative offer on the table for a groundsharing arrangement with another club.
"Helical Bar have offered to finance some of that relocation cost," added Masters, who owns the football club but not the stadium.
"But there is a finite amount in the pot so whatever we spend on the temporary relocation will come out of the main pot so we all have to be very cost-conscious. I want to end up with a stadium for that we can all be proud of.
"Nothing is set in stone and it will be a fight - at the end of the day it's all about money. I think there's an element of trust and understanding which we can take further and we've all got to make sure we come up with the goods."
The news could have implications for the idea of a Stadium for Cornwall, which could be shared with the Cornish Pirates rugby side.
The proposal has been on hold since 2012, when councillors voted against providing £10m towards the project.
Under the leadership of former owner and chairman Kevin Heaney, Truro were promoted five times in six years. They also won the 2007 FA Vase. But Mr Heaney went bankrupt in 2012.
Local businessmen Peter Masters and Philip Perryman took over the club in December 2012 and in June 2013 agreed a deal with all the club's creditors.
A Company Voluntary Agreement (CVA) was arranged which took debts of up to £4.5m down to about £80,000.