Ex-Scotland coach Frank Hadden bemoans overseas influence
Last updated on .From the section Rugby Union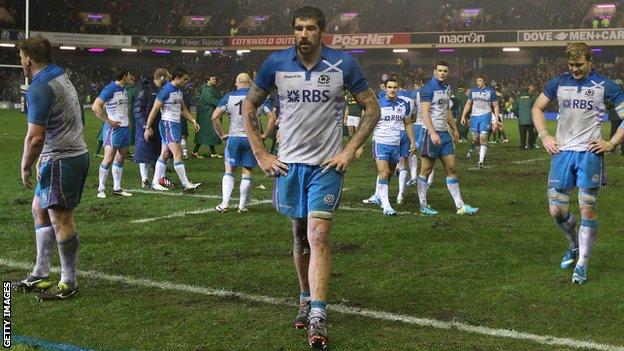 Former Scotland head coach Frank Hadden is dismayed by the lack of coaching opportunities for home grown talent.
"In my opinion there are far too many foreign people involved at the top end of the game in our country," Hadden told BBC Radio Scotland.
"There is nothing wrong, individually, with a lot of the people there.
"We have some very fine people involved at the upper end but perhaps not enough who fully appreciate the history and tradition of the game."
Australian Scott Johnson will oversee Scotland's Six Nations campaign before moving into a director of rugby role when New Zealander Vern Cotter takes over in June.
Welshman Jonathan Humphreys is the attack coach, while Australian Matt Taylor is the defence specialist and Italian Massimo Cuttitta looks after the scrum for the national side.
Former Scotland stand-off Gregor Townsend is doing well with Glasgow Warriors but South African Alan Solomons is in his first season as Edinburgh head coach and has recruited extensively from his homeland.
And Hadden is also critical of the influx of overseas players, despite acknowledging the improvements made at his former club.
"I don't blame Alan Solomons for going back to what he knows to try and make progress with an Edinburgh side that was really struggling," added the 59-year-old.
"And he has quite clearly made a difference. They have a wee bit of momentum going now.
"But in terms of developing international players, it's not ideal, that's for sure.
"It all stems from a lack of clarity and a strategic plan for our professional teams.
"Even when I was coaching at Edinburgh and Scotland I was never really all that sure what the aims were.
"On one hand you get told that you want to produce players to play international rugby for Scotland and then the coaches are given targets that they must achieve by the end of the season otherwise they get sacked.
"That can be a bit counterproductive and I'd like to see some real clarity on the purpose of the pro-teams."
Hadden led Scotland to the quarter-finals of the 2007 World Cup, leaving the post after close to four years following a second consecutive disappointing Six Nations in 2009.
"My understanding of the targets is that they are too simplistic," he continued. "We need better guidelines.
"If you take, say hookers, scrum-halves and tens for example, these are areas where there are not two of them in each team and if you have foreigners in those position you are undoubtedly blocking the funnel towards the international side.
"In my opinion, it's criminal to have too many foreigners in these positions.
"Maybe do it in positions that you've got two of, like second row and the wings.
"There's nothing wrong with foreign players but we should be going for marquee signings rather than flooding teams with ordinary players to make up the numbers.
"We need a better balance and we need to encourage our best coaches with the opportunity to work at a higher level."
Former Scotland and Glasgow full-back Rory Lamont also has reservations about the number of foreign players at the pro-teams, although some could be called up under residency rules like Dutch-born winger Tim Visser in 2012.
"If there aren't enough Scottish players getting game time, week-in, week-out it's going to effect the national side," he told BBC Scotland.
"In the long-run, some of these South African guys might become Scottish qualified but there is no guarantee they are going to stay, so it's a bit of a gamble."