Heineken Cup: Edinburgh's Solomons laments Du Preez yellow card
Last updated on .From the section Rugby Union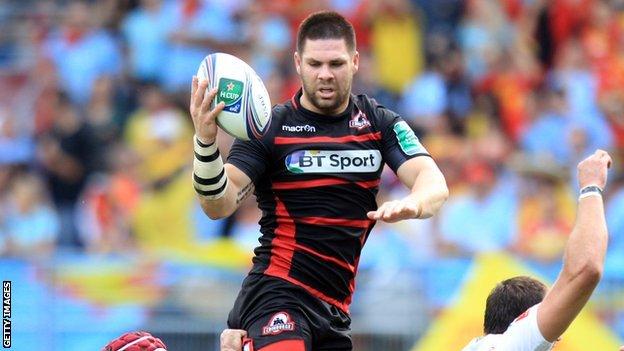 Edinburgh head coach Alan Solomons felt Cornell du Preez's yellow card just before half-time had a major bearing on the game as
Back-row forward Du Preez was sent to the sin bin with his team trailing 12-6 and Solomons believes the decision led to the Irish side taking control.
"That was a major, major moment in the game," said the South African.
"They felt that the clean-out constituted foul play but I'll need to study it very carefully."
Referee Wayne Barnes issued the card to Du Preez for "recklessly leading with the head" when attempting to clear out Paul O'Connell at a ruck.
Solomons added: "That was a big decision and that had a major influence because they got a try coming out of half-time, they went up 19-6 and then then game starts to get beyond you.
"After that we had another yellow card [prop Geoff Cross] and that made it very difficult.
"Those 10 minutes were a key factor and once those 10 minutes were gone, the game was gone as well.
"It didn't aid our cause to play 20 minutes with 14 men. At the end of the day we didn't play particularly well.
"They're a good side, they played well and they deserved the result."
The defeat, combined with left Edinburgh third in Heineken Cup Pool Six on 12 points, five ahead of the French side but two behind the English club and 11 points adrift of runaway winners Munster.
And their slim hopes of dropping into the consolation Amlin Cup failed to materialise.
The yellow cards were not the only areas troubling Solomons. He was angered by his team's errors in the second half.
He said: "We lost a lot of set-piece ball in that half as well.
"We turned over ball so whenever we got in their half we either made an error or gave away a penalty and the consequence is you can't maintain territorial advantage. The pressure comes off."
Edinburgh captain Greig Laidlaw told BBC Scotland that the squad was "massively disappointed" with the performance.
"We've let ourselves down and we've let the Edinburgh jersey down, that's the most disappointing thing," he said.
"But we can't let it linger. It won't have a bearing for the rest of the season.
"We lost most of the collisions, tackle areas and the set-piece started to creek.
"When you add all that up, you give them momentum. We gave them too much and when they get momentum it's difficult."