Roger Lewis claims RFU would block Anglo-Welsh league bid
Last updated on .From the section Rugby Union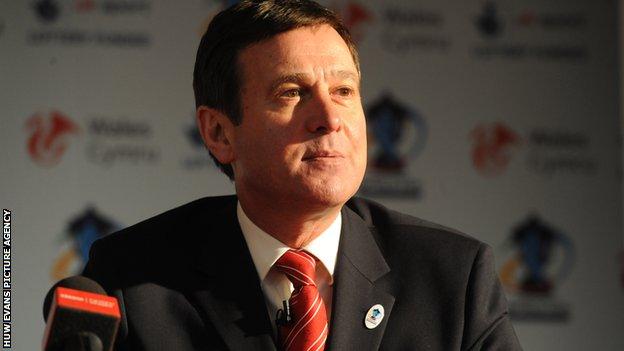 Welsh Rugby Union chief executive Roger Lewis claims the English RFU would block Welsh regions joining the Aviva Premiership.
"The Rugby Football Union will not allow the Welsh regions to join the Aviva Premiership," Lewis said.
"They [the RFU] have told us. So that is not going to happen."
The RFU declined to comment on Lewis' claim.
The Scrum V television debate brought the regions and the Welsh Rugby Union together in public for the first time to discuss the issues facing the game in Wales.
The two sides are in dispute over funding, proposed new competitions and the exodus of players to richer clubs in France and England.
As well as the dispute between the Welsh Rugby Union and the regions, there is also a wider row over European rugby, which centres on who plays in the Heineken Cup, how much they are paid and who runs the European competition.
Newport Gwent Dragons chief executive Gareth Davies, who was also on Sunday's TV panel, confirmed the regions were ready to look at forming an Anglo-Welsh league with the Aviva Premiership clubs if there was no solution to the European rugby situation.
"The understanding we have with the English clubs is quite solid, whilst not underestimating the enormous hurdles that are in the way of that happening," said Davies.
"What other option do we have? Playing in a, with respect, reduced European competition and the Rabo [Pro12] doesn't have a sponsor next year and the Italians claim they are pulling out."
There were also claims during the programme that second-tier clubs in England would oppose Welsh regions joining an Anglo-Welsh league.
Chris Clarke, chairman of Cross Keys Rugby Club, said: "We played Ealing and Moseley and they told us that the (English) championships clubs had a meeting last Wednesday in a Birmingham hotel because of their opposition to any Welsh inclusion in their league."
The six unions representing England, Scotland, Wales, Ireland, France and Italy will meet again on Tuesday to try to sort out what next season's European Cup will look like.