David Moffett keen to stand as district representative to WRU
Last updated on .From the section Rugby Union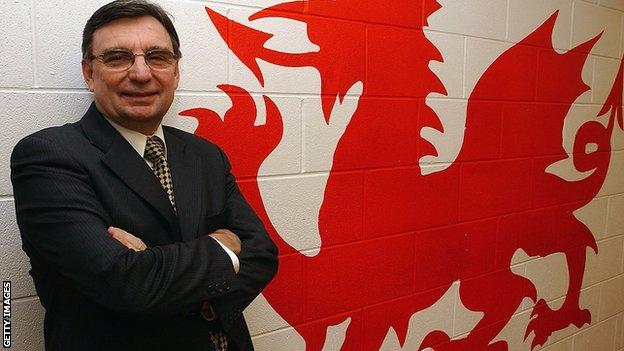 Former Welsh Rugby Union chief executive David Moffett says he would like to stand as a district representative on the WRU board.
Aurwel Morgan, of Bridgend Sports RFC, has represented District D since 2005 but will not seek re-election next summer due to personal reasons.
Moffett is keen to help bring an end to the row between the WRU and regions.
"I would love to be in a position to seek the nomination of District D to the board of the WRU," said Moffett.
"I would be honoured to represent them. They have my phone number if they would like to contact me, to have a chat and see what I have got to offer."
Moffett, 66, was WRU boss before leaving that role in December 2005, but has said he intends to stand for election to the governing body's board.
The New Zealander was succeeded at the WRU by current group chief executive Roger Lewis in October 2006, but went on to head Regional Rugby Wales - the body that represents the four Welsh regional rugby teams - in October 2008.
The next elections to the WRU board, which has places for three national board members and 14 district board members, are scheduled to take place in August 2014.
Moffett could now stand for the place vacated by Morgan and possibly gain election to the WRU board.
However, he would first need to be nominated to a club committee, then election to the district committee to secure eligibility.
WRU board members elect the governing body's chairman, a role currently filled by David Pickering.