Premiership salary cap will rise to £5m for 2014-15 season
Last updated on .From the section Rugby Union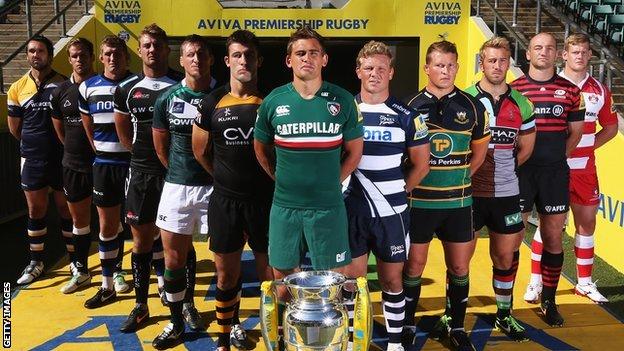 The salary cap for clubs in the Premiership will rise to £5m for the 2014-15 season.
The total, which includes an unchanged sum of £240,000 in academy credits, is up by £500,000 on this season.
Top-flight teams are allowed to exclude one player from the cap and can apply for one injury replacement.
Any clubs suspected of breaching the salary cap could face a disciplinary hearing, with the sanction of both a points deduction and fine available.
Academy credits cover players who are under the age of 24, joined a club before their 18th birthday and are earning more than £30,000 a year.
Up to eight £30,000 credits, totalling £240,000, can be used for players who have graduated from a club's academy.
These credits are applied to any earnings above the £30,000 salary cut-off - so if a qualifying player earns £35,000, only £5,000 would be counted in the club's salary cap calculations.
There is also a £200,000 academy cap for players under the age of 24 and earning less than £30,000.
Meanwhile, the use of an injury replacement can only occur when a player has been injured for a period of 12 weeks or more - and he must play in the same position and their salary must be comparable or lower than the injured player.
"The Premiership Rugby clubs have approved this increase following the financial boost given by the new [television] contract with BT Sport and the renewal of the competition's title sponsorship with Aviva," said Premiership Rugby chief executive Mark McCafferty.
"This reflects the policy agreed by the clubs in 2011 to align the salary cap to the financial distributions Premiership Rugby makes to the clubs.
"The objective of the salary cap is to control inflationary pressures on clubs' costs, and to provide a level playing field for clubs to ensure a competitive Aviva Premiership Rugby competition."