Paul O'Connell: Ireland captain to leave Munster in 2016
Last updated on .From the section Rugby Union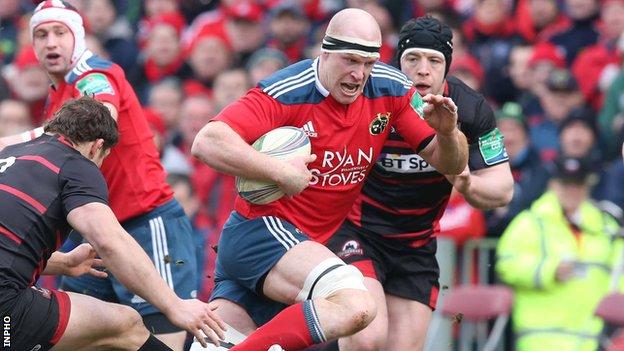 Ireland captain Paul O'Connell says his latest contract with Munster will be his last with the province.
But although the former Lions captain may play beyond that point if he maintains fitness, he says it's unlikely to be with the Irish team.
"I would say it's definitely my final contract with Munster," he told BBC Radio 5 live.
"I will see how I am in a few years' time. The body feels very good at the moment.
"If it feels like that in two years' time, then I might look at doing something then. But it's a long way away now, and I'm not really planning anything like that yet."
O'Connell admits there was interest from other clubs, but says he had no intention of leaving Munster ahead of signing his latest deal.
"I wasn't too eager to leave, so it was just a question of getting a deal done with the union," he said. "We got close enough to where we were both happy last week, so I'm happy to be staying.
"I have a certain group of coaches and medics that I've worked with for a long time at Munster and Ireland, that know my body and what I can do and can't do, and that's quite important for me.
"If you go over to France you want to be able to show you're there for the long haul. But I can't train like a 22 year-old anymore."
However, O'Connell has revealed his regret at not playing abroad at any point so far in his career.
"It is something that would interest me, and it is a big regret of mine," he added.
"It's a shame to think we had this great opportunity to go and play in France and live in France, learn the language and experience something different.
"I thought about it in the mid-2000s, but at that time we were just beginning to become so strong at Munster, we hadn't won the Heineken Cup yet, so it was a very difficult time to leave."
O'Connell missed the 2013 Six Nations with injury, and says he is as hungry as ever ahead of this year's tournament.
"It's more exciting than it ever was. I found it very tough last year. I don't think I have many more of these Six Nations ahead of me, so I'm really excited about this one," he said.
"Joe (Schmidt) has come in and has given a new lease of life to the whole team. We've got the right coach at the moment, and now it's up for the players to produce the goods."