Sam Warburton 'delighted' with WRU central contract, says agent
Last updated on .From the section Rugby Union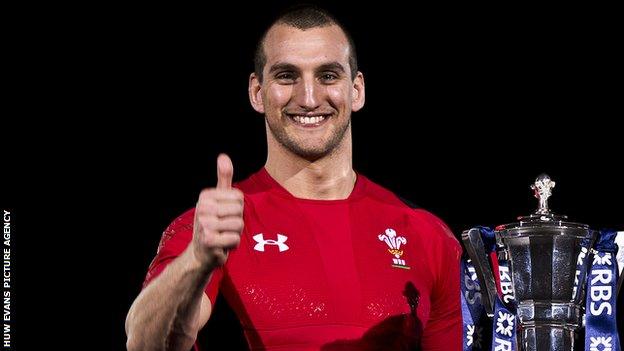 Sam Warburton's agent says the Wales captain is relieved his future has been sorted out.
Warburton became the first player to sign a central contract with the Welsh Rugby Union (WRU) and will be loaned back to the Cardiff Blues.
His agent Derwyn Jones says the 25-year-old also had an offer from French club Toulon but the WRU contract was the only way he could stay in Wales.
"That was the only option - he had to play his rugby in Wales," said Jones.
"He's thought long and hard about where he wants to play his rugby over the last 12 months."
The flanker's current contract with the Cardiff Blues expires in the summer and in December he had set a deadline for his future to be sorted out.
Uncertainty over Warburton's club career came against the backdrop of the dispute between the Welsh Rugby Union and the four regions.
The two sides are in dispute over funding, proposed new competitions and the exodus of players to richer clubs in France and England.
Warburton's Cardiff Blues team-mate Leigh Halfpenny has become the latest player to join the Welsh exodus, signing for French side Toulon on a two-year deal.
However fellow international Alun Wyn Jones will remain in Wales after agreeing a new two-year contract with the Ospreys.
Derwyn Jones said despite the uncertainty regarding what competitions the regions will be playing in next season, Warburton was keen to stay in Wales.
"Cardiff Blues would have loved to have contracted him but unfortunately the funds weren't available," said Jones, the former Cardiff RFC and Wales lock.
"It's an uncertain time for the regions, a difficult time, but Sam wants to stay in Wales.
"He lives in Cardiff. His family's in Cardiff. He's getting married next year. He's very happy here and it's fantastic news I think for him."
The Cardiff Blues have yet to respond to the news of Warburton's deal but the region's chairman Peter Thomas has claimed the Welsh regions and Welsh Rugby Union were in a "crazy" competition to sign Wales' top players.
Wales players have previously been contracted to their regions or teams and the regions had an agreement not to field a centrally-contracted player.
The WRU said the agreement was "a triumph in the best interests of all Welsh rugby".