Six Nations 2014: Does post-Lions fatigue favour France?
By Ben Dirs and Bryn Palmer
BBC Sport
Last updated on .From the section Rugby Union434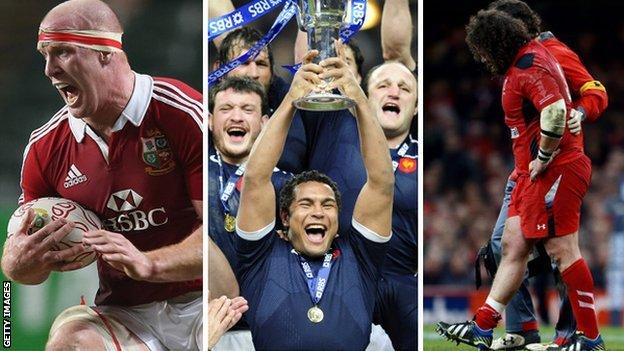 Mention of the fact France have won the Five or Six Nations every year after a British and Irish Lions tour in the professional era can elicit deep consideration, confusion or shrugs, depending on who you mention it to.
That's the thing about history, it can be interpreted in different ways. Or ignored. Or forgotten. Or remembered and its significance disregarded.
Wales head coach Warren Gatland, who led the Lions to series victory against Australia last summer, says the 2014 Six Nations might provide definitive proof that this is indeed a trend.
Ex-Wales captain Martyn Williams wasn't even aware it was a fact until he was informed of it, hence his confusion. This is perhaps surprising given the venerable flanker went on three of the four relevant tours, in 2001, 2005 and 2009.
Former England number eight Nick Easter says there is no way France can win this year's Six Nations because they finished bottom of the table last year. However, the Tricolores won the title in 2006, despite finishing fifth in 2005. They also won the Grand Slam in 2002 and 2010, as well as in 1998, the other three post-Lions years.
Ireland captain Paul O'Connell is of the cryptic opinion that it is only historical fact if you want it to be. France head coach Philippe Saint-Andre is more willing to embrace history, though, which is to be expected given that not only did his side win the Wooden Spoon last year but they have won only two of their last 11 Tests.
Having talked himself round to the idea that perhaps the statistic in question is not a coincidence, Williams, who won 100 caps for Wales and four for the Lions, put forward a convincing argument as to why it might happen again.
"The players who went on last year's Lions tour would have started their pre-seasons the previous July," said Williams. "That's a 12-month season and that's going to take a huge toll on the body and mind.
"It's not just the games on a Lions tour that takes it out of you; every training session is so intense because you're fighting for your place against the best players from four countries and everyone wants to prove a point.
"You come back from a Lions tour and you're not where you want to be physically and you're playing catch-up. This is partly why some players have dips in form. You're just hoping to get through games and get your form back.
"All players say 'the Lions tour hasn't entered my mind', but actually you're thinking about it all year. The mental build-up takes a lot out of you and it can be an anti-climax when you come back, whether you were successful or not."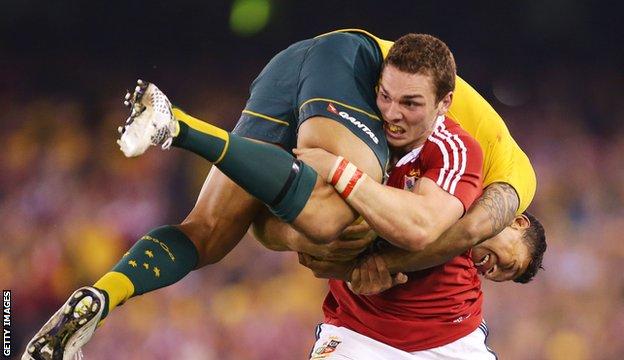 Gatland, whose side are bidding to become the first to win three Six Nations titles in a row, acknowledges the extra strain a Lions tour can put on a body and mind. But despite 15 Wales players being in the initial Lions squad last summer, and 10 starting the final Test, Gatland believes this Welsh team is in better physical shape than ever.
"A lot of the Lions players got to see the sort of shape the Welsh boys are in physically," said Gatland, whose side play Italy in Cardiff on Saturday. "That gave us confidence and belief in our facilities and training environment.
"A Lions tour comes at the end of a long season, and when you get to this part of the following season players are often picking up injuries, they are jaded and just haven't got enough petrol in the tank.
"But we have added an altitude chamber and cryotherapy unit and we think we are fitter than most teams in the world.
"This tournament is going to provide the real proof of what a Lions tour takes out of players but hopefully we can break that French hoodoo."
Meanwhile, Mark Bennett, Wales' former fitness coach and now head of conditioning at Welsh region Ospreys, says all the modern gadgetry in the world is no substitute for a good sit-down.
"With every high a player has in terms of fitness and performance, there has to be a low," said Bennett.
"If you don't give players recovery time, you're simply piling up the pressure and players are going to snap like an elastic band, whatever strategies you have.
"Most head coaches realise that if they give their Lions players a little bit more time to develop at the start of the season, and maybe the odd week off during the season, they'll get more return."
However, necessity usually trumps a head coach's best intentions: three of Ospreys' five Lions saw action in their first competitive game of this season, while all five played in their third.
O'Connell, who toured with the Lions in 2005, 2009 and 2013 and whose side take on Scotland in Dublin on Sunday, believes the provincial system in Ireland, where elite players are contracted to the Irish Rugby Football Union, perhaps gives them an edge.
"We are very well-managed," said O'Connell, "I got a good break after the Lions tour. At Munster we've had some very tough games over the last few months but I had another week off over Christmas and most of the Irish players are feeling strong heading into the Six Nations.
"It [the post-Lions comedown] is something you can look for and believe in if you want to."
In truth, if Ireland or one of the home nations does manage to break France's post-Lions hoodoo this year, it is likely to have as much to do with deep-seated problems in French club rugby as improved player management elsewhere.
The Top 14 may be the most lucrative league in the world but this commercial viability has its downsides. First, more money has meant less flair, with most sides preferring a low-risk, muscular style of play. This has created confusion in the national team, which has a more poetic tradition.
Second, it has meant the flooding of the Top 14 with foreign players, with Saint-Andre complaining he doesn't have enough native talent to pick from.
Third, it has meant Top 14 players having to provide more bangs for their buck, with this season running from 16 August to 31 May, three weeks longer than the English Premiership. This might go some way to explaining why France's injury list is longer than any of their Six Nations rivals.
At least Saint-Andre will have had access to his players for two weeks rather than the usual one before the tournament kicks off this weekend, a minor miracle given the power of the French clubs.
"For the first time we have the same preparation as the other five nations," said Saint-Andre, whose side play England in Paris on Saturday.
"And the Lions players played more games than normal and finished their season in July. When you finish bottom in 2013, it's difficult to say you're favourites in 2014. But France like to be outsiders."
But for all the talk of the home nations potentially being diminished by the Lions effect, perhaps the humble fixture list has had a greater influence on the outcome of previous Six Nations.
Of France's five Six Nations triumphs, four came in even years, when they play three home games instead of two. Then again, they finished third in 2008 and fourth in 2012, and neither tournament followed a Lions tour.
That's another thing about history, it was all a bit unpredictable. Maybe Gatland was right, let's just wait and see.