Wales captain Sam Warburton subjected to 'disgraceful abuse'
Last updated on .From the section Rugby Union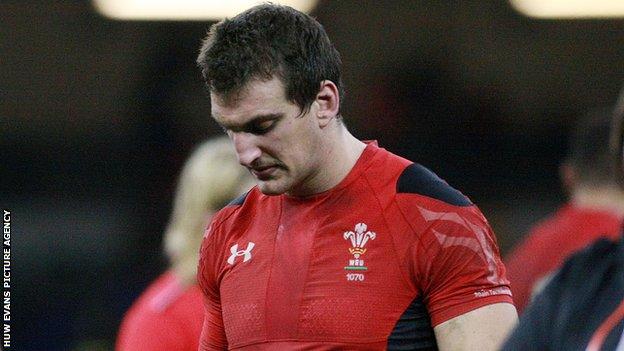 Wales captain Sam Warburton has received abuse on social networking sites such as Twitter, according to his agent Derwyn Jones.
Jones says the abuse is unacceptable.
"Some of the uninformed vitriol aimed at my client Sam Warburton since yesterday's WRU press announcement has been disgraceful," said Jones.
Uncertainty over Warburton's club career came against the backdrop of the dispute between the Welsh Rugby Union and the four regions.
The two sides are in dispute over funding, proposed new competitions and the exodus of players to richer clubs in France and England.
Some of the criticism Warburton received accused him of betraying his current region, the Cardiff Blues.
But former Wales international Jones says the 25-year-old turned down offers to play in France to stay in his homeland.
And Jones says the only way Warburton could do that was by accepting the Welsh Rugby Union's offer.
"He hopes to continue to play for Cardiff Blues," said Jones. "The WRU and Sam have prioritised this during the negotiation process.
"Sam wants to stay in Wales and intends to play for Cardiff Blues next season should all the issues [between the WRU and Regions] be resolved.
"But if he had moved to France there would have been absolutely no chance of him playing for the team he has supported since he was a young boy.
"Freedom of speech gives the rugby public every right to judge Sam Warburton as a player but please don't doubt his integrity as a man."
Warburton's former Wales and Cardiff Blues team-mate Martyn Williams told the BBC Wales Scrum V TV programme the abuse was unacceptable.
"That's out of order," said Williams."His integrity is second to none."
Former England and British and Irish Lions centre Jeremy Guscott also leapt to the defence of the Wales captain.
"It's hugely wrong and totally out of order," said Guscott. "As usual these people won't go up to his face and say it.
"It's easy to hide behind social media. This is abuse on an extreme level and I'm sure Sam will see it and block and block and block.
"He's that grown up and that mature he understands what to do."