London Welsh plan Kassam Stadium exit
Last updated on .From the section Rugby Union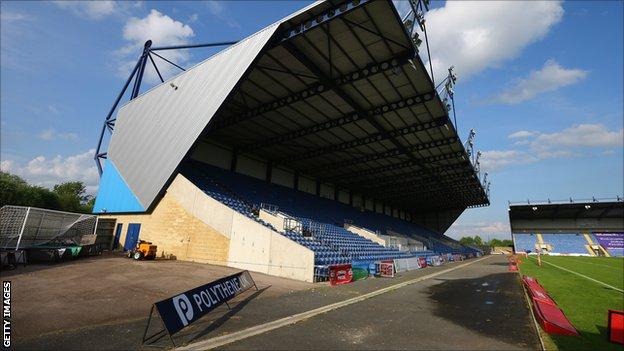 London Welsh say they are hoping to redevelop Witney Town's old football ground and leave the Kassam Stadium.
Welsh have been playing at the Kassam Stadium since September 2012.
A proposal to redevelop the Polythene Stadium into a 10,000 capacity ground, with 6,000 temporary seats, has been given to West Oxfordshire planners.
"The costs we currently have at the Kassam are difficult to justify," London Welsh commercial director David Jenkins told BBC Radio Oxford,
Welsh moved to the Kassam Stadium from Old Deer Park following their promotion to the Premiership in 2012.
However, they were relegated after only one season and remained at Oxford United's ground.
But Jenkins says they have started exploring other options in an attempt to make their presence in Oxford sustainable in the long term.
"What we are trying to do is reinforce the message that we are serious about staying in Oxfordshire in the long term," he said.
"With that is mind the ultimate objective is to own our own ground or have a ground where we can generate revenue and our own income from match and non match day activities which is something we currently don't have at the Kassam.
"It's an option we are exploring, although our home at the moment is still very much the Kassam. If we get back to Premiership as we move on the criteria might well involve having primacy tenure in a ground - we currently don't have that at the Kassam.
"The planning permission is the first obstacle, the second is getting the professional game board and the RFU to accept any solution other than the Kassam. The Kassam meets all the criteria at the moment and there would be a lot of work to do whether it be Whitney or anywhere else."
Jenkins says the move could happen as early as next season adding they were looking to copy the successful model at Exeter Chiefs.
"The ultimate goal is to find our own ground," he said,
"We are looking very closely at the Exeter template, where Exeter were one of the club's that showed a trading profit last year from income they derived from the 350 non-match days and we can't do that at the Kassam and that's one of the reasons we are looking at alternatives,"