Alun Wyn Jones swayed by Ospreys deal over WRU offer
Last updated on .From the section Rugby Union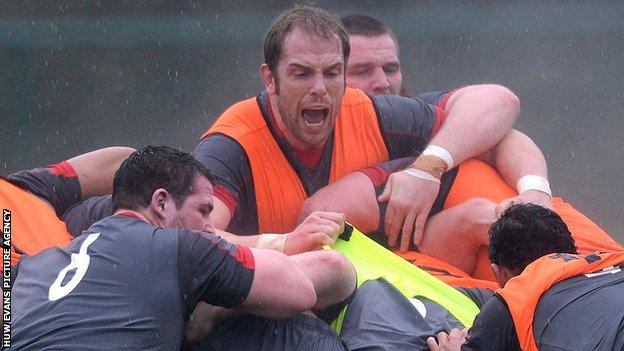 Alun Wyn Jones says he opted to rather than take up a Welsh Rugby Union contract to guarantee where he would be playing his rugby.
The Wales lock ended speculation on his future by signing a new two-year deal.
Jones said there was no certainty of continuing to play for the Ospreys if he had taken up the WRU offer.
"Had there been an agreement where I knew I would definitely have been in the Ospreys it would have been more difficult for me to choose," he said.
Players are uncertain over what competitions they will be playing in next season, with a rival European competition to the Heineken Cup on the table and the possibility of the Welsh regions also playing in an Anglo-Welsh competition instead of the Pro12.
There is a bitter disagreement between the WRU and the four Welsh regions over that issue, with a new participation agreement going unsigned and a continuing dispute over how the game in Wales is run.
Swansea-born Jones, 28, admits that there was a lot he had to take into consideration before committing himself to any contract, but that continuing with his home region at the Liberty Stadium won out in the end.
"I am guaranteed rugby with the Ospreys," Jones said.
"Admittedly, I don't know which competition I am going to be playing in, but the way the situation is at the minute if I had signed a central contract I wasn't guaranteed rugby and I didn't know what competition I was playing in.
"You could say I've gone with the safer option. I haven't tried to be controversial."
Fellow Wales and British and Irish Lions star Sam Warburton this week became the first Welsh player to while Leigh Halfpenny
Halfpenny is reported to have been offered an annual wage close to £400,000 as well as the opportunity to play for the defending Heineken Cup champions.
Warburton's decision to take the security on offer from the WRU - with the Blues unable to budget properly for next season in the uncertain climate - has attracted a mixed reaction.
Former Wales flanker Martyn Williams said Warburton's decision has "set a dangerous precedent", while the Wales captain has received abuse on social networking sites.
Warburton expects to be allowed to continue playing for the Blues, although as in the case of the central contract offered to Jones there is no cast-iron guarantees.
Despite rebuffing the advances of the Union, Jones says the fact he will continue to play his rugby in Wales in the foreseeable future was welcomed by the governing body.
"I want to stress that my decision was welcomed by the Union," added Jones, who has won 74 Wales caps and played six Tests for the Lions.
"I met [WRU group chief executive] Roger Lewis after it was announced and he congratulated me and said it was good I was staying in Wales.
"The big thing was that I need to be playing rugby to be selected and that was the decision I made.
"I made it myself and it wasn't forced upon me... I have made a decision and for the near future I'm happy where I am.
"I don't want it to come across as if I had wished I had signed a central contract.
"It would have been advantageous to me from a game-management and physiological point of view, with fewer games, more training, better access, lower numbers-ratio to coaches etc. But, ultimately, potentially I wouldn't be playing rugby."
As well as the overtures from the WRU, Jones also had big-money offers from interested clubs in France and England.
But the 6ft 5in lock, who led the 2013 Lions to victory in the third Test series decider against Australia after Warburton was injured, says his decision was never going to be purely about the financial rewards on offer.
"When I spoke with [head coach] Steve Tandy and [chief executive] Andrew Hore at the Ospreys, I told them to just make it a difficult decision for me in terms of the complete package," Jones said.
"I told them if they made it as difficult as possible for me I would be happy.
"I know that is creating pain for myself, but I didn't want it to be a simple decision based on a club offering X amount of money and I would go there. That wasn't the sole motivation.
"It was the complete package. I asked the Ospreys to do that and they were able to do that. It was a competitive proposition they put towards me, and I see fit for myself to be there."
Jones, meanwhile, is favourite to captain Wales in Saturday's Six Nations opener against Italy in the Millennium Stadium if Warburton does not make the starting line-up.
The Blues open-side has not played for two months because of a shoulder injury, although his return to action is expected either next weekend or seven days later when Wales tackle Ireland in Dublin.
Wales coach Warren Gatland will announce his match-day squad on Tuesday lunchtime.