Women's Six Nations 2014: Ireland look to defend title
By Sara Orchard
BBC women's rugby commentator
Last updated on .From the section Rugby Union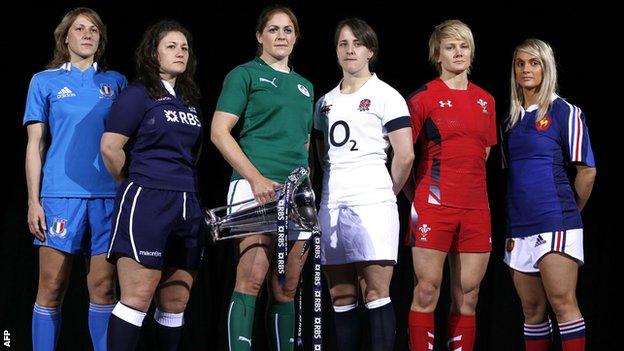 The 2014 Women's Six Nations carries extra significance this year as it also serves as a warm-up for this summer's World Cup in France.
Ireland women lifted their first Six Nations title in 2013 and did it in style as they completed the Grand Slam. Their triumph ended England's dominance following seven consecutive victories and means Wales and Italy are the only teams never to have won the tournament.
This year's championship kicks off on Friday 31 January with Ireland v Scotland, with France v England and Wales v Italy following over the next two days.
Two countries will be playing matches at their national stadiums this year. It's a first for Ireland who are rewarded for last year's triumph with a game at the Aviva Stadium on 8 March against Italy after the conclusion of the men's fixture.
Before that, England women will host the Irish at Twickenham on 22 February.
The match between Wales and France at the Talbot Athletic Ground the following day could prove significant, with both having been drawn in Pool C for the World Cup.
It should be noted that Italy and Scotland have not qualified for the tournament, which takes place in Paris this summer.
Despite their results last season, when they only finished third, England are favourites for the Six Nations. This may irritate champions Ireland and World Cup hosts France, but this year the Red Roses have all their most experienced players available, unlike in 2013.
The Rugby Football Union's decision to allow its top female players to focus on Sevens last year did not bear fruit, with a disappointing quarter-final exit from the World Cup in Moscow.
Ireland's victory in 2013 was far from a fluke. It was the result of an improved national programme and talented players who raised the standard of Irish women's rugby.
However, if they want to prove that the balance of power in northern hemisphere women's rugby truly has shifted across the Irish Sea, they will need to repeat the feat.
England
There is a lot of unfinished business for England women and the Six Nations is one of their first opportunities to start regaining their composure after last summer's disappointment at the Sevens World Cup.
Expect big performances from players all bidding for a place in Gary Street's World Cup squad.
Nothing less than a Grand Slam will be acceptable to England as they look to build towards what they hope will be another World Cup final showdown with New Zealand in Paris in August.
Captain Katy McLean: "The Six Nations is something that we really want back. Last year was a really difficult year, there's no hiding from it, but it's the amount you learn from it.
"Getting beaten by France and losing that unbeaten record at Twickenham hurt.
"You put on an England shirt to win and for us it's about getting back to winning ways, it's about doing it with style, making sure we're clinical and applying the lessons we've learned."
France
As World Cup hosts, a good performance in the Six Nations is vital.
France have three home games and, crucially, two of them are against their toughest opponents - England and Ireland.
Winning either one of these games will be important to coach Christian Galonnier after losing to Canada and England in the autumn internationals.
Expect the French - who had by far the best points difference in the 2013 campaign - to again use their bruising runners and weighty pack to get the scoreboard moving.
Captain Marie-Alice Yahe: "The dream and objective for France is to win the Six Nations.
"The French team needs to win the tournament because we keep finishing second; we want to win it.
"But we also want to work for it as we look towards the World Cup and make our mark."
Ireland
Last season's Grand Slam makes Ireland the team to beat and it's how they react to this pressure that could make or break their tournament this time round.
Success in 2014 could rest on their two away games against England and France.
The disadvantage Ireland face is a lack of international rugby since last year's tournament - and no amount of training can replicate the intensity of Test match rugby.
Captain Fiona Coghlan: "I've been playing rugby for 10 years now and it's taken 10 years to win the Six Nations - I don't want to give it up that easily.
"The recognition we get at home and the media support is just phenomenal and the nation has just got behind us.
"We still only have five weekends together, so it's still a short space of time when you have new girls coming into a squad."
Italy
If Italy can produce some consistent performances there is no reason why they can't start to rise up the Six Nations table.
They were forced into fifth last season by Wales on points difference having won the same number of games.
It's yet to be seen if coach Andrea Di Giandomenico has found some decent finishers who can get the Italians across the try-line more often.
Captain Silvia Gaudino: "In many ways last season was very disappointing. There were many matches lost just by a few points. We have to try and do better this year, starting with Wales.
"We have learnt a few things we need to improve, but most of all we have learnt that a match can be won and lost in the last minute.
"Taking part in the World Cup was our target - as we're not going we can focus on the Six Nations."
Scotland
In 2013 Scotland scored only three points in the whole Six Nations campaign and suffered two 76-0 defeats. Having won the wooden spoon for the past three years, there is a new head coach in Jules Maxton, who is tasked with turning around Scotland's fortunes after they failed to qualify for the World Cup.
She has already made her mark, naming eight new caps in her squad. There's also a new captain in Tracey Balmer following the retirement of Scotland stalwart Susie Brown and they are big boots to fill. The Scottish Rugby Union needs to invest and better support its female players to stop them falling further behind the rest of Europe.
Captain Tracy Balmer: "The lowest point of my playing career was missing out on World Cup qualification by one point. But it spurs you on for the next four years and when the World Cup comes around again players will still be hurting - I know I will.
"We've had to do a lot of soul searching; players have had to look inside themselves and ask themselves if everything is geared towards playing for Scotland. A lot of players have come back fitter, stronger, worked really hard over the summer so hopefully, fingers crossed, we can have a lot better season."
Wales
Wales lost games last year they know they could have won. The worry for them is a lack of Test rugby - their last match was in the 2013 Six Nations.
A new regional programme has unearthed some fresh talent which will hopefully create more pressure for places in the squad. Naming two 17-year-olds (Hannah Jones and Eli Norkett) is a bold call by coach Rhys Edwards.
There is plenty to get excited about with this Welsh team, but it is unlikely they'll mature into a real force in time for this year's World Cup.
Phillippa Tuttiett: "We came together around September time; we've had plenty of contact time and good team-bonding sessions.
"The new regional programme is fantastic. Hannah Jones and Eli Norkett have done so well - I look back to when I was 17 and I don't think I could have been as cool, calm and collected as they have been.
"If we can finish games strongly, results will come through."