Six Nations 2014: 'Good preparation for World Cup'

By Non Evans
Former Wales full-back
Last updated on .From the section Rugby Union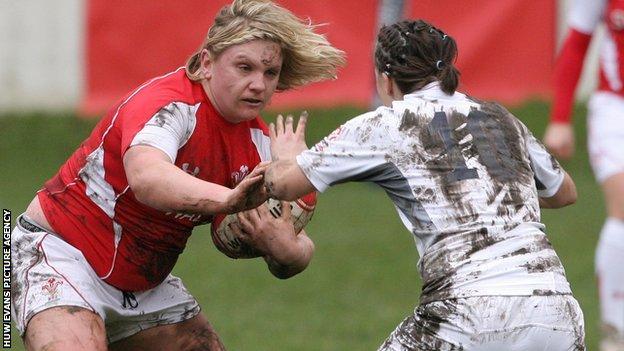 After a disappointing fourth place in the 2013 Six Nations, Non Evans looks at what 2014 might hold for the Wales Women's squad.
This year's Six Nations is more significant because the World Cup will be held in August.
Wales have got three new caps for the Six Nations opening game against Italy and have quite an inexperienced squad.
Perhaps the aim this year won't be winning the Six Nations but rather bringing these youngsters through and giving them experience going into the World Cup.
It's about building the squad and building confidence ready for the World Cup.
They've got some experience on the bench but Rachel Taylor, the captain from last year, is injured at the moment.
They're hoping she will be back in a couple of games but Catrin Edwards has captained the side before and is an outstanding player.
Catrin leads from the front and is a very positive person. She used to be quite shy and nervous, but has really developed as a person and player.
She went off travelling but she's back now to full form and was outstanding in the two warm-up games against the Nomads and a regional select side.
They faced a very experienced Nomads and winning that game, even only by a point, will have given them a lot of confidence.
Elinor Snowsill at No 10 has been playing very well for Bristol this season and there's Elen Evans at centre who is a very strong player and Philippa Tuttiett on the wing.
Robyn Wilkins will be winning her first cap in the centre and. although at 18 she is very young, she has a lot of potential.
Italy have been improving year-on-year and beat France for the first time in 2013.
They never threaten to win the Championship but they have improved and I think Wales did well to beat them last season.
It's going to be a tough game against Italy on Sunday but it's a home game so they should win and hopefully will give them confidence going forward.
But if they don't win, then it will be a tough campaign for them. I hope they can win their three home games as Ireland and England away will be tough.
It was disappointing that Wales finished fourth in last season's Championship but I think it was quite a successful campaign in terms of performances rather than results.
Ireland won the Grand Slam but Wales only lost to them by two points and they also had a close game against England. Ireland would not have beaten England last year had England been at full strength like they will be this season.
Ireland have got a lot injuries, with five or six players out, and France are also struggling because of injuries while Scotland's squad contains a lot of youngsters.
England are going to be at full strength for this year's Championship with all their top players back.
Last season, because of the Sevens World Cup, England were missing a lot of key players so this year's Championship is going to be much tougher.
It will be interesting to see how Wales get on in the Six Nations ahead of the World Cup, which is in France in August.
We've got a very tough pool, like we had in the last World Cup, with Australia, South Africa and hosts France.
If Wales can beat South Africa and France then they can get out of the pool, but it's going to be very difficult.
*Non Evans was talking to BBC Wales Sport's Aled Williams