Six Nations 2014: Alun Wyn Jones now ready for Wales captaincy
Last updated on .From the section Rugby Union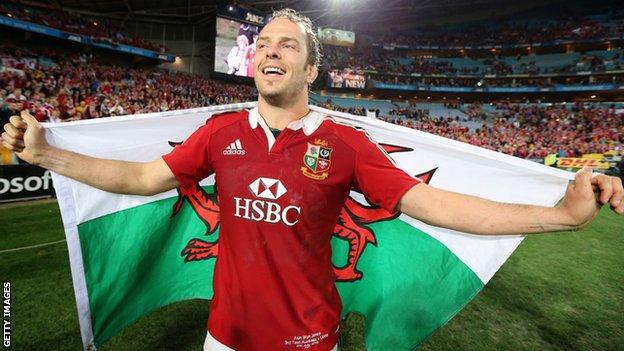 Alun Wyn Jones says he has matured since the first time he captained Wales.
The Ospreys second-row led his country against Italy in 2009 when, he admits, he might have been too young.
"The first time I did it it was a bit of an unreal experience - potentially I wasn't ready for it," he admitted.
Now Jones, 28, says he is looking forward to leading Wales out as they start their defence of the Six Nations title against Italy on Saturday.
The 74-times-capped lock captains his regional side Ospreys and led the British and Irish Lions to a 41-16 win over Australia in the third Test in Sydney in July last year.
On that occasion he was made captain in the absence of the injured tour skipper Sam Warburton, as is the case on Saturday.
However, on this occasion Warburton is on the bench as he is eased back into the fray by coach Warren Gatland after two months out with a shoulder injury.
Jones is happy to have the opportunity to lead his country for a second time.
"When you get one cap you want two - no disrespect to people who get a single cap - and it's the same with captaincy," he said.
"I've captained Wales once, against Italy funnily enough, and now I have the opportunity to do it a second time so I'm very happy.
"I've had a bit of an opportunity [as captain] with the Ospreys now and I'm looking forward to it."
Jones feels he tried to do too much when he led Wales at the Stadio Flaminio in 2009, and will trust his senior colleagues on this occasion.
"I think early on I possibly was a bit ambitious about what I could control," added Jones.
"But I think in the international set up you've got to let the boys specialise in what they're good at - I'm not going to tell the boys how to kick at the posts and likewise I wouldn't expect them to tell me how to jump in the line-out.
"I think it's potentially a lot easier to do at international level because everybody's got their own remit, their own jobs to do anyway."
Wales go into the match against Italy as the bookies' favourites to win the championship outright for an unprecedented third successive season.
And with Italy generally regarded as one of the weaker countries, Jones is keen to keep his team's eyes on the goal of winning their first match, and not looking ahead to setting records.
"Everybody can speak about what they want potentially," said Jones.
"There's already a target on our back anyway so we don't really want to draw too much attention to what could be.
"I'm just cautious - my personal view is to play one game at a time and see what comes at the end.
"You know for other teams you've got to careful what you say - because their focus on beating us could potentially be not to beat us, but to stop us succeeding in getting that [a third successive title].
"So we choose our words wisely, show the utmost respect for the opposition and take one game at a time."
Italy opened last season's tournament with a shock win over France and finished with a 22-15 defeat of Ireland.
And their efforts against England - when they lost by only seven points at Twickenham - opened the way for Wales to clinch the title by beating the English on the last day of the tournament.