Warburton signed WRU contract to play for Cardiff Blues
Last updated on .From the section Rugby Union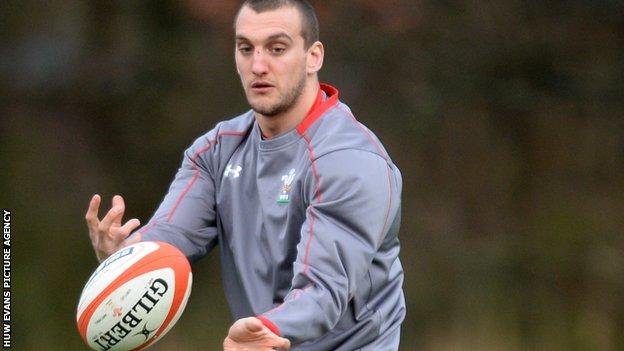 Sam Warburton says he was only prepared to sign a contract with the Welsh Rugby Union if it allowed him to carry on playing for Cardiff Blues.
"I told the union I only wanted to sign a central contract if I could play for the Cardiff Blues," Warburton said in Thursday's Daily Telegraph.
But Regional Rugby Wales (RRW) said on Wednesday that no agreement exists to field centrally contracted players.
Wales captain Warburton, 25, would have submitted his Daily Telegraph article before RRW, which represents the Blues and the three other Welsh regions, released their latest statement.
RRW's statement means Warburton's future has been thrown into doubt by the warning he might not have a team to play for next season.
"No agreement to play centrally contracted players in the regions currently exists," read Wednesday night's statement.
The regions did not oppose central contracts entirely, but said they needed to be part of a "collective agreement between all four regions".
RRW have been asked to respond to Warburton's comments while the Blues said they had nothing to add to Wednesday evening's RRW statement.
In a statement on Thursday afternoon, the WRU said it encouraged the regions to contract as many key players as they could, but if they were unable to sign them, the WRU would be prepared to negotiate central contracts with players to keep them in Wales - as it did with Warburton.
In his newspaper column, Warburton wrote: "I hope nobody thinks that I am turning my back on the Blues. I am not. I supported Cardiff as a youngster and have come through their system.
"I am Cardiff through and through and would find it uncomfortable playing for anyone else. If I had not been able to play for the Blues, it would have been back to the drawing board."
Warburton was one of six leading Wales players coming to the end of their regional contracts who were understood to have been offered deals by the WRU.
The flanker's Blues team-mate Leigh Halfpenny has opted to join French club Toulon next season, while their fellow British and Irish Lions star Alun Wyn Jones has re-signed with his region, the Ospreys.
A new participation agreement between the WRU and the regions has gone unsigned and the bitter dispute over how the game in Wales is run continues.
Players are uncertain over what competitions they will be playing in next season, with a rival European competition to the Heineken Cup on the table and the possibility of the Welsh regions also playing in an Anglo-Welsh competition instead of the Pro12.
Announcing Warburton's contract on Saturday, the WRU had said the agreement was "a triumph in the best interests of all Welsh rugby".
"We have been able to strike a deal which ensures the Welsh captain will continue to play his rugby at the highest level here in Wales," WRU group chief executive Roger Lewis said.
And Warburton's agent, Derwyn Jones, said the player would be "released to the Cardiff Blues at no cost when he is not required for international duty".
Warburton admits he had had a "couple of options in the French Top 14", and been linked with a move to reigning Heineken Cup champions Toulon, but he only really wanted to stay with the Blues and in Wales.
"I thought it was a great opportunity for me to sign with the union," writes Warburton.
"For me it is a win/win situation. I can train with the Blues and play for them. In that respect everything will be as it is now."
Warburton says he has been given no guarantees when it comes to Wales selection but does believe central contracts can work as they do in Ireland and New Zealand.
"I am sure more Wales players will sign up, and it will become clear that it is not the WRU competing against the regions. It is about everyone working together," he writes.
"I know that there is still so much uncertainty about the game in Wales, with the WRU and the four regions not having come to an agreement, and a deadline having been set by the regions for that to happen by tomorrow (Friday).
"But that is where I have a lot of faith that things will work out."