Women's Six Nations: Gary Street - The man behind England women

By Sara Orchard
BBC women's rugby commentator
Last updated on .From the section Rugby Union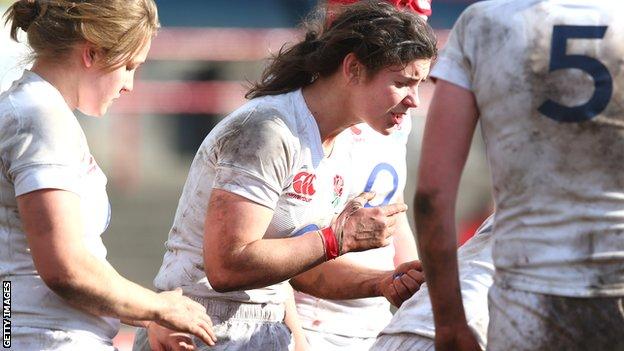 Gary Street is no fool. The coach of England Women's rugby team knows he could have lost his job last year.
That followed a quarter-final exit in the Sevens World Cup, after Street and the Rugby Football Union opted to remove the majority of England's leading players from the Six Nations campaign to concentrate on winning a global title in the shorter form of the game.
To complete a chastening few months, defeat in the Nations Cup final to Canada followed.
Street can smile about it now, as he recalls the anxiety of 2013. "In sport these days, there is always a chance of a knock on the door after a few bad results," he told BBC London Sport.
"If you worry about it too much, you'd wake up worried every morning. I wake up every morning with a smile on my face knowing I've got a World Cup to go and win so I look at the positives."
Nevertheless, even the relentlessly upbeat Street acknowledges the stress and strain of coaching an England side that was purging its trophy cabinet affected those around him.
"My parents had a terrible year," he recalled. "They were worried and upset that I could lose my job and the impact it would have on my family, my wife and kids; it's a huge burden for them.
"You try and say the right thing to the team afterwards but you do sometimes forget the implications for other people. That makes me even more motivated this year.
"I want to take the stress out of my parents' lives. I want to make sure they can turn on the games on the telly and watch what I do and not worry about the implications of when we lose. That's a big driver for me."
The 46-year-old lives with his wife Helen and two sons, seven-year-old Ben and three-year-old Peter.
Street was a highly rated scrum-half with Aston Old Edwardians and away from rugby he trained as a quantity surveyor. Brought up in Birmingham, his parents still live there and he visits as often as he can. Gary's father Bill worked as a welder whilst Valerie Street was a school cleaner.
"My parents are retired, proud working-class Brummies. Mum's never left England, never had a passport.
"They're really proud of me and they get very excited when they see me on telly. My Mum used to take photos of Ceefax if my name was on there to show her friends.
"I'm really proud of the sacrifice they made bringing me up to let me do what I do now so I need to repay something back to them."
A World Cup final victory in Paris in August - after defeat by New Zealand in the last three finals - wouldn't be a bad place to start.
If England got to the final, would his Mum leave the country to watch potentially her son's finest hour? "There's no chance of that," says Street, laughing. "My Mum and Dad will be hiding behind the sofa with the TV and the radio off and they'll be waiting for somebody to text them the result."
Street has been England head coach since 2007, with a Six Nations title - including five Grand Slams - secured in each of his first six years in charge.
Last season was the first in which results did not go according to plan, but an upturn in form and confidence arrived in the autumn.
As the senior players returned from Sevens duty, a 40-20 win over France at Twickenham was followed by a 32-3 thrashing of Canada at the Twickenham Stoop.
"That changed Christmas for all of us," Street said. "It gave confidence to myself and the squad.
"At half-time in that game [against France] we all had a look round the changing room at Twickenham and thought 'thank god for that, the band's back'. I think that was a turning point for all of us and that's given us confidence ahead of the Six Nations."
That is reassuring as England's women build towards the ultimate goal of the World Cup, with their preparation starting against France on Saturday evening in Grenoble's Stade des Alpes.
Any further stumbles along the road and it might not just be Gary Street worrying about his future.