Mike Blair column: Scotland need Duncan Weir ticking in Ireland

By Mike Blair
Former Scotland scrum-half
Last updated on .From the section Rugby Union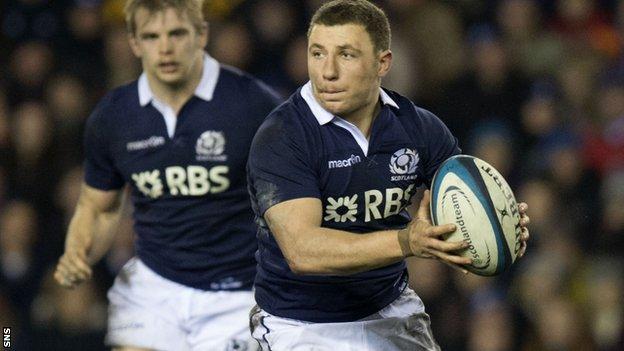 We've had time to digest the two sides' selections, and now comes the opportunity to look at the implications of them ahead of Sunday afternoon's game at the Aviva Stadium.
There is no doubt that Taylor and Dunbar are quality operators individually, both showing good form for their clubs, but the bond and trust that is required at this level between these positions, and indeed with Weir at 10, is very much in its infancy.
Coupled with the likely onslaught of intricate plays thrown by the slick Irish midfield of Jonny Sexton, Luke Marshall and Brian O'Driscoll, their communication and decision-making will have to be spot on. Keep your eyes peeled for the wrap-around/loop plays to isolate Dunbar.
Weir, as is very often the case with stand-offs, will shoulder a lot of responsibility for Scotland's style of play.
His main strength is his kicking game - length and accuracy - which will sit well with the ever-increasing focus on exit strategy from your own third of the pitch. The ability of the Irish back three in the air under the contestable box kicks means I'd expect to see Weir being asked to smash the ball as long as he can.
You may remember that at half-time in last year's match, the kicking strategy was adapted because of the Irish prowess in the air.
Weir has all the necessary skills to do well at this level, but in what has been a disjointed season regarding his game time, he will certainly be targeted by the Irish.
Pressure will come from the back row and scrum-half on his kicking game and his distribution will be tested by Irish line speed, especially if we get the forecast grim weather from the Atlantic.
The selection of Wilson will help Weir. Ball-carrying off your 10 is a completely different skill to running off nine and Wilson has the ability to do this where others in the forward pack are more suited to the tight stuff. He's a similar player to Johnnie Beattie but, while his raw power probably isn't quite at Beattie's level, his physicality at the breakdown gets him the nod.
Swinson's selection is interesting. The fact that Richie Gray, whose performances with Castres in the Top 14 have been eye-catching, has been left out shows just how highly he is regarded by the management team.
He's all elbows and knees when carrying the ball, gnarly at the breakdown and destructive in the tackle. A good guy to have on your side.
With Jim Hamilton's line-out calling taking one spot, suddenly there is a lot of competition for that second second-row berth as Jonny Gray and the impressive Grant Gilchrist wait in the wings.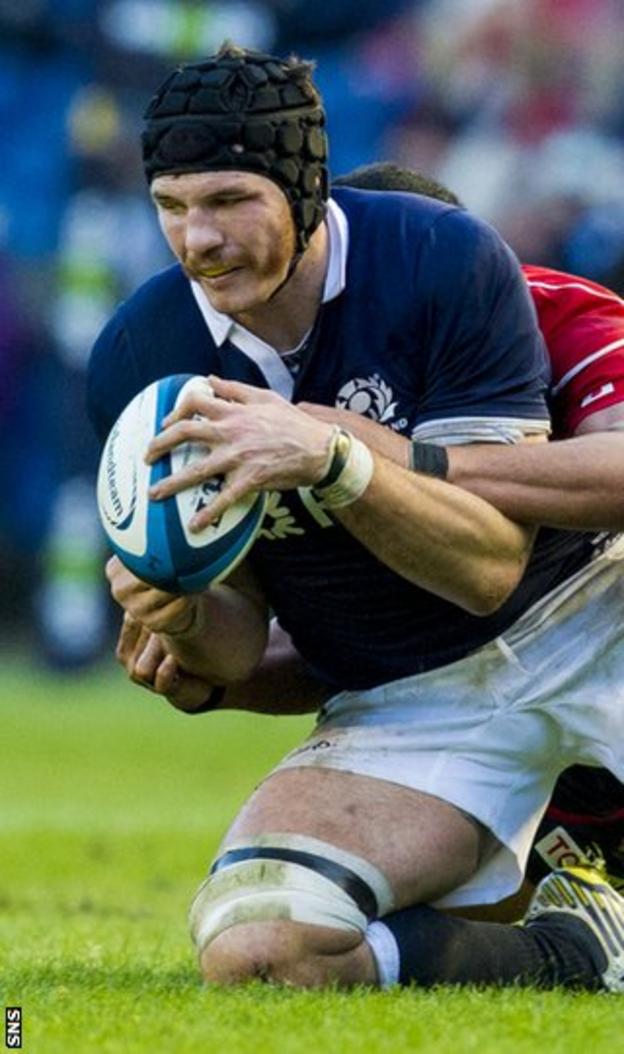 The Irish have a settled look to their side. Yes, they have some inexperienced players but they have key units who have worked together a lot, and the core of Jamie Heaslip, Conor Murray, Sexton, Marshall and O'Driscoll is quality.
With Joe Schmidt in charge, we will see set-piece attack at its best. The Leinster flavour, already prominent over the past few years, is becoming the footprint, as you would expect. He is Mr Detail and the fact the Scottish pack conceded two driving line-out tries versus South Africa in the autumn will not have escaped him.
Captain Paul O'Connell spoke during the week about taking a bit of time to adapt to the patterns of play and, although hesitant at the start of the autumn - in particular against the Australians, come the last game against the All Blacks it seemed like things were starting to click.
O'Connell's point was that, especially as a forward, if your patterns and systems aren't second nature to you then if affects your timing, your lines of running and ultimately your power into contact and speed of ball.
I'd imagine the Irish will be ruing the loss of Sean O'Brien. He and Cian Healy work so well together going forward. Without O'Brien, a lot of responsibly will lie with Healy. Stop Healy, stop the brunt of the Irish go-forward.
Don't get me wrong, they still have carriers, but not as destructive. O'Connell, for example, is absolutely relentless and would try, and keep trying, to run through 10 brick walls for you - O'Brien actually would run through the brick wall.
Scotland will be wary of the 'choke' tackle - the ability to hold a player up in a tackle, create a maul and then turn over ball - from the Irish.
For the visitors to combat this they must avoid running straight into defenders. They'll need to attack shoulders, change lines of running late and use tip-on passes. They can't be one-dimensional and I believe with this selection in the backs they are in a position where they have strike runners throughout.
Or... it's going to be horrifically wet, windy and miserable and it's going to come down to discipline and the kickers. Greig Laidlaw v Sexton is a good contest.