Six Nations 2014: England show spirit, ability and belief - but lose

By Tom Fordyce
Chief sports writer
Last updated on .From the section Rugby Union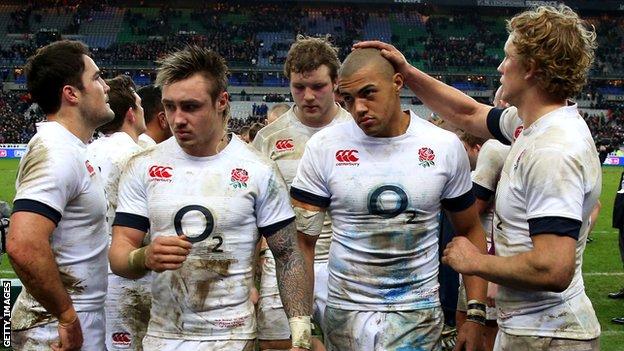 And so, after a match that almost had it all, England leave Paris with nothing.
Sport can be as much cruel torture as carefree entertainment. Just ask 20-year-old Jack Nowell, who knocked on with his first touch in international rugby to inadvertently trigger the phase that led to a French try within 32 seconds of kick-off, or Jonny May, broken of nose and black of eye after just six minutes of his Six Nations debut.
But should you be sadistic of nature, you could work your way through the entire England team after France's thrilling comeback-after-the-comeback 26-24 win, continue with the coaching staff and then polish off the stunned travelling support as well.
To be 16-3 down in Paris, with barely a quarter of the contest gone and an inexperienced team making inexperienced errors, is to fear an unholy thumping. To score 18 unanswered points to lead by five with just four minutes left is to dream of the impossible. To then be denied at the death, even by precocious brilliance, leaves stout men on their knees.
Neutrals watching this remarkable contest would have enjoyed every second. Since this is the Six Nations there are no true neutrals, so instead there were only extremes of emotion for the exhausted players and hoarse spectators at the close.
France's weary men wore the dazed smiles of gamblers who had won big, lost the house and then pulled it back with the final throw of the dice.
Had they blown this match, with that lead, against this opposition, one fears for what the half-cut locals might have done to their former darling Philippe Saint-Andre.
Rock-bottom of the Six Nations 11 months ago, winning just two matches all year - their worst run in 33 years - France have been unrecognisable from the merry musketeers of their coach's playing days.
Snatching back this critical victory with old-fashioned flair and speed of hand and foot not only buys Saint-Andre more time in which to reshape a workaday side in his playing image but also swerves the most chastening defeat imaginable.

Never before have England come from more than 12 points behind to burgle a win. That they came so close to pulling off that historical heist, in the backyard of a nation that makes no effort to disguise its sporting antipathy towards the old white-shirted enemy, will come as little consolation to a team that believes it should be through its plucky loser phase.
To recover as they did tells of both spirit and ability, as well as both individual flair and collective belief. A year ago it may have led to talk of taking positives, of building a base for the future.
But there was little of that from either the players or management afterwards. Sights have been focused on loftier targets, plans made for summits rather than base camps.
To have had a lead of 24-19 with four minutes to go and the ball deep in opposition territory will only add to the sense of regret and recrimination. That this was one of the great Six Nations matches will offer little comfort.
There is a temptation after last-gasp defeats like this to focus on errors made in that final frenetic burst.
So it is that England fans trudging out of the Stade de France on Saturday's cold night were bemoaning their side's bungled line-out five metres out with the lead at five points, when Tom Youngs missed the outstretched hand of Courtney Lawes, or the missed tackle from the otherwise impeccable Mike Brown as Yannick Nyanga charged down the left wing to establish the territory and momentum which led to Gael Fickou's winning try.
But in truth the critical period came at the opposite end of the match. To ship a preventable try less than a minute into a contest as ferocious as this is to bring to mind that old Army adage of no plan surviving first contact with the enemy. To concede an avoidable second shortly afterwards is to give yourself the steepest and slipperiest of mountains to climb, unlucky bounce of the ball or not.
Several of England's players were outstanding. Danny Care turned in almost the perfect Danny Care-type performance, sniping with his runs, quick with his thinking, always on the fleet front foot. Both second rows, Lawes and Joe Launchbury, were dynamic in attack and lassos in defence. Billy Vunipola, socks around ankles and opposition hanging off his legs, is a world-class number eight in the rapid making.
Where Stuart Lancaster may have erred is taking off his leading men when the contest was only going one way. Having barely had a sniff in the opening 20 minutes, England dominated the next 40. Only when Care was hooked for Lee Dickson, and Dylan Hartley for Youngs, did that momentum first slow and then stall in the final stages.
It is true that a relentless, messy match like this saps the legs and empties the lungs. But Care's adrenalin alone could have taken him well beyond his 58 minutes and, while Ben Morgan carried on where Vunipola's rumbling had left off, control was ceded just when it was required most.
It is equally true that fresh blood can revitalise a team slowly slipping away. Had France been leading by five rather than behind, Saint-Andre may well have kept his raw 19-year-old replacement Fickou on the bench rather than throwing him on for the far more experienced Mathieu Bastareaud with six minutes to go.
Instead, by offering a defiant youngster to the stretched English rearguard, he salvaged both game and reputation.
These sorts of ferocious passion plays are supposed to be no place for fresh-faced kids and inexperienced innocents. But Fickou's finish was exemplary, just as Nyanga's initial break was a fitting reflection of an outstanding overall display.
England will travel to Edinburgh next week hoping to repeat the pattern of the 2013 Wales side, who lost their opening fixture before going on to take the title.
But they may also look back to last November, when a similarly stirring fightback against the All Blacks also faltered in the final exchanges. These are stern tests and narrow margins. But they must now learn to come out on the right side of them.