Ian Davies: Spirit makes up for 'inept' Cornish Pirates display
Last updated on .From the section Rugby Union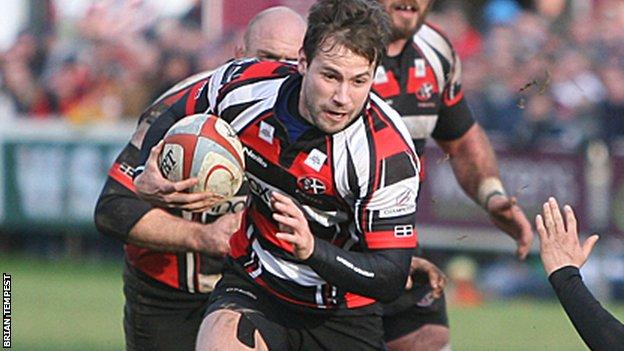 Cornish Pirates boss Ian Davies praised his side's spirit for preventing Championship bottom club Ealing from causing an upset in Saturday's draw.
Kieran Hallett converted a late Kyle Moyle try to make it 18-18 late on, then missed a penalty to win it.
"I feel sorry for them coming away with a draw because they fully deserved a win," Davies told BBC Radio Cornwall.
"We showed a lot of spirit in that last 10 minutes, being 11-18 down and staring down the barrel."
Davies added: "Ealing deserved to be in the lead, we weren't playing very sensibly, coughing up too much ball. We were inept, I don't think Ealing did anything in particular that worried us.
"They put width on the ball and we knew they would put width on the ball, but we gave an interception away.
"We struggled with turnovers in their 22, where we should be scoring they have gone the length of the field and scored.
"We had set-piece domination but couldn't do anything with it. We were lucky to get anything out of it."
Despite his frustration, Davies beleives the late fight-back to deny Ealing a bonus-point win was enough to herald the display as a marked improvement on their 25-6 loss to London Scottish a week earlier.
"OK the performance was not great, but you certainly can't work on spirit, and we saw that in spades," he said.
"I said at the start of the year that this was going to be a rollercoaster year. Maybe we started too well, with too many wins?
"And this is where we are - we are an indifferent side at the moment.
"We have got ups and downs and are learning how to manage games. We didn't manage this particularly well, and hopefully we do a better job at Mosley in in our next game."
Meanwhile, the Pirates have confirmed that lock Neale Patrick has been cleared of a serious neck injury after leaving the field in the first half.
He was taken to hospital after complaining of losing feeling in his arm and could return to action in three weeks.