Welsh rugby regions urged to take place in ERC meeting
Last updated on .From the section Rugby Union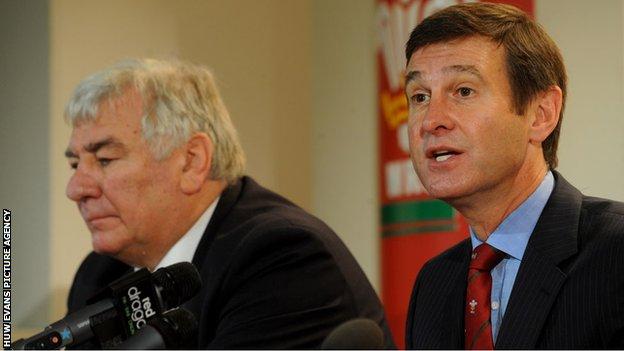 The Welsh Rugby Union have called on the regions to take their place on the board of European Rugby Cup [ERC] for a crucial meeting on 5 February.
The meeting will discuss the future of European rugby, which is embroiled in a row over who runs the competition.
Stuart Gallacher, chief executive of Regional Rugby Wales [RRW], resigned from the ERC board in December.
"RRW are urged to appoint a Director of ERC in advance of [the] meeting," said a WRU statement.
The statement urges the four regions - Ospreys, Scarlets, Cardiff Blues and Newport Gwent Dragons - to be represented "in order to effect change and/or exert an influence in any way."
"This action would enable the RRW director to re-join the debate and participate and contribute fully to the important discussions that will take place."
The meeting takes place in the face of a threat by England's Premier clubs to withdraw from the European Cup as it is currently run, with the Welsh regions considering taking part in an Anglo-Welsh tournament.
In January the Six Nations committee agreed that it should take over the running of the European Cup from ERC, but there was no agreement on whether the clubs and regions should assume commercial control or on which TV company should broadcast the tournament.
Another twist is that payments due to teams taking part in the tournament - originally thought to be due at the end of January - would not be paid until after Wednesday's meeting in Dublin.
The Welsh regions were expecting to share £800,000, and say the delay led to cash flow problems.
WRU chief executive Roger Lewis has warned that legal advice could influence whether the payments are made after the meeting in Dublin.
The regions and the WRU are also at odds over centrally contracting players.
Wales captain Sam Warburton agreed a deal with the WRU, leading to RRW re-stating its opposition to central contracts unless there was a "collective agreement between all four regions".
However, Lewis claimed on Radio Wales Sport on Monday that the regions were still in discussions about central contracts.
BBC Wales understands RRW is undecided whether to appoint an ERC representative in time for the meeting in Dublin.