Six Nations 2014: Ireland & Wales - from best of friends to Celtic foes
Last updated on .From the section Rugby Union809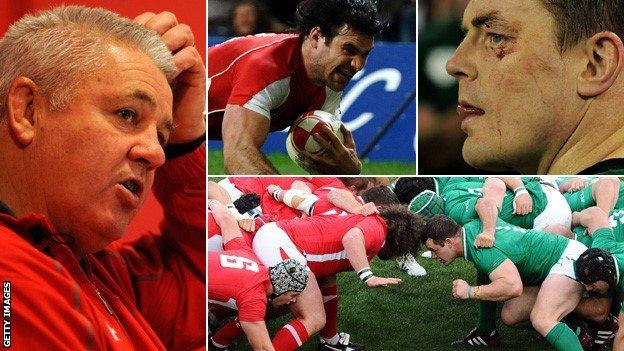 Time was when the Six Nations supporters' rule book was simple:
Rule 1: Nobody likes the England team apart from England fans;
Rule 2: England fans do not care that nobody likes them;
Rule 3: Everybody else loves each other.
That was pretty much it, with one or two caveats buried in the small print.
If none of the Celtic nations were able to bump off the braying Englanders, their mighty Gallic brethren from across the Channel might do the job instead. Job done, it was time to dance in the streets of Cardiff, Dublin and Edinburgh and thank the rugby gods that at least England didn't manage to win anything.
The Irish and the Welsh were so chummy that they usually let each other win in their own backyards: Ireland didn't lose in Cardiff for 20 years between 1985 and 2005; Wales won seven out of nine in Dublin between 1984 and 2000.
But the rules have had to be amended.
Rule 4: Ireland and Wales do not get on. To the extent that Saturday's clash in Dublin has been earmarked as the biggest grudge match of this year's tournament, with Wales head coach Warren Gatland and Ireland's favourite son Brian O'Driscoll serving as lightning rods.
But how did it come to this, Celtic cousins turning against each other? Even the French and the English seem to get on nowadays, as demonstrated by the cosy dressing room chat that followed their thrilling encounter in Paris last week.
Professionalism and chumminess make for uneasy bedfellows, though, and the Irish and the Welsh have been kicking and screaming under the duvet for pretty much the last decade, or roughly since the formation of the Welsh regions in 2003-04.
Many Welsh rugby fans didn't take too kindly to their storied old club sides being sidelined by bastardised outfits with American sounding names such as the Blues and the Dragons, just so they could keep up with the provinces across the Irish Sea, with their ancient sounding names and ferocious fans.
On the field, the familiarity fostered by weekly clashes in the Celtic League, currently masquerading as the Pro12, bred a certain level of contempt. And the relative success of the Irish provinces in the Heineken Cup (Leinster, Munster and Ulster have won it six times between them, no Welsh side has managed to) has added to the feeling in Wales that all this reorganising has left them somewhat bereft.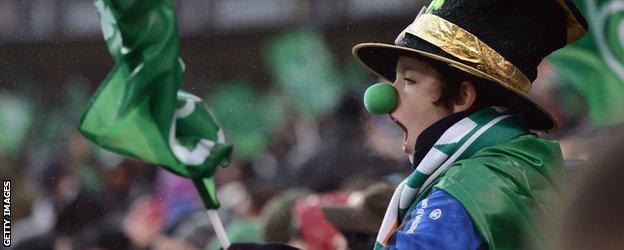 This might help to explain why in 2005, with O'Driscoll having been flavour of the tournament for so long, Gavin Henson wanted a go on the lollipop. In a fiery Grand Slam decider in Cardiff, O'Driscoll and Ireland got licked.
Alas for the young upstart, and Welsh rugby, all that sweetness went to his head. Henson decided to write a few nasty things about O'Driscoll in a loose-lipped autobiography, including accusations that his affronted rival - "with a flash of anger in his eyes" - had pulled his hair and tried to gouge him.
Consequently, Henson was given a particularly unfriendly reception in Dublin the following year. The message from the Lansdowne Road faithful was clear: You don't mess with BOD - or GOD, as they also like to call him - and expect to get away with it. Henson had a shocker as Ireland ran out 31-5 victors.
But stoker-in-chief has been Gatland. Indeed, the New Zealander, who was ousted as Ireland head coach in 2001, is the man most responsible for spreading the rivalry's canvas beyond the frame of the pitch.
Gatland said his sacking by Ireland, after a run of nine wins out of 11, was the result of an internal coup. He also accused his successor Eddie O'Sullivan, his former assistant, of stabbing him in the back. O'Sullivan doesn't like him either.
In 2009, before a crunch Six Nations game between Ireland and Wales in Cardiff, Gatland claimed his boys disliked the Irish more than any other team. "Players' experiences against Ireland haven't always been the greatest," said Gatland, "so they are very motivated."
It had been an open secret for some years that the Welsh and the Irish didn't get on - remember Gethin Jenkins flinging the ball at Ronan O'Gara, having charged down his kick for a try in the 2005 Grand Slam decider?
But Irish fans accused Gatland, who started his coaching career in Ireland, of being ungrateful. Welsh fans, meanwhile, were a little bemused. For a start, what about the English?
Some saw Gatland's comments as healthy, in that they demonstrated that Wales and Ireland had bigger fish to fry than England. But others, from Wales, Ireland and elsewhere, thought Gatland's comments went beyond the pale. These weren't the words of a rugby coach, these were the words of Jose Mourinho.
Gatland's comments garnered hundreds of square feet of headlines but Ireland had the last giggle, winning their first Grand Slam for 61 years and denying Wales the Championship and the Triple Crown with a 17-15 victory.
Now that this apparent enmity was out in the open, chicanery was everywhere. In 2011, Wales scrum-half Mike Phillips raised Irish ire with a crafty - and illegal - try that resulted in a 19-13 victory in Cardiff. Replays showed that the ball thrown in quickly by Matthew Rees was not the ball that had been kicked into touch.
In Dublin in 2012, Wales lock Bradley Davies was sin-binned for a tip tackle on Donnacha Ryan, but most observers thought he should have seen red. As it was, Davies reappeared from the dugout with five minutes remaining and Leigh Halfpenny won the game for the Welsh with a last-gasp penalty.
Throw in Wales' barnstorming victory in the quarter-finals of the 2011 World Cup and you understand why Irish fans are feeling a bit picked on, although their side did beat Wales in Cardiff last year courtesy of a first-half ambush.
So we return to Gatland and O'Driscoll and the reason why the lid on the pot has started rattling again. The genesis of Irish irritation was Gatland's decision to pick his Wales captain Sam Warburton rather than O'Driscoll, or indeed Paul O'Connell, to lead the British and Irish Lions in Australia last summer.
Irritation turned to barely concealed fury when O'Driscoll wasn't only overlooked as captain for the third and deciding Test, he was dropped from the squad altogether.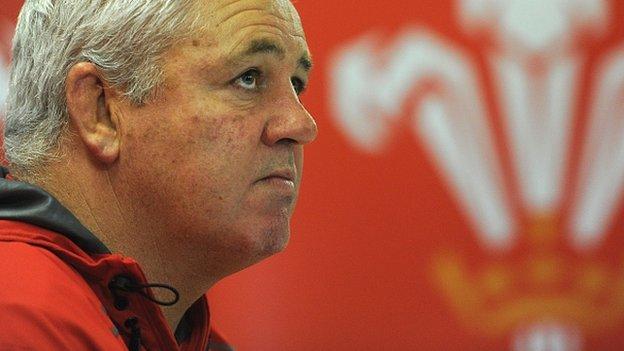 The Irish media was appalled that the chosen one wasn't chosen. Several Irish rugby legends, including former captains Willie John McBride and Keith Wood, came across as vengeful prophets, predicting terrible things for the Lions in O'Driscoll's absence.
As it turned out, O'Driscoll's replacement Jonathan Davies played a blinder in Sydney, the Lions won 41-16 and a lot of people looked rather silly. But O'Driscoll still hadn't forgiven Gatland a few months later, admitting he still felt resentment towards Gatland and that he shouldn't expect a Christmas card.
Gatland was hurt by accusations he picked Davies, who misses Saturday's game through injury, over O'Driscoll because of an ingrained pro-Welsh bias. And he bristled when the issue was mentioned following Wales' victory over Italy last week, accusing reporters of "lazy journalism" in attempting to stoke the fire.
But Gatland can't have it both ways. Back in 2009, he admitted his comments that Wales' players weren't exactly hot on the Irish were made simply to generate a few headlines. As such, he can't now expect journalists to pack away their pokers when the flames are beginning to flicker around his feet.
And anyway, it sounds like the Irish boys like it this way. "Yes, there will be added spice," said full-back Rob Kearney following Ireland's victory over Scotland on Sunday, a big, fat smile splattered across his face.
"Wales are going for three Six Nations titles in a row, which their coach doesn't stop telling everyone."
Kearney did not add, although maybe he wanted to: "You don't mess with BOD and expect to get away with it."