Ospreys backer denies Roger Lewis's central contract claims
Last updated on .From the section Rugby Union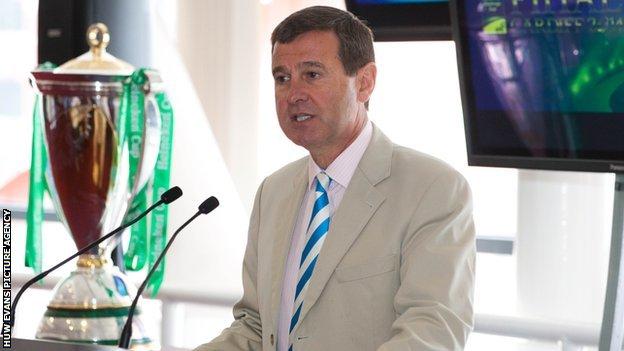 Ospreys backer Robert Davies has rebuffed Welsh Rugby Union chief Roger Lewis' assertion that Wales' regions are open to the idea of more players signing national contracts.
Davies denied Lewis's "untrue" claims.
He added: "It's very difficult for us to have any sensible discussion with the union... there's no trust left."
He also said the regions will not heed Lewis's call for them to attend a meeting on Wednesday to discuss the game's rows.
Speaking in a personal capacity rather than as a regions' negotiator, Davies said of Lewis's viewpoint: "He was saying that firstly the regions are open to the idea of expanding national contracts - that's untrue; both sides planned to make more deals - that's untrue; we have a plan on the table that we are discussing - that's untrue; the regions have engaged with that plan - it's untrue; WRU has been working on the plan for several months - that's untrue; the regions originally contacted the union to contract six players in Wales - that's untrue.
"In fact there's no relationship with the regions and the regions have been consistent in their view - there is no system to support central contracts in Wales."
The WRU subsequently rebutted Davies's claims.
Davies says the WRU has not debated the issue of central contracts with the regions, whose umbrella body is Regional Rugby Wales (RRW).
"It's just something that has been put on the table by Mr Lewis and it's not been debated as to whether or not it's good for Wales [or] bad for Wales," Davies told Radio Wales Sport.
He added: "There's no proof that the players will stay in Wales.
"It's got to be part of an overall plan. We employ 400-500 professional people.
"To employ one or two [on central contracts] is not going to build the base for a professional sport in Wales; it's not going to do it.
"You have to have a whole plan, not just a plan that grabs headlines and says that certain marquee players are staying in Wales.
"We've got one player so far [Wales captain Sam Warburton, who has signed a central contract].
"Fine, good luck to him. But it needs hundreds of players."
The flanker's team-mate Leigh Halfpenny opted to join French club Toulon, while their fellow British and Irish Lions star Alun Wyn Jones re-signed with his region, the Ospreys.
Another Osprey, Wales prop Adam Jones, is out of contract at the end of the 2013-14 season and Davies admits the WRU could succeed in their attempts to sign the player.
The Welsh Rugby Union (WRU) says it is willing to sign more players with a free loan back to their regions and has also offered to take a limited number of players off the regions' hands even if those players have already signed a contract with their region.
That offer would come only if the regions and union can agree to a new deal to set out how the professional game is run - but a new agreement between the two parties has gone unsigned.
The regions in the meantime have not opposed central contracts entirely, but said these needed to be part of a "collective agreement between all four regions".
Amid doubts over the future of European competitions, Davies also said an Anglo-Welsh competition could be the four regions' only future competitive option.
England's Premiership clubs will not play in competitions organised by European Rugby Cup Ltd, which is dominated by the Irish, Scottish, Italian, English, French and Welsh governing bodies beyond the end of this season.
Stuart Gallacher, chief executive of RRW, resigned from the ERC board in December.
Other cross-border tournaments have also been mooted, but governance, broadcast rights and commercial backing are at the centre of the disputes.
Davies added: "We are left just wondering where we are going to play.
"There's no Rabo [Pro12] for next year. There's no European for next year and we're expected to commit to a payroll, paying players costing us £4-5m a year.
"It's very unfair. We don't know what income we are going to have.
"So to answer your question, unless the union [WRU] comes up and tells us: "well there is a Europe we can participate in meaningfully" - and in that I mean financially meaningfully - then I can't see us agreeing anything other than an Anglo-Welsh [league]."
Another worry for the regions - and for teams from the other five nations who have participated in the Heineken Cup this year - is the delayed payment of £800,000 for participating in the tournament this season.
The regions say this instalment had been scheduled to be paid last week by ERC.
ERC, however, says the decision to seek board approval for each instalment in advance was made at a board meeting in September when the regions were represented by RRW Chief Executive, Stuart Gallagher. The WRU supports the ERC version of events.
Davies said the lack of a payment when the regions expected it underlined some of the reasons why they will not be represented at Wednesday's meeting.
The regions have instead written to ERC and Davies said: "This goes to the root of the differences between us.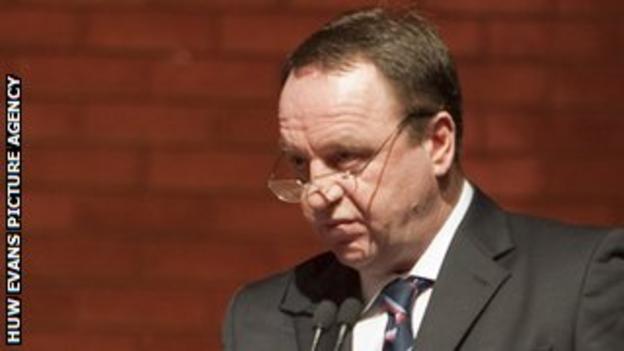 "ERC is run by the unions and they, this week, have decided not to pay the regions in Wales £800,000 that was due to them.
"Nobody had the decency to tell anybody. This was to enable the regions to pay the players' wages.
"The WRU FD [financial director] Steve Phillips attended the meeting that decided not to make the payment [and] did not inform the regions and the regions had to make arrangements to pay the wages themselves.
"We are not going to turn up there as one vote among many and just be like a nodding donkey. There's just no point.
"There's nothing we can contribute and nothing they would want us to contribute."
He added: "We are owed a lot of money and maybe it's a way of the union [WRU] threatening us again.
"They have a history of threatening and using the big stick.
"That's one of the reasons why we no longer wish to be party to an organisation that's run by the unions.
"We would rather be dealing with proper business people who act in good faith."