Six Nations: Adam Jones on scrums, contracts & making history
Last updated on .From the section Rugby Union198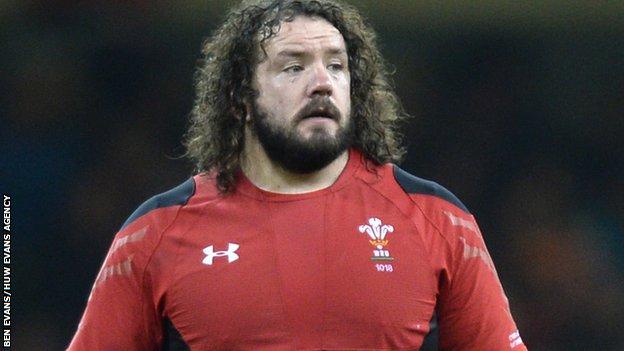 In his exclusive BBC Sport column Wales prop Adam Jones talks about competition for his place, adapting to the latest scrum laws, his future, tackling a motivated Ireland on Saturday and creating Six Nations history.
It's like anyone - if you're always selected you get a bit complacent, as much as you don't want to admit it.
I've got two young Scarlets tight-head props in Rhodri Jones and Samson Lee vying for my place now.
Rhodri is a strange one as he probably plays for Wales more than he does for the Scarlets! But forwards coach Robin McBryde and 'Gats' [head coach Warren Gatland] rate him highly and see a future for him.
You always want to start, you like to be guaranteed a place. But the nature of the beast is it doesn't happen like that. I can't take it to heart.
Crouch, Touch, Bind, Set...Interpret
I know I've had a few issues with the new scrum laws, but I'm a professional so I have to adapt to it and I have to get better at it, which I strive to do.
It's nothing I'm too worried about. I beat myself up if I don't have a good scrum, but I know I have the technique because I've had the technique for about 10 years. It's just a case of working off a smaller gap and I'm sure it'll come.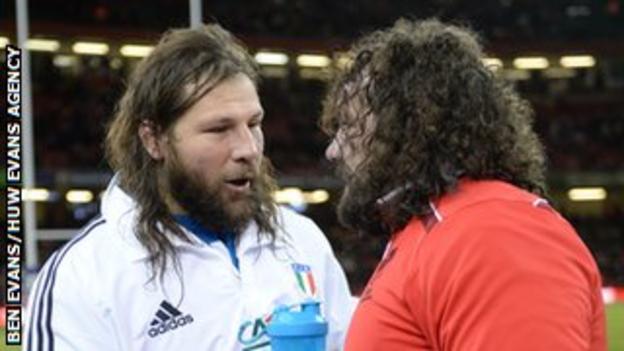 Aside from a technical issue with the set-piece last weekend against Italy, I think it all went pretty well.
I thought [Wales loose-head prop] Paul James was harshly dealt with at the first two scrums when he got penalised. [Italy tight-head] Martin Castrogiovanni was flat out on the floor, his legs were back behind him and there wasn't a great deal Paul could have done there.
A lot of it is interpretation by the referee regarding the engagement, the chase and the pressure after the hit and when the ball comes in. I think it's a difficult job because they're learning as they go along as well. It's a hard one for the ref, a hard one for the players.
At the moment, as much as the International Rugby Board have laid down the regulations, there's never an actual consistently same scrum off each referee. Each ref gives it differently.
But that's down to each scrum being different, and you've got a referee on his own merits. I'm not having a go at the refs. I'm just saying that one ref will ref it one way, and one ref will ref it the other way, and then the IRB will say it how it should be reffed.
Contracts, deadlines, frustration
[Central contracts are] a difficult one for the boys who haven't yet signed a contract. Obviously Sam [Warburton] has signed with the Welsh Rugby Union and that was his prerogative.
I think the fact you don't know what's going on next year is a massive one for the players. You don't know what European competition there will be or what competitions the regions will be playing in.
There's been so many deadlines, there's been so many meetings. The players are stuck in the middle - you don't actually know the full stories from either side. You hear one thing and then you hear something different from the other side.
It's very frustrating as a player. I think I'll stay away from the deadline side of things and when things fall into place, they fall into place rather than setting myself a deadline.
Even Sam set a deadline, but it came to the time and he couldn't actually make a decision then because nothing was any clearer.
No one's mentioned it in camp, but obviously it's in the back of your mind, because you want to know what you're doing next year and you want to get it sorted.
Alun Wyn [Jones] has signed with the Ospreys now and he's got a lot of weight off his shoulders.
You're obviously looking, obviously seeing what's out there but it's a difficult one my age [33 next month], and still wanting to play international rugby. I said tongue-in-cheek before that no-one wants me, but since then there's been not much out there.
I am definitely open to the idea of playing in France. You speak to boys who have gone out there and definitely I think it's an option - it's just a case of getting the right option for yourself and family.
The WRU has spoken to me about a national contract, but it is agreed that the Ospreys are first in line and if they tell the union they can't reach a deal, then discussions over a national contract can progress.
Motivation not an issue for Dublin duel
There's been plenty said about what sort of hostile atmosphere we can expect against Ireland on Saturday.
I am sure the crowd will be up for it and I think Ireland's players are under no illusions; they'll use it as a massive way to get themselves motivated.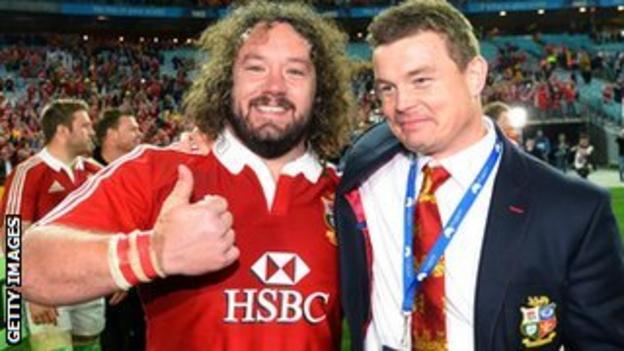 I remember going out there in 2006, it was just after Gavin [Henson] did his book and he was critical of Brian O'Driscoll. The crowd was incredibly hostile that day and Ireland were so fired up for it.
We were shell-shocked. They walked it in the end. I'm pretty sure they'll use it as motivation, as much as they play it down.
It's a different Welsh team to back in 2006 - the things we've done, what we've accomplished. I never thought we'd be where we are. We know how tough it's going to be out there.
It's not massively personal with us, it might be more personal with them than us. No, I think our motivation is more than just wanting to beat Ireland.
Here's a prime example: 1999, when Wales beat England to deny them the Grand Slam at Wembley, that was the best thing ever. But Wales still lost to Scotland that year, they still lost to Ireland.
I think we've come on a lot as a team since then; we don't just care about beating England, or beating one team.
The boys are lucky enough to have won four Six Nations championships since I've been involved. The big motivation now is making history by winning three in a row, not just beating Ireland.
Adam Jones was talking to BBC Wales Sport's Gareth Roberts