Mike Blair column: Fusaro joy spells trouble for skipper Brown

By Mike Blair
Former Scotland scrum-half
Last updated on .From the section Rugby Union158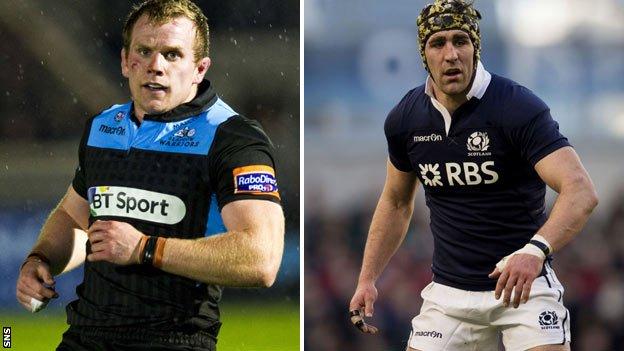 The story of the day is undoubtedly the selection of Chris Fusaro at open-side flanker for Scotland.
He's a really talented player who will need to get up to speed with international rugby quickly.
I feel for Kelly Brown, though.
It's clear that many of the failings at the Aviva Stadium last Sunday were forwards-based: line-out, scrum and grunt at the break-down were all well below par and yet the only forward to not get the chance to redeem himself is the captain.
If there was any inkling or lingering thought that he wouldn't be selected for the second game of the championship then for continuity maybe he shouldn't have been captain for the first.
I was part of many Scotland squads who "bounced back" from poor displays or results, but, as a nation in search of consistency of performance, is it not right to allow the same players the opportunity to right the wrongs?
If players know that consistency is paramount and the team would change if it didn't perform then perhaps there would be less fluctuation in standard of performance.
Obviously, Scotland's small player pool and depth restricts frequent, dramatic wholesale changes and familiarity of team-mates helps to build confidence and understanding; but it's just a thought.
It's a difficult balance as some players will thrive in adversity and others thrive in the confidence given by continued selection. No-one said selection was an easy job!
Confidence has been put in Ross Ford and Jim Hamilton to turn around the line-out woes of last week. Historically, they've orchestrated it successfully for many years and need to find that rhythm, timing and connection that's so crucial to a functioning set-piece.
I'd expect England to really pressure the line-out, getting pods in the air at all opportunities - perhaps even using a single lift on Courtney Lawes at the front to get three players in the air. Quick line-outs and shortened line-outs will probably be utilised as much as possible by the Scots to avoid this scenario.
England have a very well-oiled forward pack: Billy Vunipola and Dylan Hartley are the destructive carriers - power with offloading ability - and have firepower in the form of Ben Morgan and Tom Youngs off the bench.
Chris Robshaw also has good soft hands and often plays the role of first receiver, tipping the ball to his more dynamic team-mates. The "killer phase" up England's sleeve is the rugby league set-up off Owen Farrell.
Many teams try it - one player comes on the scissors, one comes on the outside line and a ball player is the option behind the outside runner - but England perform it so effectively, with the deep runner hidden until the very last minute.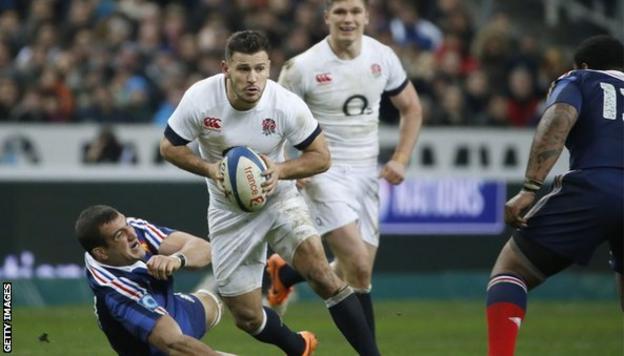 With Great Britain rugby league legend Andy Farrell as part of the coaching staff, it's hardly a surprise. All three running options are available and, done correctly, really stresses the defender's decision-making.
Alex Dunbar, who defended so well last week, will need to maintain his high standards.
The maul is another English threat and it will be interesting to see whether they go straight to the shift drive, so successfully performed by the South African and Irish packs, or the bluff of the straight drive.
It's a game of cat and mouse, but whatever they do, the defence of this facet of the game is crucial. Scotland need to work as a unit, hitting the maul in twos and threes and not individually. Create chaos: smash it, swing it, drop it, just don't let it get set.
The final threat is Danny Care. His kicking game was off against the French and needs to be pressured here, but he created the tempo and much of what was good last week.
His quick tap penalties need to be negated, so don't give him the ball easily once a penalty is awarded, or otherwise Greig Laidlaw needs to be back 10m and, on the tap, he flies up and nails Care.
Scotland used this tactic successfully in 2000 with Glenn Metcalfe handed the responsibility of stopping Matt Dawson.
Coach Scott Johnson will be delighted to have Matt Scott back starting. He's been a revelation in the last 18 months with the ability to break the first line and to also distribute.
The centre combination of Scott and Dunbar is one that can just get better and better and they will look to expose the relative inexperience of Luther Burrell in the 13 jersey for England.
I think Scotland will be hoping for dry conditions come Saturday as they'll want to play fast. Counter-attack will be one of their main platforms to work from.
Jonny Wilkinson described the feeling of "helplessness" when playing some games against Scotland at Murrayfield and the Scots will be hoping that, come Saturday night, the English players will understand exactly what he meant.
Calcutta Cup games are different.