Six Nations: Scotland v England - Hogg is Scots' X-factor - Guscott

By Jeremy Guscott
Rugby union analyst, BBC Sport
Last updated on .From the section Rugby Union307
Scotland against England is the oldest match in international rugby and although England will go into the game as favourites, it is a fixture in which the form book frequently goes out of the window.
In 1990 Jeremy Guscott was part of the England side humbled by Scotland as David Sole's men won Scotland's third - and last - Grand Slam.
They also ended England's Grand Slam hopes in 2000 and although they have not beaten the Auld Enemy in six attempts, the Scots have only lost one of the last four Calcutta Cup matches between the two at Murrayfield.
Tell us about the Grand Slam game in 1990
Personally, despite the 13-7 defeat, in many ways I enjoyed the Grand Slam decider against Scotland in 1990. It was a tremendous occasion and when David Sole led the Scots out onto the pitch in a slow march we knew it was going to be a difficult afternoon to win and secure the Grand Slam.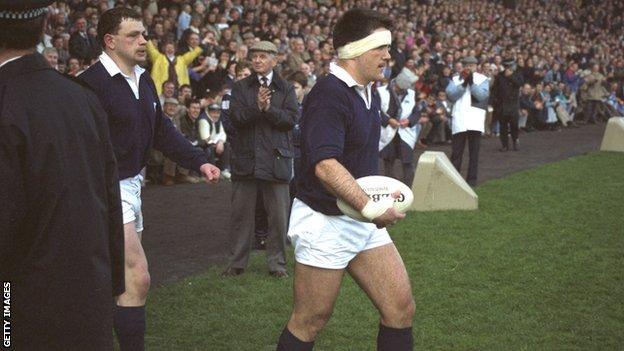 It was a bit odd for me as I'd played more games with the Scottish lads on the 1989 Lions tour than I had with England at that point as it was only my sixth cap. Strangely they weren't as friendly that day as they had been eight months earlier!
Scotland were a good side, you knew by the number of Lions they had in their team - the Hastings brothers, Finlay Calder, John Jeffrey, Gary Armstrong, Craig Chalmers, Derek White - they had class all over the team.
I scored a try but then had to go off with an injury. As I was sat in the changing room having treatment I could hear all the noise and that only meant one thing - that Scotland were doing well.
It wasn't our day and the better team won that afternoon but the feeling of losing that match never left me. It was stored away and every time I subsequently faced the Scots I went to the memory palace before the game just for that extra incentive.
We learnt from our game in 1990 that we could not hide away from things. After that we always took a hotel in the heart of Edinburgh so we got right in the mix and taking some spirited flak got us all in the mood for the game.
Forget the form book
Since 1990 England have generally been favourites when the two meet and Scotland are no different to other teams - when you're made underdogs you want to prove everyone wrong and Scotland have managed that on quite a few occasions at Murrayfield.
In the past England haven't always managed to live up to their role as favourites but it hasn't been because of complacency, it's been because Scotland have had the right game-plan to do the job on the day.
They have contained England and worked the penalties and it nearly came off two years' ago, Stuart Lancaster's first game in charge, when England squeezed home 13-6 in a game Scotland should have won - Charlie Hodgson's charged-down try was the only difference between the two sides.
Why drop your captain?
Dropping captain Kelly Brown is a very big call by Scotland interim head coach Scott Johnson.
Most people thought there would be changes after the defeat by Ireland but jettisoning your captain from the match-day squad is a huge decision for a must-win game.
It's hard to work out how one week he can be good enough to have a place in the team and captain it and the next be sent back to his club.
Scotland are going through a difficult period with a temporary head coach in Johnson, and knowing Vern Cotter will be arriving in the summer to take over must be slightly unsettling for the squad at the best of times.
Johnson mixed and matched his team during the autumn, giving players the opportunity to impress, and I don't believe that was the right strategy - he should have picked the best team right from the off and stuck with it, only replacing players who lost form.
For me it's been the selection at 10 that hasn't helped Scotland. The fly-half gives his backline the tempo and structure, they all play off his running, passing and kicking, and if that position is continually changing you can't expect consistency.
However, the recent Scottish 10s who have had the opportunities haven't stepped up like the legends did in the past, the likes of Craig Chalmers and Gregor Townsend from my generation for instance. Duncan Weir will be hoping to make an impression on Saturday after being handed another chance to show what he's got.
Who provides the Scottish X-factor?
The Scottish X-factor comes in the stocky shape of full-back Stuart Hogg. A superb counter-attacker, he is Scotland's sharpest weapon and his fine all-round performance and stunning try against Italy last year showed us the ability he has.
I think recalled inside centre Matt Scott could also be dangerous. Hogg and Sean Lamont were Scotland's only attacking threat last weekend - they need more than that if they are to stand a chance of beating England and Edinburgh's Scott should provide that extra cutting edge.
Scotland only had 18 pieces of possession in the Irish 22 last week and managed to lose the ball 12 times. You can't possibly win if you lose two-thirds of your ball when you're on the attack.
The Scottish forwards took a bit of stick because of their scrum and line-out performances against Ireland and you would expect big improvements there.
And what about England?
Against France last weekend England's backline attack was as good as I've seen it during head coach Lancaster's two-year reign.
In my opinion fly-half Owen Farrell had his best game for England (cramp aside). He bossed the game well and the timing of his passing and kicking was impressive.
He knows there's a real threat from young Bath fly-half George Ford and that will certainly make you up your game.
Danny Care was another top performer. The Harlequins scrum-half set up club-mate Mike Brown's try with a quick tap and nearly scored two tries himself - with a bit more composure he will get those scores.
He needs to be more accurate with his kicking though. Quite a few kicks went straight to Louis Picamoles and Brice Dulin last weekend and if he does that in Edinburgh, Hogg will punish those kicks.
I would like to see England use Luther Burrell more like Wales use Jamie Roberts - get the 6ft 3in, 17 stone Northampton centre hammering into the opposition midfield to punch some holes. He has the size and speed to terrorise defences so get him making those runs.
One area of concern for England will be the scrums. That phase of the game didn't go well for them against France - Dan Cole was popped out of the sun-roof a couple of times - and we could be in for a bit of a messy affair if the weather and pitch are as bad as some predictions have suggested they will be.
How should each team play?
The weather and the pitch will dictate the game-plan of England on Saturday because you just can't attack from anywhere in the rain with a slippery ball, or on a pitch that might be dodgy underfoot thanks to a combination of heavy rain and parasitic worms.
England will play the same way as last week, moving the ball up the field by making kicks contestable and winning them back, or working the ball to where Farrell or possibly Brown can kick to the corners to secure field position.
They moved the ball from the breakdown well against France, thankfully moving away from the one-out pass to two and sometimes three men out, which is good, but conditions could affect that on Saturday as moving the ball is not so easy on a muddy pitch with a wet ball.
Scotland can't possibly play as badly as they did last weekend. Their forwards have to be more direct because in Dublin the whole team were crabbing across the field, making it easy for Ireland to defend.
A total refocus is required. They need to win good clean ball and not mess around - go route one and build on a low-risk strategy.
Once they're in position to look for tries they need to support Hogg and Lamont's runs and the scores will come.
So who's going to win then?
I believe England will win because they have a game-plan they believe in and it's starting to work, while Scotland haven't got one as far as I can see.
England to win by five to eight points if the weather and pitch are as bad as forecast.