Six Nations 2014: Mike Phillips must avoid Murray 'duel' - Howley
Last updated on .From the section Rugby Union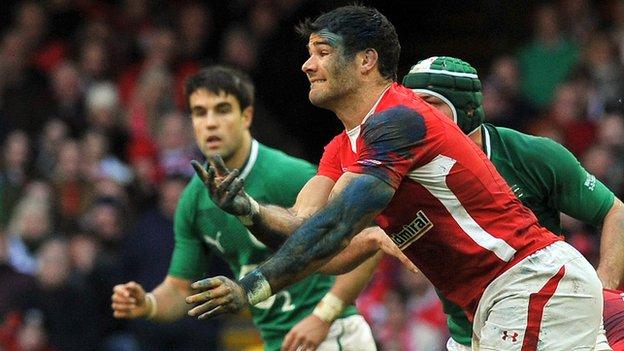 Wales assistant coach Rob Howley says Mike Phillips must avoid a "duel" with Ireland scrum-half Conor Murray in Dublin on Saturday.
Phillips and Murray were British and Irish Lions half-back rivals as the 2013 tourists won 2-1 in Australia.
Howley said: "You are mindful when playing against a nine who has been on a Lions tour with you and might be seen as an equal talent.
"But Mike must perform his role and not get tangled up in a duel with Murray."
Phillips started the first and last Lions Tests down under last summer.
England's Ben Youngs replaced Phillips after 62 minutes of the 23-21 first Test win and took over when injury ruled out the Welshman from the second clash, a 16-15 Wallabies win.
Murray replaced Youngs after 53 minutes in that second Test and came on two minutes earlier for Phillips in the tourists' 41-16 win that settled the Lions' series win in Sydney.
Howley, an ex-Wales and Lions scrum-half himself, who was one of coach Warren Gatland's assistants in Australia, said: "Conor Murray was a great player on the Lions tour.
"I have a lot of admiration for him, and I respect his hard work and diligence.
"He was probably number three [scrum-half] going on the tour, but he was up there with the best by the end and made a telling contribution in the Test series and provincial games.
"It will be a challenge for Mike, and he must focus on his game and not get tied up in a duel, focusing on allowing us to play and do what he is good at."
Howley also wants Phillips to improve on his display in Wales' opening 23-15 Six Nations win over Italy last weekend in Cardiff.
"Mike was caught from a ruck a couple of times by offside [Italian] players," said Howley.
"He takes a step with the ball, but sometimes that is needed depending on the speed of the ball.
"His long-passing game is pretty important to us, and I expect to see more of that this weekend."
However, as an 81-cap veteran, 31-year-old Racing Metro star Phillips is among a group of experienced Wales players who Howley says can be relied upon in Dublin.
Howley said: "The experiences the players have had with Wales and the Lions in big matches means they can deal with intensity and hype and the media.
"Experienced players become automated, having been there and done it, and I expect that to be the same this weekend."
Some of that media attention has focused on Wales boss Gatland's relationship with Ireland legend Brian O'Driscoll, who was controversially omitted from the final 2013 Lions Test by the New Zealander.
Wales are also bidding for a win that would keep them on course to become the first nation to win three successive Six Nations titles.
Howley said: "Gats has been no different this week to any other, experienced and astute, talking to players he feels he needs to speak to and making sure our environment is ready for the players to be the best they can be on Saturday afternoon.
"Six Nations matches are final. We have seen in the last Six Nations that sides can gain huge momentum after an opening day victory, and you can also lose the first game and regain momentum.
"Ireland will be buoyed by their performance against Scotland [last weekend], and we were frustrated and disappointed by our second-half in particular against Italy.
"We need to get back on to the front foot. There are technical elements we need to improve on, and we have been working on them this week.
"We have got into a positive mindset through winning, and that gives you confidence and self-belief. Our record in the Six Nations in the last five years is 70 per cent-plus.
"The Ireland game is always pivotal, and it has been close in the last few years, 2-2 in the last four meetings. It is high-octane.
"Both sides like to play rugby, depending on the conditions, and I see no difference this weekend.
"It will be a tight, cagey affair and territory will be key."