Six Nations 2014: Ireland's Paul O'Connell confident of fitness
Last updated on .From the section Irish Rugby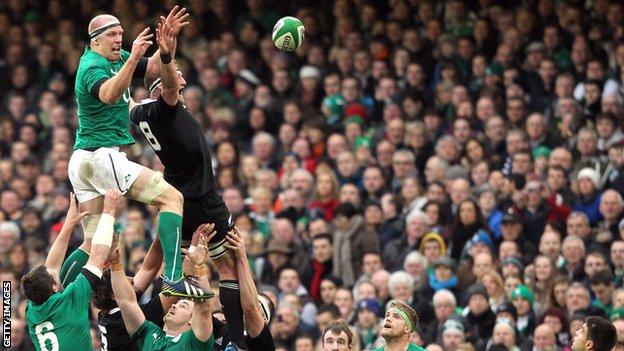 Ireland captain Paul O'Connell is confident that he can play through any lingering effects of his chest infection against Wales on Saturday.
The second row made a full return to training on Thursday after sitting out Tuesday's session entirely.
He admits he was embarrassed with his last-minute withdrawal from last weekend's 28-6 win over Scotland.
"I've copped plenty of slagging from the old-school players I've played with for years," said O'Connell.
"I've just got a little bit of a cough left, that's all. It's been a bit embarrassing really.
"You almost wish you'd had something worse than a chest infection.
"I've just finished a course of antibiotics. I've played matches on them before, so I don't struggle with it at all.
"I'm experienced enough to know how to handle things like this, I've dealt with similar things before.
"I broke ribs against England and had to withdraw late the next week from a game against Italy.
"It was very frustrating and very disappointing then, and the same last weekend."
The 34-year-old Munster man expects to be fully prepared for Saturday's Six Nations Dublin showdown against Warren Gatland's defending champions.
But he admitted it was an easy decision in the end to put the team first last weekend and step back to allow Ulster lock Dan Tuohy to start.
"I think you have to have respect for the team, the body wasn't right and there were two guys there who were right and ready to go," he conceded.
Anticipating a fearsome contest with the Welsh, O'Connell hopes the fitness of his side will pay dividends in the latter stages of the match at the Aviva Stadium.
"A lot of these fixtures are one-score games, so you need to score in the last quarter, in the closing stages if you want to get a result.
"Hopefully with our fitness levels that we've shown throughout the year, and the quality of the bench, hopefully we can do that."