Six Nations 2014: England stroll as Scotland take backward step

By Tom Fordyce
Chief sports writer
Last updated on .From the section Rugby Union510
Five minutes before kick-off at Murrayfield, local favourites the Red Hot Chilli Pipers chose to entertain the masses by blasting out their bagpipe-heavy version of Journey's soft-rock anthem Don't Stop Believin'.
It was perhaps, in retrospect, an inauspicious choice of tune. Within 10 minutes even those Scots who had arrived believin' - and that wasn't many - were draining of hope.
Before the half was up, things had got so bad that there was only disbelief - at the bungled line-outs, at the plague of penalties, of the panic to kick the ball away to nowhere on the few occasions it could be snatched back off the English.
Just 3% of the match was played in England's 22. Those are the sort of numbers that even ageing soft-rockers from San Francisco can understand as ugly.
They kept coming. Scotland lost five of their own line-outs, missed 27 tackles and conceded 16 penalties. The infamous parasitic worms that have wrecked the Murrayfield turf held onto the ball for longer.
These Calcutta Cup contests in Edinburgh's cold, damp embrace aren't supposed to be pretty. They often fail to produce a try. No-one really minds, because it is about the ferocity of rivalry and battle rather than sweet hands and swallow dives.
What they are not supposed to be is quiet, or a stroll, or an untroubled passage to unarguable victory.
England's 20-0 win on a typically bleak Saturday evening was all those and more. That the margin could have been doubled without too much fuss was both a source of relief and pain for the chastened home support.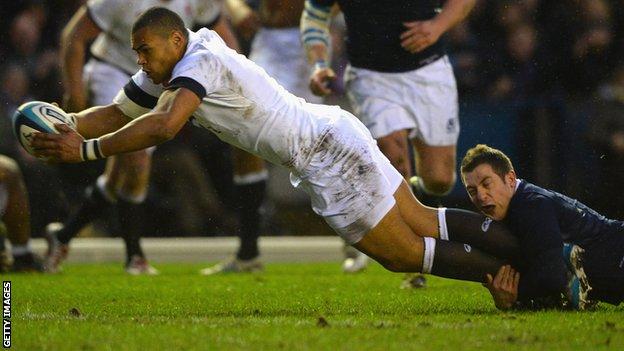 Both Luther Burrell and Mike Brown could have had other tries to add to their second in two championship matches. Replacement scrum-half Lee Dickson slipped with the try-line within reaching distance. Owen Farrell's uncertain footing and aim left nine points out there in penalties alone.
If that speaks of a little profligacy, it is almost the only criticism that can be aimed at Stuart Lancaster's men. If last week in Paris had been a case of what if and what should have been, this was a statement of what they are: a powerful and dynamic pack, allied to an increasingly exciting backline, linked by a scrum-half in career-best form and a fly-half whose distribution and dash continues to surprise his critics.
Not since the glory days of a decade and more back have England possessed a forward unit with as much potential and depth. As against France seven days before, Dylan Hartley was accurate and energetic, Courtney Lawes ferocious in the tackle, Chris Robshaw dogged at the breakdown.
None still were as eye-catching as Billy Vunipola - not just for his 16 carries, or the way that defenders seem to bounce off him or get dragged along, even if attached, like rugby's version of remora fish, but for his endless off-loads: back of the hand, round the defender, brain and ball always alive.
It produced possession at pace for England's half-backs to relish. Care, just as he did in Paris, kept that tempo high. Just as in Paris, he nailed a cheeky drop-goal; after his tap and go had led to a try for Brown then, so his run and pass into the angled run of Burrell brought England's first this time.
The backs have not always been the most conspicuous success of Lancaster's reign. With the pace of Jonny May and precocious running of Jack Nowell, the battering force of Burrell, the hands of Billy Twelvetrees and the continued dash and step of Brown, that may be about to change.
Pickings against a revitalised Ireland in a fortnight are unlikely to be as easy.
Scotland rugby supporters are not instinctive barricade-stormers; defeat has become an unwelcome but familiar habit. But in the dank Edinburgh air, among the well-heeled and naturally conservative, there was genuine anger at what their team have become.
Coach Scott Johnson admitted afterwards that the scoreboard had flattered his team. He also wryly admitted to a stiff neck from looking exclusively at one end of the pitch, which rather ignored the fact that his side were as trapped on their own doorstep in the first half as they were in the second.
Little that he has done this week has made much logical sense. Despite the sorry showing in Dublin last Sunday, the only forward he dropped was captain Kelly Brown, for a match that was crying out for his experience and leadership.
Those he did pardon gave him no excuse to do so again. Supporters can forgive rare lapses under extreme duress. Scotland instead made them incessant and rudimentary.
There was dog-legged defence. There were knock-ons and passes thrown into touch. There were spills, minimal thrills and plenty of bellyaching.
David Denton, almost alone among his team-mates, was having a decent game - more carries and more metres made with them than anyone else in a blue shirt. Johnson's response was to take him off with almost half an hour still to play.
There have been limited Scottish sides in the past. What they have almost universally managed to find for this fixture is a passion that has been transformative; witness the rain-soaked battle in 2000 that both denied England a Grand Slam and dodged a Wooden Spoon, or the 15-9 slog in 2008 that humiliated an England team that had been World Cup finalists less than six months before.
Not this time. Maybe the old nationalistic certainties have been eroded. Second row Jim Hamilton, born in Swindon, plays for Montpellier; winger Tommy Seymour, born in the United States, played for Ireland at under-19 level. The coach is Australian and the forwards coach Welsh.
But these trans-border complications are not exclusive to Scotland, as Hartley or Vunipola's own routes into the white jersey illustrate. Once again, just two matches into the Six Nations, only a trip to Italy is likely to stand between them and further ignominy. New coach Vern Cotter cannot start soon enough.
And England? They will believe there is more to come, just as they may end this championship regretting that late loss to France even more than they do now.