Mike Blair column: Misfiring Scotland must learn from mistakes

By Mike Blair
Former Scotland scrum-half
Last updated on .From the section Rugby Union482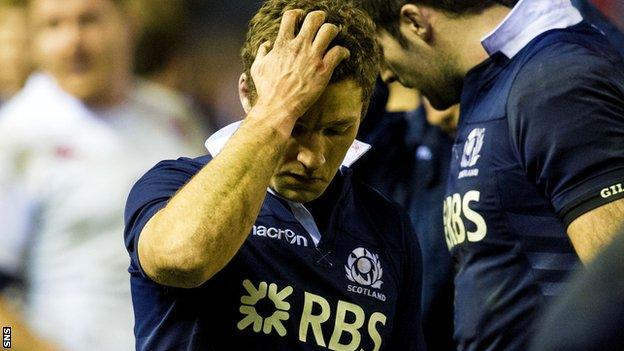 Vying for the Calcutta Cup at Murrayfield was the perfect scenario for Scotland to regain some lost pride on the back of a lacklustre display against the Irish.
Speaking to some of the understandably disappointed crowd after the game, words like "passion" and "desire" seemed to feature strongly.
Although I believe these two aspects are absolutely vital to a team's success I also think that you can't have them in isolation.
Without accuracy of skill execution and game understanding they are inconsequential. I'll try to give a few examples.
England's first try by Luther Burrell: England performed a simple play from a driven lineout - it was nothing out of the ordinary.
You can point to the misunderstanding between Duncan Weir and Matt Scott as the key but it stems from way before that final error.
As the ball is released by the impressive Danny Care there are three Scottish players marking no-one in the 5m channel; Greig Laidlaw, who was originally defending from the lineout in the 10 channel, moved back into the traditional role behind the pack as the maul continued; Dave Denton gets too close as second defender on the open side and rather than then coming straight up off the line, he has to chase Care.
Weir was concerned with Care running and stepped in to take him; Scott had eyes on Farrell out the back of Burrell and stayed out thinking Weir would take him.
The point of my description is to try to portray that it's not always a case of having the "desire" to make the big tackle but it's about reading the circumstances and understanding your role within the system to be able to put yourself in the right position to perform the tackle.
Another example is on attack. If there isn't a good understanding of team pattern and shape and roles within it, then carrying the ball into contact is compromised. It becomes a case of one isolated runner taking on two defenders or indecision about whether the attack is off nine or 10.
I mentioned in last week's column about Paul O'Connell's Munster team-mates having to make new coach Joe Schmidt's patterns second nature as it has an affect on breakdown intensity if it's not.
I don't think Scotland's attacking structures looked second nature by any means and as a consequence we weren't able to see the "passion" that can be brought when clearing out the opposition at breakdowns.
Think about when Tommy Seymour broke the line in the first half from an inside ball off Matt Scott.
England were scrambling in defence, they didn't commit anyone to the breakdown and Scotland had great quick ball, yet the next contact that took place was first receiver Chris Fusaro being driven back in the tackle down a blind alley. This is game understanding and getting the right people in the right place at the right time.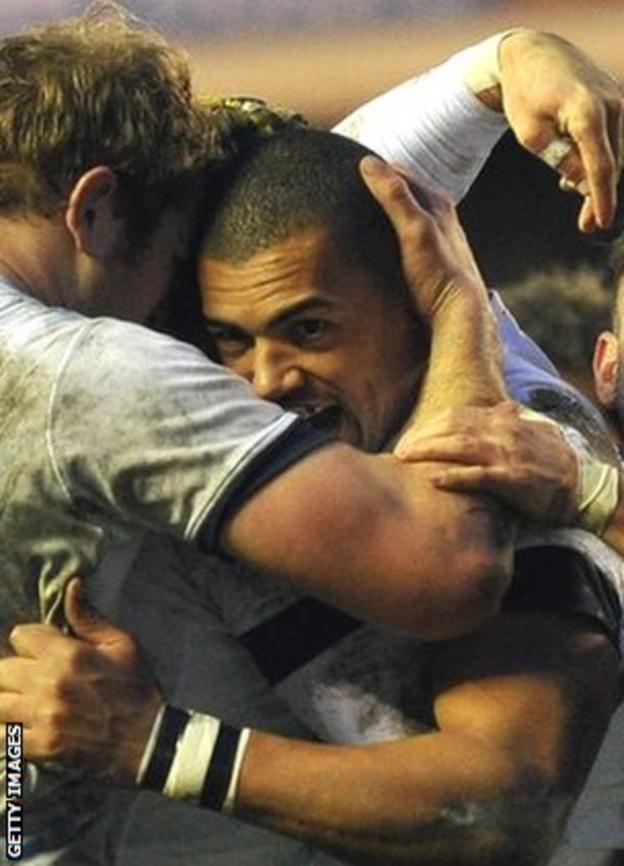 Scott Johnson spoke about naivety, because of inexperience, being the root of many of the issues that faced Scotland on Saturday and with some defensive decision-making this can certainly be said.
My concern though was the lack of direction in attack and the indecision about what Scotland were actually trying to do.
Last week's first half versus Ireland saw the ball being spread around the field and although ultimately it broke down there was a clear plan and players looked like they knew where they were meant to be going and what they were supposed to be doing.
This week it was hard to see what exactly the plan was. I wonder whether the Scots feared the bad weather and heavy pitch and maybe thought conditions were going to be tougher than they were and had planned for a very tight, attritional affair and couldn't adapt on the hop.
Sadly I can't write a column on the game without mentioning the line-out - it was a shambles for the second week running.
The unfortunate thing about a misfiring lineout, or any aspect of your game, is that when there is a perceived weakness teams will pressurise that area and then it becomes harder and harder to turn around.
The set-piece gives such a foothold in the modern game that you simply cannot afford to have your lineout functioning at 53%.
There will be much deliberation about the selection for the next match against the Italians in Rome. It's hard. I'm not saying this is what I would do if I was head coach, rather that a pack containing the Gray brothers, Beattie, Denton and Rennie would be exciting.
Of course there are some issues with these selections all playing together and I'm taking nothing away from the guys who have been playing in those positions.
I just want to try to point out that Scotland do have players at their disposal who can play a game based on power, finesse, offloading and tempo, should that be the way they want to play…
Games can no longer be won with passion and desire alone and I believe, like all Scotland teams, that these emotions are there. It's the technical side and understanding that are letting the Scots down.