Concussions rise in English rugby - RFU report
Last updated on .From the section Rugby Union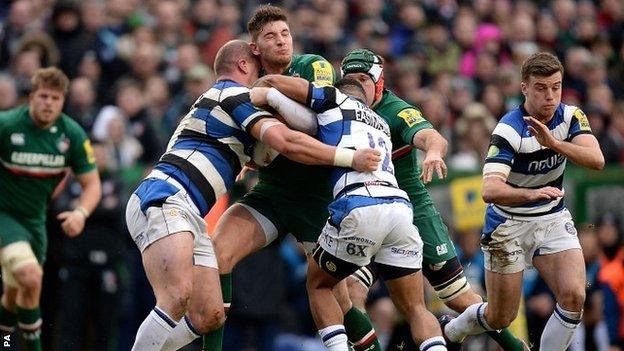 The number of reported cases of concussions in English rugby increased in the 2012-13 season, according to a report by the Rugby Football Union.
The governing body says a rise from 5.1 concussions per 1,000 hours played in 2011-12 to 6.7 last season is a result of greater awareness.
Concussions are still the most common injury in Premiership matches with 54 in matches, and five in training.
Injuries to the England team last season were almost double 2011-12.
There were 16 injuries in England training and matches in 2011-12, compared to 31 in 2012-13, although the average length of absence fell from 29 days to 24.
The likelihood of sustaining an injury while playing for England in a match increased for the first time since 2007-08, to 2.2 per game.
Overall rates of Premiership match injuries, their severity and total days' absence were all slightly lower in 2012-13 than in 2011-12, the report said.
Dr Simon Kemp, the RFU chief medical officer, said: "It is encouraging to see overall injury rates remain stable in English professional rugby and the surveillance work that takes place is evidence of a serious, data-driven approach to managing injury risk.
"The figures show the importance of our focus on concussion in recent seasons. Concussive injuries - and the way return to play is managed - are being investigated more closely as a result."
Concerns about the effects of concussion has grown in recent years.
Gloucester's former England flanker Andy Hazell was forced to retire this month after failing to recover from a pre-season concussion injury.
In January 2011, 14-year-old Ben Robinson died from "second impact syndrome" after being concussed in a school match in Northern Ireland.
Research in the United States suggested American Football players are at increased risk of dementia as a result of repeated concussion during their careers.
Two seasons ago, the International Rugby Board introduced rules which required a player who suffered a head injury to leave the field for a five-minute assessment, and replaced if there was any doubt the player was concussed.
The RFU has introduced compulsory concussion training for professional players and coaches in England before next season.