Six Nations: Wales should 'think about dropping Mike Phillips'

By Jeremy Guscott
Rugby Union analyst, BBC Sport
Last updated on .From the section Rugby Union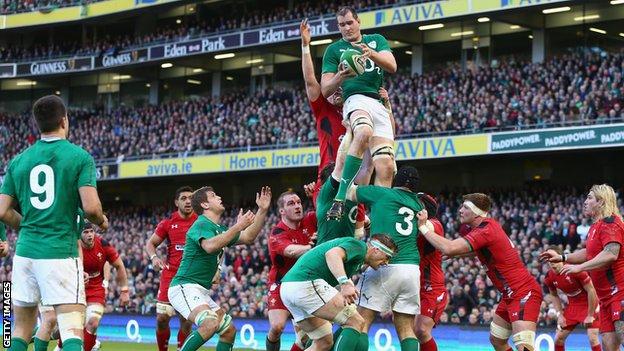 Every school bully eventually meets his match and gets filled in. That's what happened to Wales against Ireland on Saturday.
But it is complete tosh to suggest Wales head coach Warren Gatland should now make wholesale changes. Only a loose cannon would react in that way.
They have taken a lot of flak for their performance - when your side gets beaten 26-3, naturally you're going to be asking why.
But their fans just have to accept that, on the day, Wales more than met their match.
It wasn't necessarily a sub-standard performance from Wales; it was that Ireland wouldn't allow them to play the way they normally do.
But more importantly, they simply made too many silly mistakes.
Wales usually pass once, sometimes twice, before crashing in with two or three players together, to get the momentum to produce quick ball. Then, when they've got a team stretched, you'll see Alex Cuthbert or George North come off an inside ball.
It is a tactic that has worked incredibly well in the previous two Six Nations. When it didn't, they gained penalties from scrums that Leigh Halfpenny knocked over.
But Wales were outsmarted in Dublin. Ireland head coach Joe Schmidt realised what Gatland was going to get his team to do - swing the ball from one touchline to the other, attempt to stretch the Irish defence and create mismatches - and he got his guys to nullify it.
Ireland won the kicking game through Rob Kearney, Conor Murray and Jonny Sexton and their defence was superior to Wales' attack. That combination ultimately won them the match.
Ireland captain Paul O'Connell played like a 21-year-old for the 54 minutes he was on the field and Peter O'Mahony snuffed out everything Wales were trying to put together. On the few occasions Wales got into attacking positions they looked dangerous, but they couldn't do it often enough.
Any plans go out of the window when you cough up the ball, lose crucial line-outs in the opposition 22 and give away that many penalties. Ireland didn't create too many scoring chances either, but when they did, they made them count.
Not long before Chris Henry scored from a line-out, Wales had a set piece of their own deep into the Irish half, which they lost. That was another big difference.
Perhaps the defining moment of the match came with 13 minutes to go, when Rhodri Jones reached for the Ireland try-line and was penalised for a double movement. Had Wales scored there, they would have had the momentum, which is what international rugby is all about. Instead, Ireland didn't look back.
This idea that Wales should have had a plan B and C is a misnomer. It's more about making different decisions at different times in the game, mixing things up slightly, kicking more, passing less. Wales didn't maul the ball once, while it was such an effective weapon for Ireland.
I would be asking why James Hook wasn't brought on at fly-half. He's presumably not in the team because the coaches want a specific style of play and he doesn't fit in. But he thinks differently to Rhys Priestland, runs more and is more creative. Gatland has to take some responsibility for not introducing him.
But if the New Zealander wants to change the tempo for the game against France in Cardiff in two weeks' time, he might think about dropping Mike Phillips.
The Wales number nine is a player who likes confrontation and getting his own way. When that doesn't happen he gets frustrated and the niggles and verbals come in. A man of his experience should know better but you can't help what you do instinctively.
But that won't be the reason Gatland drops him. The scrum-half is the guy who touches the ball the most and Gatland might decide he wants somebody who can get it away quicker, and therefore change that tempo.
However, I expect Gatland to pick the same team, unless Jonathan Davies is fit to return at centre. Good teams don't become bad teams because of one result.
Sam Warburton, Gethin Jenkins and Jamie Roberts haven't played many games, Dan Lydiate's form has been indifferent in France and there has been some off-field disruption. But you wouldn't expect anything like that to affect a team that has been together as long as this Wales team has.
Because of the defeat by Ireland, all of a sudden people are saying Wales are going to win the Wooden Spoon. That's just ridiculous. They lost one game in 2013, still won the Championship and are far from out of it this year. And most pundits agree that no team will win a Grand Slam this season.
The French pack won't shift either; they will be prepared for an arm wrestle at the Millennium Stadium. But Wales have beaten France the last two years, so won't be lacking in any confidence.