Six Nations 2014: Scotland back head coach Scott Johnson
Last updated on .From the section Rugby Union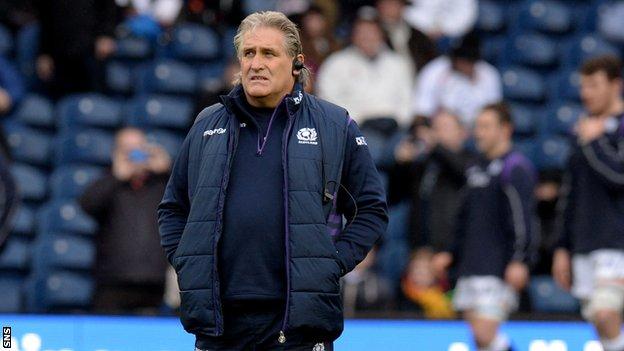 Head coach Scott Johnson "retains the full support of Scottish Rugby" after a poor start to the Six Nations.
Johnson's side have conceded 48 points and scored just six in one-sided defeats to Ireland and England.
And the negative reaction to Saturday's limp 20-0 loss to England prompted a response from the governing body.
A spokesman said the players and management "share the supporters' sense of disappointment and frustration at the results and performances".
It comes as former captain Andy Nicol told BBC Scotland that the national team stands at "credibility crossroads".
"We will all continue to work hard ahead of our next match - versus Italy a week on Saturday - to produce a win," added the Scottish Rugby spokesman.
"Scott Johnson and his coaches know the magnitude of the task we face to ensure we are competitive in the international arena."
Johnson, who will vacate his current role and move into a director of rugby position when Vern Cotter arrives in the summer, has vowed to continue putting his faith in an inexperienced squad.
Admitting his side were fortunate not to lose by more than 20 points to England, the Australian coach said after the game: "We let ourselves down, definitely.
"But I'd rather say this is the best we've got here at the minute. There is some talent there.
"These guys are going to develop. They are not finished articles."
But Nicol, who was part of the BBC commentary team at Murrayfield, finds Scotland's current form hard to stomach.
"I don't remember it being ever as bad to be honest," said the 42-year-old. "Saturday is as low as its been.
"Results like that don't help our credibility.
"Scottish rugby is at a crossroads. People are questioning whether we should be in the Six Nations, even though we finished third last year.
"There is not much right in Scottish rugby at the moment and there is a real concern about where the professional game is going."
Nicol, who was capped 23 times, does not believe Scotland is in danger of losing its place in the tournament but the rudderless showing against England has him worried.
"There have been worse defeats at Murrayfied in the scoreline, I played in some of them," he added.
"But during those games there was always some bits of positive play that got the Scottish fans excited.
"I don't think a Scottish fan during that whole 80 minutes would have been on his feet cheering because of something Scotland did. It was a really depressing day."
On Scotland's Six Nations future, the former scrum-half continued: "There is a lot of discussion about promotion and relegation; the bottom team playing off against some of the emerging countries like Georgia or Spain or Portugal.
"I don't think it will come to that but there is not a lot of positivity for Scotland right now.
"That's why the next game against Italy is just massive.
"Scotland should definitely be there but the only way to stop people questioning that is by performing better.
"There is no easy fix. We just don't have a lot of rugby players and there's not much that can be done about that.
"Two professional sides is really quite restrictive when it comes to developing players.
"But there is no way we can afford, or have the players for, three, four or five professional teams.
"We just need to do better at what we are currently doing."