Guernsey RFC's Malcolm Barnes open to return after broken neck
Last updated on .From the section Rugby Union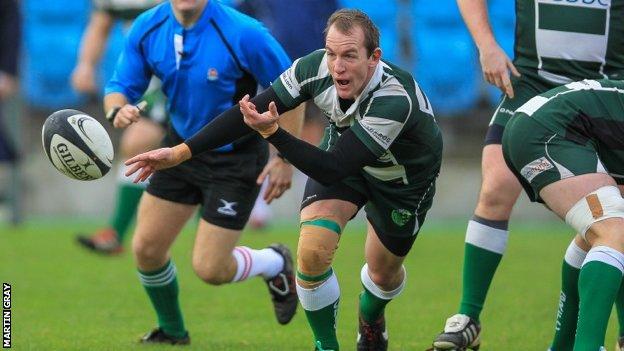 Guernsey RFC scrum-half Malcolm Barnes says he is open to the possibility of returning to rugby despite suffering a broken neck at the start of the year.
The New Zealander sustained the injury in his side's 8-6 win over Dorking on 4 January, but did not go to hospital until the next day.
Barnes said doctors had told him he was perilously close to losing the use of his legs.
"I'm definitely not ruling it out," Barnes told BBC Radio Guernsey.
"Even if it's not at the standard that I was at, I could possibly be playing some social rugby. It depends how comfortable I feel - there will be mental issues over whether I feel strong enough.
"I've had a few injuries in the past and probably five or six operations so I'm not new to coming back from injuries - but a broken neck is the most severe injury I've had so far, so there will be some new challenges in the next few months."
Barnes, who joined the club in October 2011, was injured in a routine incident in the second half of the game at Footes Lane and walked off the pitch with the help of the club's physios. He went home after the game and attempted to "sleep off" the injury.
"The whole night, I probably tried 15 or 20 positions to get comfortable," he said.
"Every time I rolled over I'd get shooting pains down my arm or chest. I tried the floor, the bed, the couch but I still thought it was a normal injury.
"I went to A&E the next morning and they did an X-ray and a CT scan. When I got the diagnosis of a broken neck it was a shock but I'm a reasonably upbeat character and I just rolled with it and listened to the doctors."
Barnes was taken to mainland UK and was operated on for more than seven hours in Taunton, where specialists told him he had been extremely lucky not to have suffered much more serious damage.
He explained: "It was quite a stable dislocation and fracture, but with the initial injury I think three or four millimetres more and I probably would have had spinal cord damage which would could have been code red: no more use of the legs and, possibly, the arms, so in that respect I was very, very lucky.
"I'm fortunate that I've got five flatmates and live with my girlfriend. I'm feeling a lot more comfortable now and I've weaned myself off the painkillers. The collar's been on for about a month and I'll keep it on for at least another month, maybe two."
Barnes, who works as an accountant, said a visit to the specialist on 25 February would help him make decisions about his future.
"He's already said that the surgery went very well and in his experience he expected a full recovery, and possibly a return to rugby if I want to go down that route," said Barnes.
"I definitely should get full mobility back and be able to live a normal life again. It all depends on the next two or three months and how it settles down. then I can get back into the gym and running."
You can listen to the full interview with Malcolm Barnes from 1700 GMT on BBC Guernsey on Tuesday 11 February.