Heineken Cup: Broadcasters must compromise - Leicester chief
Last updated on .From the section Rugby Union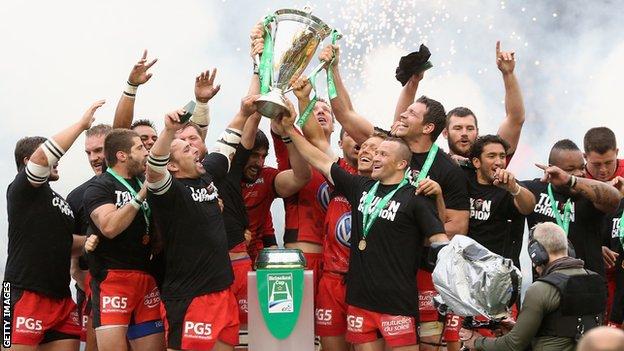 Broadcasters BT Sport and Sky have been urged to come to a compromise in order to save top-flight European rugby.
Wheeler admitted that reaching a compromise would nevertheless be a "difficult and delicate".
"It seems clear the largest problem is that there are two TV deals," he said.
"Both of them cannot progress under the same terms that were envisaged."
BT Sport and Sky have already held tentative discussions aimed at a compromise agreement to divide the broadcasting.
Premiership Rugby backs the BT deal, while Heineken Cup organisers European Rugby Cup (ERC) claim an agreement with Sky.
On Wednesday European club and regional rugby representatives held a "positive meeting" with the Six Nations' unions about creating a new European Cup.
The tournament would be run by the Six Nations committee, rather than current organisers ERC.
Even if the Six Nations committee replaces ERC as the governing body of a new European tournament as expected, the TV issue would still need to be resolved, however.
"It seems to be the case that there are attempts to work towards some kind of compromise agreement," added Wheeler.
"Most of the other areas appear to be resolved, so this one is huge."