Scotland rugby chief Mark Dodson stands by World Cup victory goal

By John Beattie
BBC Scotland
Last updated on .From the section Rugby Union189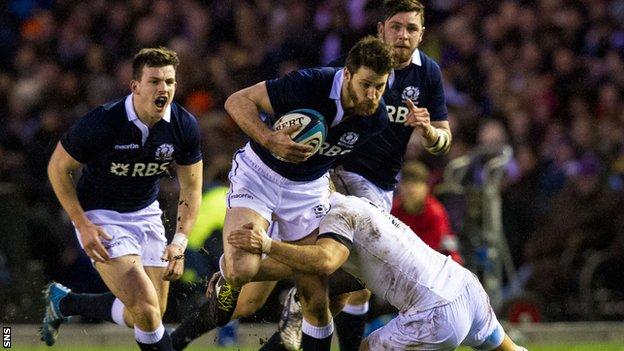 Mark Dodson, the chief executive of Scottish Rugby, is sticking by his ambition of World Cup glory in 2015.
Dodson outlined a four-year plan in 2012 that involved winning both a Six Nations Grand Slam and the World Cup.
"Of course it's the target or else we wouldn't have stated it in the first place," he told BBC Scotland.
"We realise many have been saying it's an insane target, but we were making a call to people in Scotland to realise that they had to raise their sights."
Scotland are currently bottom of the Six Nations table after disappointing defeats by Ireland and England.
"We have to make fundamental changes for us to be able to develop," continued Dodson, who has been in the role since in September 2011.
"But if we don't set ourselves those kind of ambitions we will never ever move forward. We have to believe that we are going to get better.
"And when you set those kind of goals it makes people realise how far they have to go. It makes them understand we will not settle for second best."
Interim head coach Scott Johnson has come in for heavy criticism following last weekend's abject loss against England but Dodson has confidence in his management team and firmly believes Scotland are on the right path.
He does, however, concedes that the journey may be a bumpy one.
"In the past we've chopped and changed every two or three years without getting the fundamentals right," he said. "We are not going to be blown off course this time.
"We are on a journey to make sure we put the structures into Scottish rugby that haven't been there before.
"And we can't believe for a minute that the performance on Saturday is reflective of what is actually going on in Scottish rugby.
"It was very poor and I apologise to everyone out there for the manner of that defeat."
Having finished third in the championship last year, there was quiet optimism that Scotland might enjoy another strong campaign this time.
However, poor performances in the opening two matches have dented that belief.
"Results in the Six Nations have not been too great," Dodson conceded. "We had a decent tournament last year but performances before then have been modest.
"I think what upset everybody on Saturday was the manner of the defeat. We just didn't turn up.
"I'm sure the team and the management will be working incredibly hard over the next three games to make sure that doesn't happen again."
Johnson will assume a director of rugby role when head coach Vern Cotter arrives in the summer, with the New Zealander currently fulfilling the final year of his contract with Clermont.
However, the Australian will still be involved in coaching the national side, most likely working with the backs.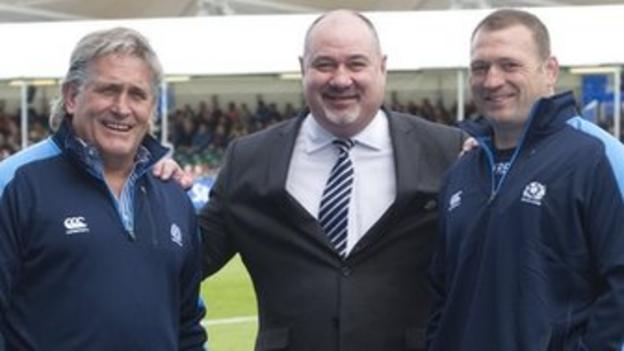 "We were trying to get the best coaching team we could get our hands on and I think we've done that," said Dodson.
"I don't think anyone can doubt that we have an outstanding set of coaches working with us - probably the best for a generation.
"It became quite clear that Scott would be excellent at developing young players. He and Jonathan Humphreys were responsible for five of the Lions' pack.
"He has developed players all over the world and we felt he was the best man to take us forward, working in conjunction with Vern Cotter."
As well as making a stout defence of Johnston, Dodson also rounded on those who have questioned his efforts in the wake of those two defeats.
"He's come in for a huge amount of unfair criticism," he added.
"Some of the people who have talked about Scott's credentials this week don't know the man and are not prepared to get to know him either.
"And he doesn't always tell reporters what they want, which is contrition or a promise that the good days are just around the corner.
"What he does tell them is that we are on a journey and we have to get through some pain to get to where we want to."
Scotland have not won a Grand Slam since 1990 and have lost 52 of their 72 matches since Italy joined the tournament in 2000.
But Dodson hopes the foundation of new youth academies will help provide a solution for the national side.
"We aren't bringing enough players through and the players we have brought through our system are not necessarily ready for top class international rugby.
"There seems to be a gap between ages 16 and 19 that we're having trouble filling.
"We are launching several policy papers, one of which is on academies, which will address this very straightforwardly and we'll be rolling out four academies over the next year or so."