Six Nations: Scotland's Scott Johnson doing 'great job'
Last updated on .From the section Rugby Union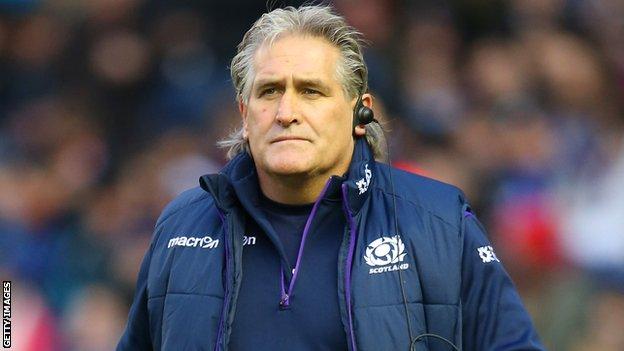 Scotland scrum coach Massimo Cuttitta has dismissed criticism of Scott Johnson's performance as national boss despite two Six Nations defeats.
"Scott's doing a great job," Cuttitta told BBC Scotland. "From my point of view, he's doing a hell of a good job.
"He's keeping the team really focused on our objectives. There were good things in the game, some positives."
Cuttitta admitted that confidence had taken a dip but believes his side can recover to defeat Italy in Rome on Saturday.
"It is our duty as coaches to pick up that confidence," said the former Italy and Harlequins prop.
"We have been studying Italy and they are a good team but have ills and we have to exploit those ills.
"The boys are working hard and the mood is good; we're looking forward to the game against Italy. I believe we can win this game at the weekend."
Johnson and his coaching team have received much media criticism since their Calcutta Cup defeat.
"We just take it on the chin and work as hard as always to resolve the issues," said Cuttitta.
"It's been difficult, but let's not forget that England are one of the best rugby teams in the world.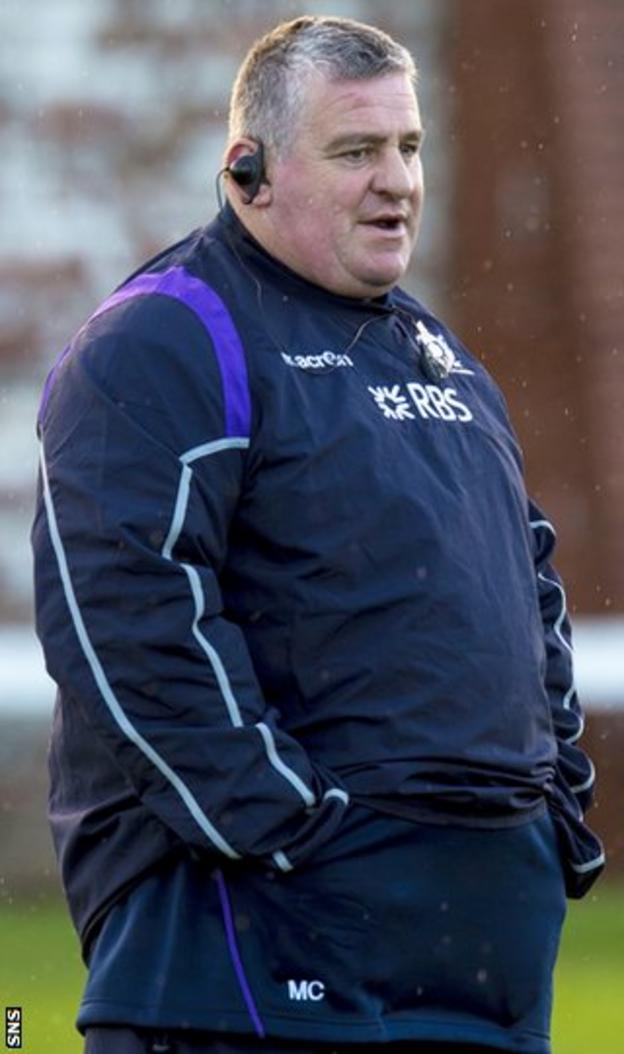 "There were good things in the game. There were some positives.
"They were in our 22 at least 20 times and they only scored twice, so that's something we did well.
"Scrummaging was reasonably good. We got 80% of quality ball from scrums, so there weren't just negatives."
Cuttitta was more coy about backing Scottish Rugby chief executive Mark Dodson's repeated assertion that Scotland can improve sufficiently to win next year's World Cup.
"The World Cup is a long way from now," pointed out the coach. "So, we might not think that at the moment, but there's still a long time to work, there's good talent in the Scotland squad and I personally believe that this group can do something important.
"Now, whether it's winning the World Cup or achieving good performances or good wins from now onwards, I believe we've got a good group that we're welding and we can do well.
"I respect his point of view. He's obviously got a lot of belief in our group. I thank him for that and, as a coach, I will try my best to fulfil his statement.
"Anything is realistic if you really believe in it and I think we've got a very good group."
Cuttitta, born in the Italian city of Latina but brought up in South Africa, insisted he had no split loyalties when facing the land of his birth as a coach.
"To be honest, Scotland is home for me now and the duty is to win for Scotland," he added.
"To win against Italy, for whom I played for many years, has always been very important for me and I hope that my boys, the Scottish boys, will win."