Exeter Chiefs boss Rob Baxter angry at latest narrow loss
Last updated on .From the section Rugby Union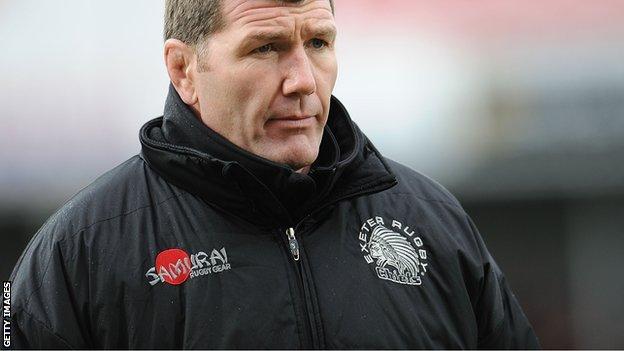 Exeter Chiefs boss Rob Baxter admits he is losing patience as his side came out on the wrong side of a close scoreline yet again in the 27-23 defeat by Bath.
The Chiefs have now lost their last three Premiership games by margins of four points or fewer.
"I'm pretty angry about it," Baxter told BBC Radio Devon.
"Our energy and endeavour is great. I can't fault the players for that, but we've got to take more responsibility for the decisions we make."
The struggle to convert tight scorelines into wins was also evident in Exeter's Heineken Cup campaign, with three of their four defeats in Pool Two coming by five points or fewer.
The Chiefs are in eighth place in the Premiership table, with their hopes of making the play-offs for the first time looking increasingly unlikely.
Baxter said some of the Chiefs' play against Bath had been exceptional, but could not hide his annoyance at instances of players going away from the gameplan which had been worked on in training.
"Mistakes are fine, everyone makes mistakes in sport - but when we start doing things we haven't practised or talked about, it does start to get frustrating," said Baxter, who pinpointed errors at the line-out and in defensive alignment as particularly disappointing.
"We are a good side and we look comfortable in the Premiership but you look at some of the stuff in the Bath game and it's easy to say 'on another day this happens or that happens and it goes our way'. That's great but when are we going to make it happen and not hope it just clicks?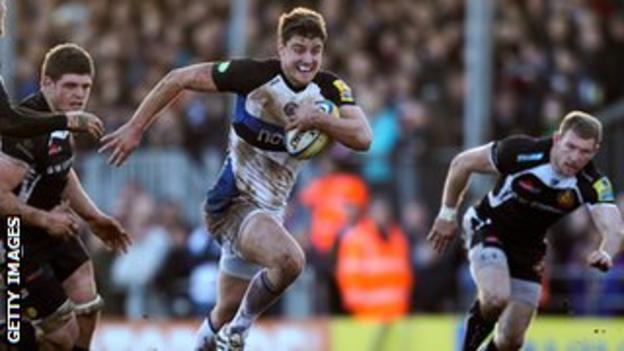 "The pressure we put Bath under which ended with them scoring or getting down our end of the pitch - the really good sides don't let that happen.
"I'm getting frustrated with it and we need people to start stepping up.
"The rewards for doing that are massive because we'll start winning these games - over last three Premiership games, if we'd collected nine more points for the wins rather than just losing bonus points, look where we'd be in the league.
"I want us to be higher up the league and I want the players to know that and to show that themselves.
"We're good at being good and that's our biggest weakness in a way. We have to take the next step to make sure these sort of games become wins."
Baxter said he was expecting a significant response in training ahead of next weekend's trip to Saracens.
"We need to come back in the frame of mind to really ram home everything we do and not be comfortable with just being OK," he said.
"I'll watch a video and I expect I'll be pretty happy with 90% of this game but we'll be ripping my hair out about the other 10%."