WRU chief Roger Lewis hopes for European rugby deal soon
Last updated on .From the section Rugby Union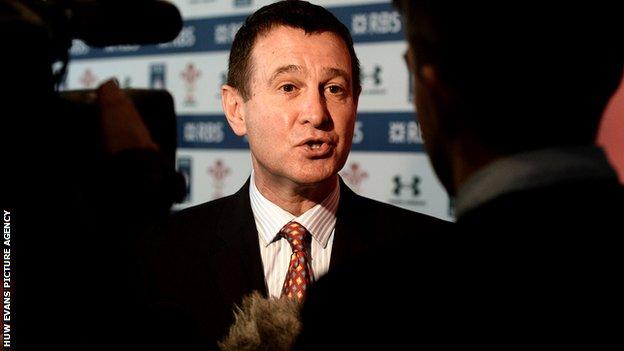 Welsh Rugby Union group chief executive Roger Lewis hopes a new European rugby tournament could be finalised by the end of the Six Nations.
Leicester Tigers executive director Peter Wheeler, a Premiership Rugby board member, said he was encouraged by a Six Nations meeting in Paris.
"Personally, for the competitions, I would like to resolve it by the end of this year's Six Nations," said Lewis.
"But it will take as long as it takes because we have to get the right resolution and the right decision and the right outcome for rugby."
European club and regional rugby representatives held with the Six Nations' unions about creating a new European Cup.
The new tournament would be run by the Six Nations committee, rather than current organisers European Rugby Cup (ERC). It would comprise two new 20-team tournaments, with tougher qualification from the Pro12.
Another key issue for the French and English clubs has been a desire for greater commercial powers.
"The certainty that everyone has been seeking for Europe and competitions is close to resolution," said Lewis.
"I have always been confident that we would arrive at a positive solution for all of European rugby and we are close to resolving that.
"We have a small working party to put the flesh on the bones about what we discussed last week in Paris.
"It means the regions in Wales have the certainty they are seeking, that they will have competitions to play in and there will be a European Cup competition, and qualification from Europe will come through the Pro12.
"That means we can all move forward with that certainty and with confidence and we can continue to think about rugby."
Wheeler had admitted recently any compromise deal between the broadcasters BT and Sky would be "difficult and delicate".
But those discussions could now hold the key to any deal being done on a new European tournament for next next season.
The six governing unions - in England, France, Ireland, Italy, Scotland and Wales - had committed to a new Heineken Cup tournament, which would be shown by current broadcast partner Sky.
But the English Premiership clubs insist they will not take part and had proposed a rival cross-border competition, the Rugby Champions' Cup, which would be broadcast by BT.
The Welsh regions supported the Rugby Champions' Cup as they claimed it would guarantee them extra revenue, putting them at odds with the WRU.
"I am cautiously optimistic that we can arrive at a position that is in the best interests of rugby and the best interests of Welsh rugby," added Lewis.