Sam Burgess: Code-crosser can succeed like Sonny Bill Williams

By Jeremy Guscott
BBC Sport rugby union analyst and ex-England outside centre
Last updated on .From the section Rugby Union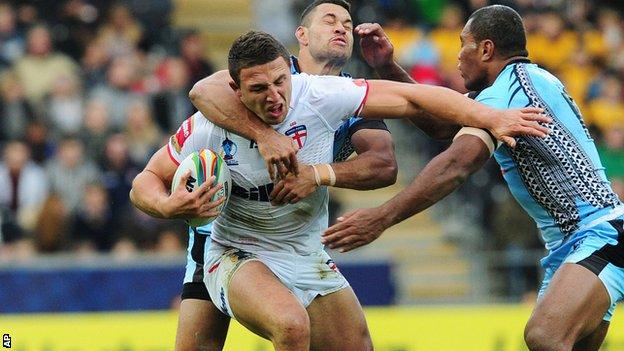 Sam Burgess is quick, big and athletic; he can offload; he's got a side-step; he's got a swerve; he runs good angles and lines; he's able to read what's in front of him and react accordingly.
All in all, I'm struggling to think of a single reason why the rugby league star would not be a success in union following his move to Premiership club Bath.
It's going to be a huge challenge, but whatever Burgess has put his mind to, he's got there through having a very strong heart and mind and putting in an incredible amount of hard work. There's no reason to think that's going to change.
Let's forget about England for a moment. For Bath, it's a huge statement of ambition. It's another Englishman in a squad already bulging with home talent and that says a lot about where the club want to go and how they want to do it.
A big part of Burgess's success will be how he settles in, not just on the field. But I look at what the club is building and creating and the culture they want and Burgess seems ready made for it.
It's also a great town to live in, although I was Bath born and bred, so I'm hugely biased!
Bath supporters are getting a player who was one of the biggest names in Australia's National Rugby League, with South Sydney Rabbitohs.
Burgess has a pay packet and lifestyle most people can only dream of and he's giving that up to play a game he's never played. That's remarkable in itself.
That said, to get him to where he needs to be in time for the 2015 World Cup will be a task of enormous proportions, beginning with baby steps.
He will finish the rugby league season in Australia in October 2014 and come into a European rugby union campaign in which the Heineken Cup will have started, the Premiership will be in full flow and the autumn internationals will be weeks, if not days, away.
England won't have any say in where, why and how Burgess plays, for the simple reason that the Rugby Football Union didn't pay any money towards him.
But I'd be surprised if he ended up playing as a flanker or number eight, simply because he won't have time to get to grips with the technical intricacies - scrummaging, line-outs, driving mauls, the tackle area.
It is for this reason that most successful converts have made names for themselves in the three-quarters.
Given his athleticism and skill-set, he seems tailor-made for inside-centre. If he played with Kyle Eastmond for Bath, you'd likely have Burgess offloading to him. It would probably be the same if he played alongside Jonathan Joseph.
At inside-centre you're offered more protection in defence, because there's not so much space around you. You're linked to a fly-half and an outside-centre, from set-piece and phase play.
As an outside-centre you're more exposed, especially in phase play. That's when you can feel vulnerable, especially if you've never played union before.
Whether he plays inside or outside-centre might depend on his weight. It's a big ask for him to come in and play inside-centre and remain on the field for 80 minutes - carrying 18 stone, changing direction, offloading, running into contact. I think he'd be more effective if he lost some timber.
Burgess will be a targeted player, no doubt. But everywhere he has played - in Sydney for the Rabbitohs, for the Bradford Bulls, for the England rugby league team - he's had huge expectations on him and every challenge he's risen to.
Some very good players have come from rugby league and not made it in union. But I prefer to look at the impact Sonny Bill Williams had with the All Blacks, or Israel Folau with Australia, or Jason Robinson with England.
Folau has the skill-set to be able to play in league, union and Australian Rules. Robinson could break through a gap the width of a cigarette paper and became one of the best players England have ever had. Williams, too, is just an incredibly gifted rugby player, with the vision, the feel, the speed and the build.
Burgess can have the exact same impact as Williams because he has a very similar skill-set and the character to support those natural attributes.
Jeremy Guscott was speaking to BBC Sport's Ben Dirs