London Welsh keeping options open over Witney move
Last updated on .From the section Rugby Union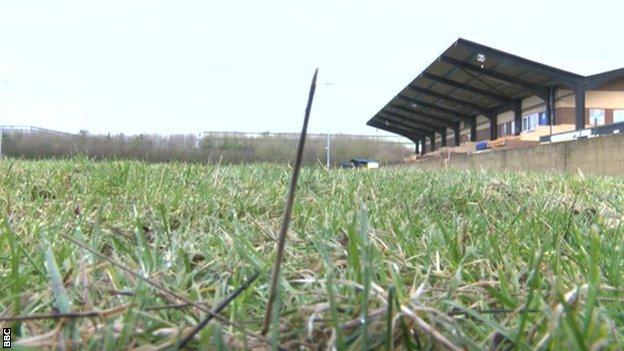 London Welsh say they are yet to make a decision on whether to stay at the Kassam Stadium or redevelop Witney Town's old football ground.
But Exiles chairman Bleddyn Phillips told BBC Radio Oxford that no firm decision had been taken.
"Witney is one of a number of options we are looking at," he said.
"It's great news the planning application was approved, that's a very important step. But it is one of a number of steps.
"A lot of work has to be done at the ground to satisfy RFU criteria, and for that we'd need investors on board, so there are other challenges to be addressed and hurdles we have to overcome."
The club has been disappointed with crowd figures at the Kassam Stadium, but Phillips said it was committed to staying in Oxfordshire.
He explained: "At this stage of the season we don't need to make a final decision just yet.
"But over the coming weeks, hopefully things will become clearer in terms of the challenges we face at Witney and indeed how viable it might be to remain at the Kassam."
London Welsh have been playing at the Kassam Stadium since September 2012 following a move from Old Deer Park in Richmond after promotion to the Premiership, but they were relegated after just one season.
The club is exploring a move away from the Kassam to a venue where they would be able to generate revenue from match and non-matchday activities.
West Oxfordshire councillors have welcomed a possible move, with Councillor Richard Langridge saying the presence of the club would be "absolutely fantastic" for the town of Witney, which lies 12 miles west of Oxford and has a population of around 25,000.
"It would have a tremendous impact on rugby in the district and on sports, leisure and tourism in general," added Councillor Langridge.
"London Welsh have pledged to work extremely actively in the community and the benefits would be extensive and far-reaching. Hopefully we will be welcoming them to Witney next season."