Six Nations 2014: Jeremy Guscott on England's meeting with Ireland

By Jeremy Guscott
Rugby union analyst, BBC Sport
Last updated on .From the section Rugby Union774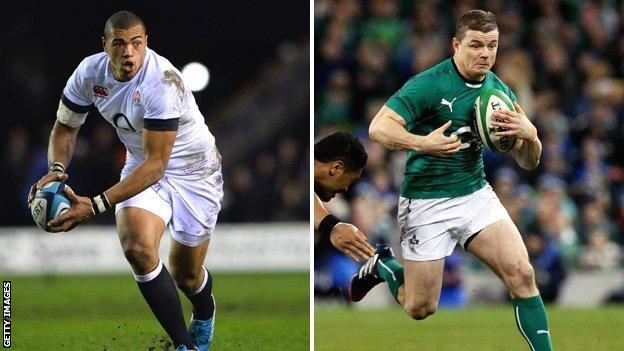 It's not just the green shoots of spring that are appearing, for the green shirts of Ireland have arrived too for their biennial attempt to gatecrash England's Twickenham housewarming party.
Over the years England have had a good record at home against Ireland but the visitors arrive in London having won three of their past five matches at HQ and as the unbeaten Championship leaders.
They gave champions Wales a good kicking last time out and, in Brian O'Driscoll, they have one of the all-time greats.
He will equal the record for Test caps on Saturday but he knows his rugby story is well into its final chapter and England's youthful chargers will be keen to make him wonder if he should not have called it a day already.
Stuart Lancaster's team have impressed in their first two games in the Six Nations and will be looking to take another step forward in their development by ending Ireland's unbeaten start.
Two caps v 138 caps
We know all there is to know about O'Driscoll, who will win his 139th cap and draw level with former Australia scrum-half and captain George Gregan.
The flaring acceleration may have gone and he is no longer the carefree youngster who played purely on instinct, but he's a shrewder player now. The 35-year-old still has all the old skills and his defence - especially his work at the breakdown, where he's like an extra back rower - is top notch.
He is a talismanic figure who, like captain and long-time compadre Paul O'Connell, can lift the team with his presence alone.
Against him is a man winning only his third cap.
Luther Burrell, the 26-year-old Northampton centre, has said all the right things going into the game. He will have the utmost respect for O'Driscoll but if he can run through him, over him, go inside him or outside him, he will.
Burrell stands 6ft 3in and weighs over 17st, he's got good pace and nice footwork, and he'll stick to what he's done so far - take good hard lines, cut back well and support enthusiastically.
His relationships with fly-half Owen Farrell and inside centre Billy Twelvetrees are getting stronger but this is the ultimate test - he's up against the most experienced midfield in the Test game.
The ring masters
Rugby is the ultimate team game but if your fly-half isn't playing well then you're in trouble.
Ireland's Jonathan Sexton has been around for a while now and the 28-year-old is the number one fly-half in the northern hemisphere.
He missed a crucial penalty in the gut-wrenching defeat by the All Blacks in November but has bounced back from that really well; in the win against Wales a fortnight ago he delivered the complete performance.
Sexton has a better running game than opposite number Farrell but against the Welsh it was his kicking that stood out - he seemed to have total control of the ball, possibly helped by the fact that his club side Racing Metro's gameplan requires a lot of kicking.
Although it might not appear to be the case, both he and Farrell have kicked similar amounts in this year's Championship, but there's no doubt Sexton has been low risk.
He's been very efficient, with high levels of accuracy, and has been playing very good no-frills rugby.
Farrell is still a young man at 22 and although he's only kicking at 60% in this Six Nations - Sexton is at 83% - the Englishman is rightly renowned for his mental toughness when it comes to going for the sticks.
He came out and attacked against France in the first game, making two or three line breaks, and I thought "wow, he's clearly developing his game".
England cannot win this match unless Farrell plays incredibly well - it's more important for him to play well than it is recalled tight-head prop David Wilson (more on him later).
England's worry over the scrum
There has been concern expressed about how England will cope with the loss of tight-head prop Dan Cole, who is out for at least three months with a neck injury.
Bath prop Wilson, who will start in his place, has only just come back from injury and is still searching for match fitness, while replacement Henry Thomas is only 22 and some observers have raised questions about whether his scrummaging is up to Test standard.
Wilson is a big guy with lots of experience but he won't be 80-minutes fit and didn't look terribly confident against Exeter last weekend.
He's got to last as long as he can though because he's against a good loose-head in Cian Healy.
If anyone wants to know how significant the loss of a decent tight-head can be, they only need to look back to this fixture two years ago, when Ireland's Mike Ross was forced off early on and England's scrum dominance set up a thumping 30-9 victory.
What I would say is that there can't be that much concern about Wilson's fitness because it would be a big negative to take that risk if they don't believe he's ready to return at this level.
Similarly, if Sale prop Thomas is not up to playing Test rugby, he shouldn't be there. I'd be lost for words if there isn't confidence that any player in the 23 would be able to deliver if they came on in the first minute.
Blossoming youth versus the gnarled icon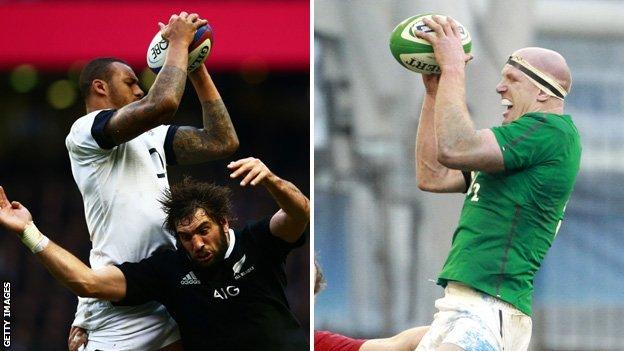 Courtney Lawes and Joe Launchbury have really matured in the past few games - a bit like the whole team actually - as players suddenly realise they are made to play in these matches.
I believe - win or lose - this England team are a strong enough unit to continue to improve and that it's nowhere near its potential.
The way they're playing shows how much they've moved on and the second rows have been as big a part of that as anybody.
Paul O'Connell is viewed in the same way as O'Driscoll in Ireland. They are talismen and can carry a team.
Can Peter O'Mahony put in another performance like the one he managed against Wales? He was superb at the breakdown but he doesn't always hit those heights and it will be interesting to see if he is as influential again.
The blind-side flanker is a grafter, a real unsung hero, but one of the first names on the team sheet.
He has that unrelenting Munster ferocity, but he can only get in position to jackal [(steal the ball at a ruck] if you let him. That means England must go as a group rather than individuals; that way O'Mahony won't get a look-in.
Ireland are leading the stats in the number of turnovers this Six Nations so England can't say they haven't been given fair warning.
England's line-out - which is being called by Lawes - has been watertight when hooker Dylan Hartley has been on the pitch so they'll be pretty confident and it's hard to see Ireland getting much change out of them.
About Schmidt
In my day, Ireland were all kick and rush, elbows and knees. There wasn't the level of detail they have now.
New boss Joe Schmidt turned Leinster into one of the sharpest attacking outfits in the game but his Ireland side have played it safe so far, and that's smart thinking by the Kiwi coach.
You've got to start somewhere and build on it. Schmidt's having a look at his capabilities and analysing the rest of his team - why take a risk to begin with?
He's said, "we've got three home games this Six Nations, let's make sure we get the job done in Dublin before we try to open things up".
At the moment Ireland are playing more of what would traditionally be viewed as the Munster style - be ferocious at the breakdown, kick for position and defend like dervishes - than the more fluent "Leinstertainment" of his former charges.
You could imagine retired Ireland 10 Ronan O'Gara slotting in perfectly a fortnight ago with his kicking game, and it will be fascinating to see what approach Schmidt's charges take on Saturday.
The new kid on the block
Many Englishmen will be keeping one eye on the activity on the bench, where uncapped 20-year-old George Ford will be perched for the first time.
Ford will always play rugby in an intuitive and instinctive fashion, it all comes incredibly naturally to him. He just gets the game in its entirety, that's how good an all-round footballer he is.
The one issue that will always dog him is his size - he's only 5ft 9in and 13st 3lb - and that's tiny by modern standards. If anyone runs over him, it's going to be pinned on his stature.
Should he miss any crucial penalties he will be scrutinised as well but if he can get past that he will go on to be an unbelievable player.
England outside centre Burrell says Ford sees things other players don't. He's like my former Bath and England colleague Stuart Barnes in that he makes the right decision at the right time.
So who's going to win then?
Provided David Wilson doesn't run out of steam, England will win by three to six points.
Jerry was talking to BBC Sport's James Standley.