Six Nations 2014: Dylan Hartley thriving in last chance saloon

By Tom Fordyce
Chief sports writer
Last updated on .From the section Rugby Union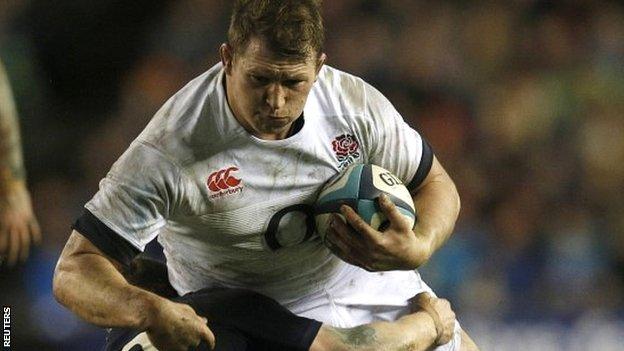 Redemptive moments in sport are supposed to be grand affairs, soundtracked by emotive strings, preferably viewed in slow motion.
Ideally they are accompanied by the Hollywood-style slow clap - one lone figure applauding in stunned silence, gradually joined by those all around until an entire stadium is on its feet going wild (see Cool Runnings for the acme of the genre).
They are certainly not supposed to take place in pubs in Northampton. But that is where Dylan Hartley experienced his, sitting opposite England coach Stuart Lancaster, in an atmosphere he compares to being asked to have a pint with your headmaster.
Hartley had recently forfeited his selection as Lions hooker after being banned for calling referee Wayne Barnes an asterisked cheat.
When the best players in Britain and Ireland were celebrating their historic series victory down under, Hartley was trying to ignore it all on the boardwalks of Santa Monica, California, surrounded by the curious cream of Venice Beach: chainsaw jugglers, snake-carrying rollerbladers, body-builders who have built too much.
His own modus operandi was looking similarly hazardous. In amongst the captain's performances for Northampton, the debut for England at 22, the bullocking runs and dead-eyed throws, there were the sort of criminal acts that stain a man's reputation as well as his rugby: gouging (26-week ban, April 2007); biting (eight-week ban, March 2012); elbowing (two-week ban, December 2012).
When the call came from Lancaster, Hartley feared the door was about to be slammed shut on his international career. Instead, it was left ajar.
"I thought it might all be over," he concedes, perched on an incongruously small window seat in a smart Surrey hotel. "But when Stuart sat down he said that he hadn't made his mind up. He set out what I had to do."
It wasn't complicated: keep his nose clean and his performances high. In the autumn Tests he was back on the England bench behind Lions star Tom Youngs. When the chance came to start, he went at it like a man with no second chances left.
"All I want to do is to be the central part of this team," he says, earnestly. "I feel that I've got a central role to play and I don't want to leave. I like to think I'm repaying some of that faith now."
Hartley has certainly done that in England's two Six Nations matches so far. In defeat by France, he was outstanding. In victory over Scotland, all 20 of his line-out throws hit their man.
But then, the rugby was never the problem. How can he be sure now of controlling the red mists and flying fists? With unbeaten Ireland visiting Twickenham on Saturday, Hartley talks a lot about intensity. But where does intensity end and violence begin?
"It's a feeling," he says. "When you've got it, you know that 14 other people on the field with you have got it as well. It's a desperation, not just when you're attacking and you're 10 metres out from their line, but defending with that intensity too.
"It's more than the things you might think, like tackling or running with the ball. If the ball gets kicked forward and you're chasing it and it goes out, you're the first one to get there. You get set, and you're saying to the opposition, 'hurry up, we're here, we're ready to go, are you?'
"It's everything. It's your mental intensity, making sure you're switched on, making good decisions at the breakdown, controlling it."
In the pummelling melee of a match, can he always make out the line before he crosses it?
"You're asking the wrong person," he says, with an uncharacteristic bashful mutter. "You want to be confrontational … obviously I've done certain things before, when I've reacted to something and it's wrong. But the intensity I'm talking about when you're playing - it doesn't relate to that.
"Whatever I've done in the past has been pretty reactive. I look at my misdemeanours and it's me reacting to things that have happened and not thinking clearly, not thinking about what I'm doing.
"As a front row you can throw yourself into a brawl. You can't be a wet lettuce. You have to stand up for yourself at the right time, not take a backward step.
"But there's a difference between that and head-butting, throwing punches and elbowing people. When I see scuffles now, I just think, 'this is so pointless'. So I probably just stand there and watch it."
On Saturday, Hartley will come cheek-to-cheek with Rory Best, the man he clumped a year-and-a-half ago, the hooker who took his place in the Lions squad when that red card in the Premiership final presaged his next ban.
There is clear regret now, a shrug of the shoulders, a resigned look that says, 'I know some people will forever think me a thug, no matter what else I do for how long in my life'.
"I elbowed Rory Best," he says. "I lost my temper. I look back to that game, and it wasn't him - it was the situation.
"Ulster had come to Franklin's Gardens and they gave us a bit of a beating up. Our whole team lacked intensity; from one to 15 we all played poorly. I was the captain of the team and I was getting very frustrated.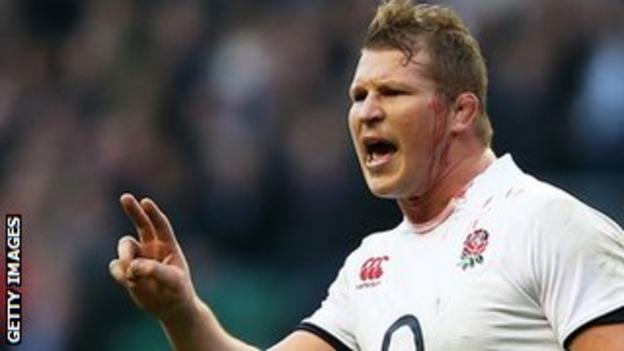 "I let the chimp take over. I tried taking things into my own hands and the next thing you know, you've got a two-week ban. And it's just not worth it.
"The worst thing about it is the people you affect. The people you let down - team-mates and coaches.
"But it's your family who take the brunt of it. Anyone's parents will tell you they love their kids unconditionally ... unless they're an axe murderer or something."
Listening to Hartley talk about just one aspect of his on-pitch role - the line-out - is like interviewing a slightly obsessive golfer about his swing, or a spin bowler about his variations.
He has more than 30 different combinations to get right, all of them coded, which suggests a sharp intelligence rather than the Neanderthal dimwittedness that his harshest critics have suggested.
There is the language of wildlife - "If there's an Irish pod alongside, I change direction" - and of darts - "There are check-outs - sometimes I'll have to go double-top". At home he has a rugby ball with the outline of his hands drawn on it so he instinctively gets his finger position right under pressure.
If it sounds obsessive, it will be critical against Ireland's fearsome line-out drive and the green-shirted wrecking-ball that is Paul O'Connell. A tally of 52 caps have done nothing to make Hartley feel secure in his role, even with Youngs' struggles at the set-piece casting his own accuracy into flattering light.
"I want to be part of this team," he says with feeling. "Now I'm back in I'm going to do everything I can to enjoy it.
"I hope every England supporter has a team now that they can be proud of, that they want to cheer on. We notice that.
"Twickenham was the best I've ever heard it in the autumn, and that's why I'm looking forward to these next two weeks, playing at home. I'm cherishing it and enjoying it."